Council eyes final vote on apartment complex
Citizen didn't know O'Leary would be 'Stenger's lapdog'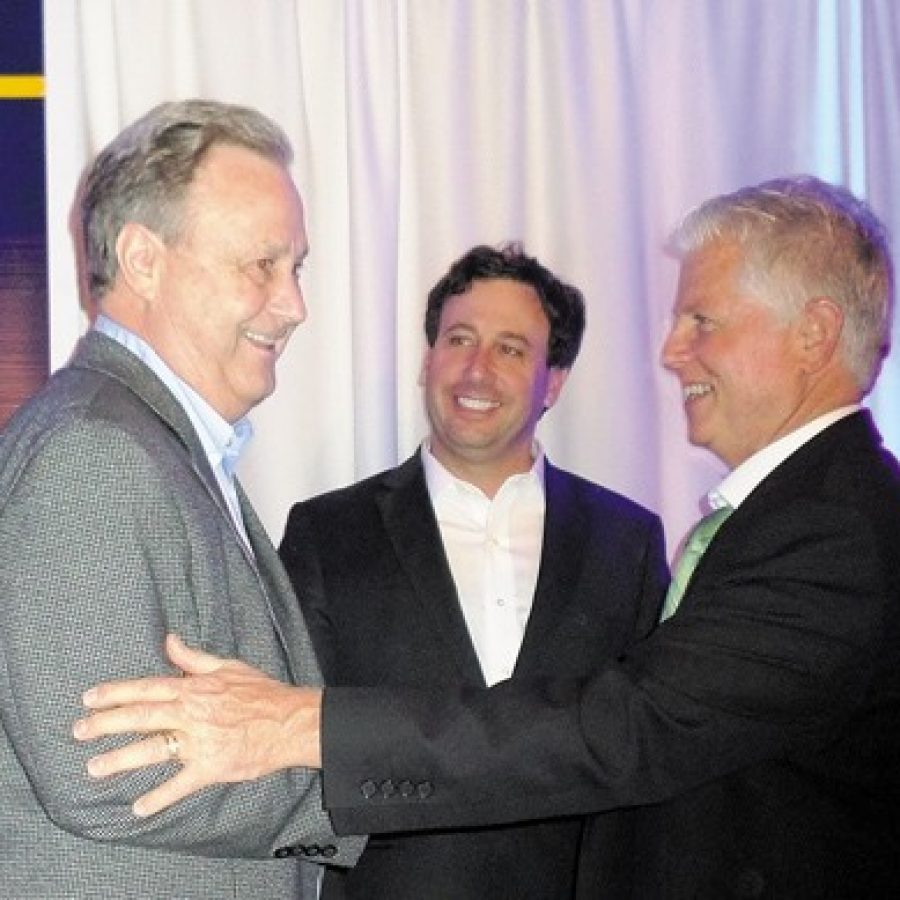 After a week on hold, an apartment complex that thousands of south county residents say will permanently change their quiet Concord neighborhood is headed to a final vote by the County Council next week instead of the public hearing residents want.
Developer J.H. Berra, operating as JHB Properties, is proposing to build a multi-family apartment complex with 232 units on a 17.2-acre site at the corner of Tesson Ferry and Bauer roads in the Mehlville School District, in an area represented by 6th District Councilman Kevin O'Leary, D-Oakville.
O'Leary held a bill to approve the proposal last week on what would have been the second stage in the three-step approval process, perfection. Tuesday night, he moved the bill for perfection, seconded by 5th District Councilman Pat Dolan, D-Richmond Heights, and the bill was perfected 4-3.
Voting for the bill were O'Leary, Dolan, council Chairman Mike O'Mara, D-Florissant, and 2nd District Councilman Sam Page, D-Creve Coeur.
The council members casting a vote against the complex were 3rd District Councilwoman Colleen Wasinger, R-Town and Country, who represents neighbors of the complex, along with 7th District Councilman Mark Harder, R-Ballwin, and 1st District Councilwoman Hazel Erby, D-University City.
After telling a reporter for another publication that he would hold a public hearing, O'Leary and his legislative assistant Diann Valenti have not responded to multiple requests for comment from the Call to discuss whether or not he supports the project or plans to hold another hearing.
The project's potential neighbors overwhelmingly oppose it and comprised the majority of the 28 speakers at the Aug. 16 council meeting. In the absence of council Chairman O'Mara, Vice Chairman Page chaired the meeting and announced that he would limit speakers to one minute of comments rather than the typical three minutes and limit all comments to 30 minutes, as allowed by a section of county code that the council has never previously enforced.
In comments that County Clerk Genevieve Frank and Page cut off promptly at one minute, 22 Concord residents living around Bauer Road told the council that they feel betrayed by O'Leary, who repeatedly promised them during his campaign last year that he would do "what the people want" but has not, they believe, followed through by actually doing what they overwhelmingly want him to do.
Addressing O'Leary directly, Christina Noto asked him why he never followed through with the second public hearing he promised residents several weeks ago, just as the project hit the council, and if his hesitation was because he has already promised County Executive Steve Stenger that the project will be passed.
"When you ran for County Council, you said you wanted to be the voice of the 6th District," Noto said. "I do not remember reading that you were going to be Stenger's lapdog."
She urged south county residents to vote for Republican 6th District candidate Ernie Trakas of Oakville, who is running against former Rep. Pat Yaeger, D-Lemay, to replace O'Leary in November.
O'Leary and Valenti did not respond to calls and emails requesting comment on why he held the legislation. If the council perfected the project Tuesday — after the Call went to press — the apartments could be up for final approval Aug. 30.
In an email sent out by a group of neighbors opposing the project, residents speculated that O'Leary held the legislation because O'Mara was absent. If the vote on the apartments had tied 3-3, the project would have been dropped.
Though Page, O'Mara and Dolan generally align with O'Leary and Stenger, many of the nearby residents live in the district of Wasinger, who sometimes opposes Stenger initiatives with Harder and Erby.
Speaker after speaker cited traffic, crime and lower property values as reasons to reject the project, but Dolan interjected after a man said the apartments would probably attract "the kind of people we really don't want in the neighborhood."
"I guess I'd have to ask, what kind of people don't we want? I don't understand," Dolan said.
"Transients," someone in the crowd yelled out.
"People who don't pay taxes for the school district," said the next speaker in line, Robert Mense.
Sunset Meadows resident Bob Mahacek said, "I wanted to start by stating the obvious: This is a simple case of big money versus the will of the people. For all practical purposes, no one in south county wants these apartments. It's builders, real-estate companies and unions who want this."
Speaking through a sign-language interpreter, Bauer Road resident Robert Schmitt signed to the council, "You are our elected representatives, please listen to our concerns.
"Our concern is that you are not going to vote against this, and we are against that … You represent us. Please don't forget us. Please serve the best interest for us."
With the exception of one north county resident who was not talking about a direct county issue that Page allowed to talk longer, he and Frank strictly enforced the one-minute limit.
Page and Frank cut off Oakville residents JoAnn Lam, who took more time than she was allowed to speak to get set up at the podium with her wheelchair, and Christy Blattner, who spoke from her wheelchair in the audience. Lam noted that she did not have time to make her full statement because of the unexpected time limit.
"With one minute, I won't be able to read my prepared statement, so I will read part of it," Lam said.
They came to the council to speak against rezoning that would allow a billboard next to their Kinswood Lane duplexes in Oakville, near Interstate 255.
Many disabled residents who are taxpaying citizens live in the duplexes, Blattner said.
"We're kind of off by ourselves, and that lighting is going to bring attention to us, we don't move very fast," she said. "People don't know we're there, and we like it that way."
O'Leary requested that County Counselor Peter Krane write legislation for the billboard, the first step toward approval.
With O'Leary stepping down after the November election and the campaign to succeed him underway, Trakas has latched onto the Tesson Ferry apartments as a campaign issue, speaking against the complex to the council and at Republican clubs.
But Yaeger resists making the apartments a campaign issue. She told the Call that although she plans to be responsive to citizens when she takes office, she does not feel it's fair to O'Leary and the council to take a stance on the apartments now.
"I'm working hard to become the council person, but I am not the council person at this time, and I think it would be disrespectful to him and the rest of the council if I come jumping in with my Monday morning quarterback position," she said.