Corrigan's second-quarter fundraising surpasses amount collected by Dooley
Dooley's contributions total $2 million since April of '07.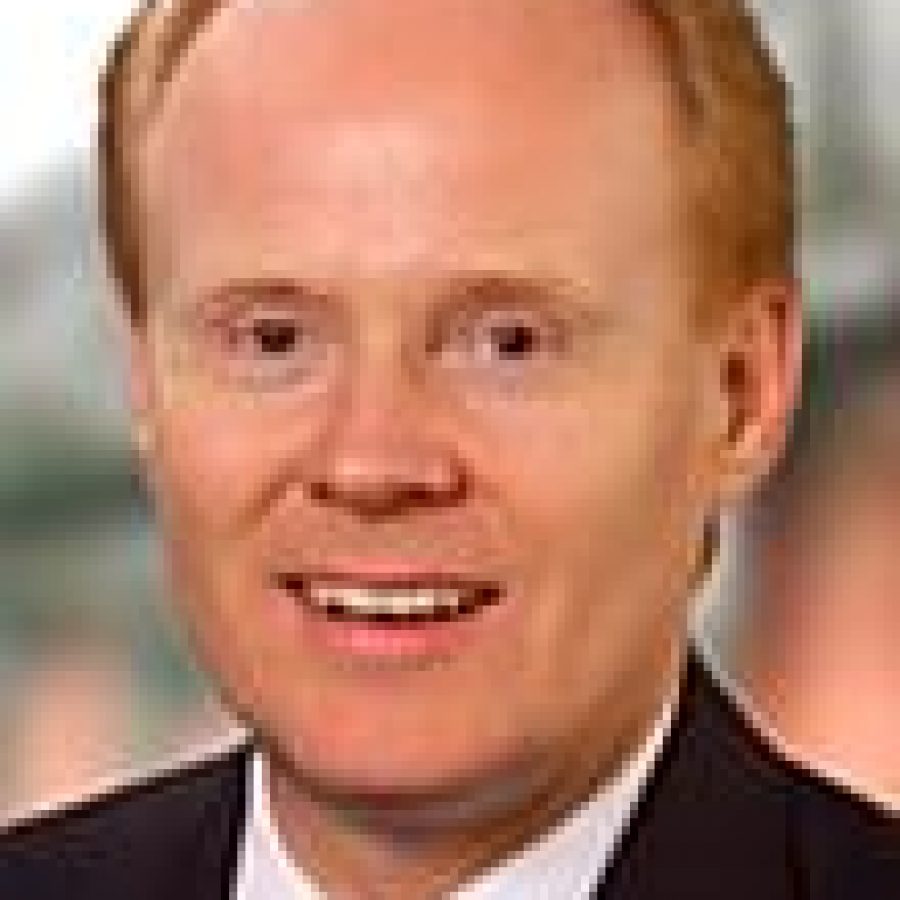 Bill Corrigan's second-quarter fundraising numbers surpassed those of the incumbent county executive he wants to unseat, reports from the Missouri Ethics Commission show.
Corrigan, a Ladue lawyer seeking the Re-publican nomination Aug. 3 in the race for county executive, reported raising a total of $340,241.95 in monetary and in-kind contributions and spending $70,991.17 from April 1 to June 30.
Incumbent County Executive Charlie Dooley, a Democrat seeking his second full term this fall, reported $210,584.82 in monetary and in-kind contributions and $170,638.03 in expenses during the second quarter.
Dooley reported having $1,108,869.60 on hand at the end of the second quarter while Corrigan had $792,024.83.
Corrigan's total campaign receipts passed the seven-figure mark this quarter. He has raised $1,077,775.94 and spent $249,184.69 since announcing his county executive bid a little more than a year ago.
Dooley maintains a nearly $1 million edge over Corrigan in overall fundraising, taking in $2,071,591.58 since April 2007 when his campaign first reported contributions toward the 2010 election. He so far has spent $849,835.12 on his re-election bid.
Nick Farace of Florissant will face Corrigan in the Aug. 3 primary election. He filed a statement of exemption with the MEC stating he did not raise or spend more than $500 in the second quarter.
Dooley will face Ronald Levy of Affton in the primary. The MEC did not have a second-quarter report from him.
Corrigan's largest second-quarter contribution came from Dennis Jones, retired founder of Jones Pharma Inc., who gave $50,000. Corrigan also received $20,000 from plastic bottle manufacturer and container distributor C.L. Smith Co. of St. Louis; $16,500 from fellow attorneys at Armstrong Teasdale; and $10,000 each from public safety software provider Information Technologies and the Thompson Coburn law firm.
Other contributions: $6,000 from Republican 7th District Councilman Greg Quinn's campaign; $2,500 each from Frank and John Bommarito of the Bommarito Automotive Group; and $1,000 from former Missouri Gaming Commission Executive Director and Republican county executive candidate Gene McNary.
Among Corrigan's south county supporters during the second quarter: hotel renovation contractor Voorhees International Inc. of Fenton, $2,000; contractor R.V. Wagner of Green Park, $1,000; Vee-Jay Cement, $1,000; and Grimes Consulting Inc., $1,000.
Also: William Gianino, owner of Bill Gianino's Restaurant in Oakville, $600; Budrovich Contracting Co., $500; Randy McArthur of McArthur's Bakery, $500; Tesson Ferry Township Republican Club, $500; J.L.G. Inc., $500; former Midwest BankCentre President Frank Ziegler, $250; Green Park Ward 1 Alderman Tony Pousosa, $165; and Republican District 85 Missouri House seat hopeful Cloria Brown, $50.
Corrigan's top second-quarter expense was $35,295.12 to Axiom Strategies in Kansas City for campaign consulting.
Dooley's top contributors for the second quarter were the American Federation of State, County and Municipal Employees, $10,000, and county Prosecuting Attorney Robert McCulloch's campaign, $10,000.
The county executive also received $5,000 contributions from Dobbs Tire & Auto President David Dobbs; the Ironworkers Political and Education Fund; PB Americas; Thompson Coburn; law firm Lewis, Rice & Fingersh; and Randall Lipton, president of management consultant The Lipton Group.
Also: a $1,156 in-kind donation from county Planning Commission Chairman Doug Morgan; $1,000 from Metropolitan St. Louis Sewer District Trustee James Buford; $750 from Department of Planning Director Glenn Powers; $500 from county Board of Elections Director Joe Donahue; and $500 from St. Louis Convention & Visitors Commission Director Kathleen Ratcliffe.
Among south county contributions to Dooley this quarter: $4,000 from Thomas Jefferson Days Inc.; $2,000 from Gateway Contractors in Lemay; and $750 from Bussen Quarries Inc. in Oakville.
The Dooley campaign's top second-quarter expense was $46,367.40 to Washington, D.C. communications firm MDHC Partners Inc. for various services — such as consulting, $15,000, and website development, $19,500.
County Council seats in the 1st, 3rd, 5th and 7th districts also are up for election.
In the 3rd district, incumbent Colleen Wasinger, R-Town and Country, reported second-quarter contributions of $18,465 and $823 in expenses. Overall, she has raised $18,965, spent $1,076.01 and has $19,431.89 cash on hand.
Her presumptive Democratic opponent in November, Robert "Bob" Nelson of Kirk-wood, raised $1,123 and spent $373.66 in his first quarter of fundraising. He has $927 on hand and $400.66 in debt.
Three candidates are vying to fill the 5th District council seat being vacated by Barbara Fraser, D-University City, who is running for the Missouri Senate.
Democrat Pat Dolan reported raising $29,387 and spending $11,147.65 during the second quarter. He has $47,137.51 on-hand. Overall, Dolan has raised $59,394 and spent $11,184.49.
His Democratic primary opponent, Terri Williams of Webster Groves, reported second-quarter receipts of $3,222 and expenses of $3,488.96.
She has $2,193.90 on hand. Overall, she has raised $4,322 and spent $3,533.96 on her bid for Fraser's seat.
Republican Randy Jotte of Kirkwood reported raising $19,781.50 and spending $12,765.18 last quarter. He reported having $60,977.37 on hand and $2,325 outstanding debt.
Overall, Jotte has raised $89,001.50 and spent $23,644.01.
Both 1st District Councilman Hazel Erby, D-University City and 7th District Councilman Greg Quinn, R-Ballwin, are unopposed in both the primary and general elections.
Erby reported receiving no contributions last quarter and spending $3,533.14. She has $1,767.93 on hand. Erby so far has raised $32,724.84 and spent $22,901.82 toward her re-election campaign.
Quinn reported receiving $5,000 last quarter and spending nothing on his campaign. He has $16,121.25 on hand.
Prosecuting Attorney McCulloch is unopposed in his bid for re-election. Still, his campaign reported $42,041.94 in second-quarter contributions and $19,419.84 in expenditures. He has $178,789.79 on hand.
Overall, he has raised $199,063.36 and spent $142,532.25.