Consultant proposes first Sunset Hills city administrator begin job in June
Furrer upset over time line for hiring new administrator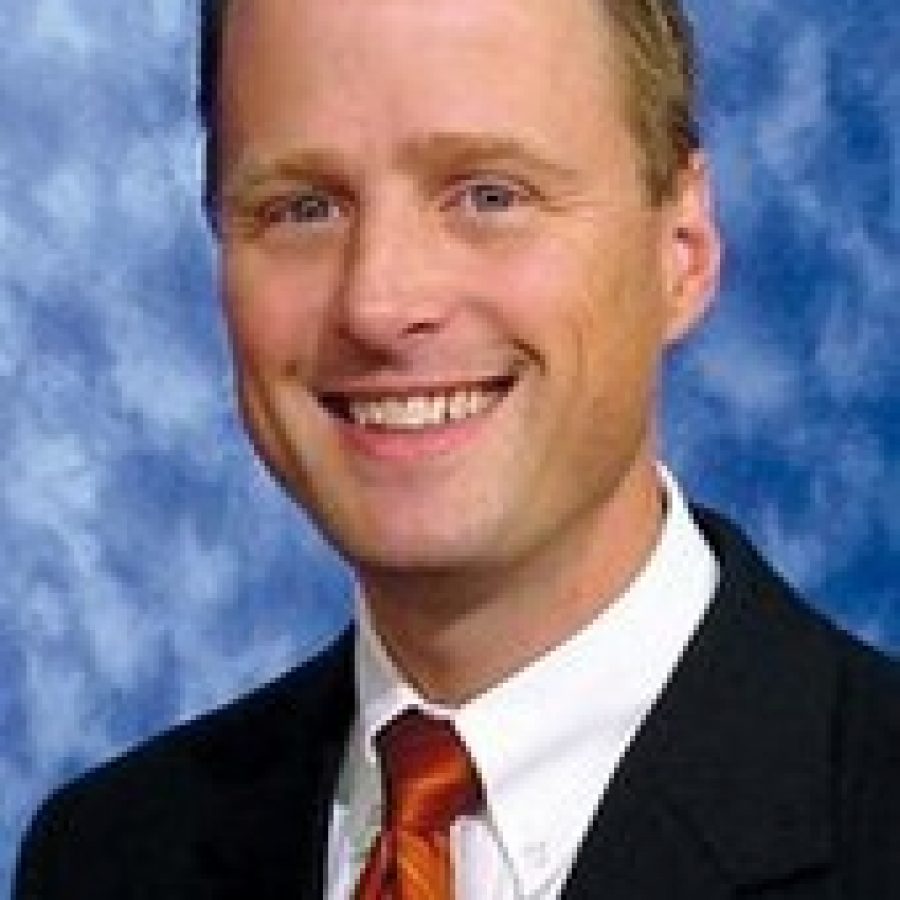 Sunset Hills aldermen unanimously agreed to hire a city administrator last month, but a permanent administrator may not actually oversee City Hall until June.
During a Dec. 28 meeting of the Finance Committee, interim City Hall consultant Robert Heacock submitted a preliminary hiring time line for feedback before he presents it to the Board of Aldermen at 7 p.m. Tuesday, Jan. 12, at City Hall, 3939 S. Lindbergh Blvd.
The April 5 election is a wild card in hiring a city administrator because many applicants will shy away from applying to a city that could undergo a change in leadership, Heacock said.
For that reason, he suggested a 45-day posting for the position that ends after the April election, with interviews in early May and the new city administrator starting in June, after presumably giving 30 days' notice at his or her current job.
Mayor Mark Furrer is unhappy with the time frame for hiring and cites the speedy process that neighboring city Crestwood undertook to hire new City Administrator Kris Simpson, who began at Crestwood City Hall Monday.
"We have let this plod along too long," Furrer wrote in an email to the board Dec. 21.
Furrer added he would go ahead and post the position and conduct the interviews himself along with a few aldermen that the board could appoint.
The Finance Committee moved forward with the two-hour Dec. 28 meeting without a quorum when Heacock said he believed that they could hold the meeting under the Sunshine Law, as long as they did not take any votes. Of the six committee members, only Ward 4 Alderman Pat Fribis, who chairs the panel, Mike Fitzgerald and Jeff Camilleri attended the meeting.
For more than 45 minutes, Heacock gave the members a rundown of how to hire a city administrator, as the board asked him to do at the last aldermanic meeting.
As the city's new ordinance stands, Heacock outlined that the city administrator has to be older than 25, would not have to be a resident of Sunset Hills and could be paid with or without a contract.
The pay range will determine whether the city hires someone who's experienced instead of a 25-year-old who barely has a master's degree, Heacock noted.
Typically, city administrators work under contracts and receive severance pay because they have to move around for jobs, but that may be less of an issue in the St. Louis area, which has so many available city administrator jobs.
When it comes to actually hiring someone, Heacock said he wouldn't have the authority and the city could either engage a search firm or post the available position on the websites where those jobs are posted, including the various organizations for city administrators in Missouri.
Once finalists arrive in the city for interviews, Heacock suggested having two different committees interview the candidates — one examining technical expertise and one examining overall presentation. He also suggested taking the candidates on a tour of the city.
Ward 3 Alderman Keith Kostial interjected to wonder why the Finance Committee was hearing about Heacock's memo before aldermen did. But Heacock explained that not knowing how the city has operated in the past and since he already had the memo written and the finance panel had a meeting scheduled, he figured he'd run his suggestions by finance members before taking it to the board.
"As an alderman, often I'm the last person to know," Kostial said. "The aldermen should know things before people on the Finance Committee."
Going forward, Kostial asked Heacock to copy all the aldermen on everything he sent out to any alderman or public official.
"You're new to the process, but the process is broken," Kostial said.
"I'm just doing the task I was asked by the board to do," Heacock said. "Forgive me for being new. It certainly wasn't my desire to circumvent anybody. Not knowing your history, not knowing the roles, what I did was I finished this last week, I consider it a draft memorandum to the entire board. In talking with Pat about this meeting …"
"Stop right there, Robert," Furrer interjected. "Pat has nothing to do with personnel other than being on the Finance Committee. This again is not the proper venue to spend 50 minutes discussing a personnel proposal from another interim guy who's telling us to hire somebody that we still haven't been able to accomplish in nine months. Furthermore, I think it should be tabled and it should go to the correct committee or the board.
"Pat is not the one you should be dealing with," the mayor continued. "Pat doesn't seem to understand what her role is — it is the director and the chair of the Finance Committee, and it is not to listen to a proposal on how to hire somebody when the city of Crestwood hired somebody in two weeks by putting an ad in the paper. Why don't we proceed, Pat, with what's appropriate for a Finance Committee and leave the personnel to the Personnel Committee and the board?"
"I think it's appropriate to educate everyone," Fribis said.
But Furrer questioned why he and some of the aldermen did not get a chance to vet Heacock before he arrived in the city as a consultant for Interim Personnel Management, or IPM, after the city's first interim consultant, Charles Montoya, left Nov. 30 to take a permanent position in Watsonville, Calif.
Heacock came to Sunset Hills from Independence, where he served as city manager for a city of 100,000 for a decade.
The Independence City Council reached an agreement to terminate Heacock's contract in August, and is paying him nearly $500,000 in severance, salary and benefits through October 2016.
The Independence newspaper, The Examiner, reported in 2009 that Heacock was charged with driving while intoxicated in Lee's Summit. The charge was later dismissed, the newspaper reported.
Furrer alluded to the charge as he confronted Fribis about the decision by a subcommittee comprised of Fribis and two other aldermen to continue with IPM and Heacock after Montoya left. Furrer's jury trial on felony charges of assault and property damage ended in a mistrial Dec. 17, and a second trial is slated for Feb. 22.
"I don't want to rely on you to provide the correct information, Pat," Furrer said. "We know about his background, everybody in the city does. But we weren't given that information when you hired him, it was dropped on us like a rock. Am I right, Keith?"
Fribis responded that she was going to move on with the agenda for the meeting.
"The subject is how to conduct a proper finance meeting, and bringing in another personnel recommendation from another interim guy is not the way to do it," Furrer continued.
"End of subject," Fribis said. "If people would like to discuss something else, they can go out in the hall."
"Pat, I'd like to discuss it with you in the hall then," Kostial replied.
"All right, after the meeting," Fribis said.