City to increase residential lot coverage limits
Panel recommends 10% increase in lot coverage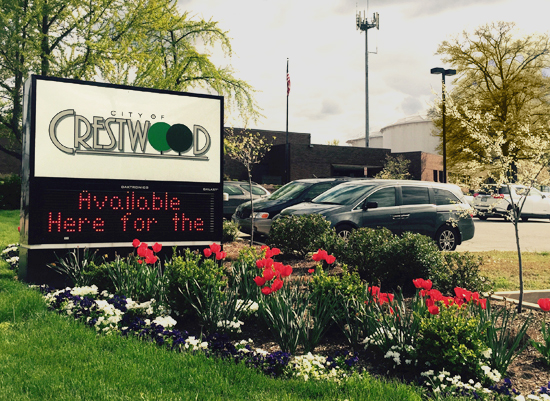 Crestwood continued its stormwater management efforts Dec. 1 as the Planning and Zoning Commission recommended approval of an amendment to city code to increase allowable lot coverage from 30 to 40 percent.
The commission came up with the 40 percent mark at its meeting in October after reviewing a sample of 34 homes in the city which would be affected by city code changes. In the sample, 30 of the houses were pushed over 30 percent under potential new code, while only two went over 40 percent. 
The new percent would apply uniformly across all residential zoning densities. City Planner John Cruz said this change would alleviate any undue burden impervious cover changes would have on residents. 
Cruz also said the change will not have an impact on the recently approved McBride Homes development on the former Crestwood Mall site. The agreement with McBride has its own stormwater management standards laid out, and the site features basins to manage stormwater already.
The change was accompanied by an amendment which would impact what impervious cover means in city code, which the commission has also discussed in the past. The new definition of impervious cover would be anything impervious on the lot, like pools or decks, not just building footprints like is currently in the code.
Cruz said the city hasn't updated its impervious cover definition since 1989 and it is outdated. The new definition was also dependent on the coverage percent amendment's approval.
Commissioners were concerned the change didn't account for people over the limit that would want flatwork changes that didn't increase the coverage percent. 
Ward 4 Alderman Tony Kennedy said residents who end up over the 40 percent mark would have an increased burden at no fault of their own.
"They might exceed that (40 percent) at no fault of their own and then if they want to rebuild or do something different, they have to go get a variance," Kennedy said. "(Going in front of the Board of Adjustments) is pretty intimidating."
Kennedy said he doesn't believe residents in those cases would be denied a variance, but exceptions or more flexibility should be written into the code.
Director of Public Services Jim Gillam suggested staff have the city attorney work on a way to address projects that don't change the coverage percent. Gillam said there is a similar situation for driveway footprints where having no coverage change means residents don't need board of adjustment approval.
The commission agreed with Kennedy's sentiment and tabled the ordinance until provisions for certain lots can be addressed.