The highlight of the full month of "Christmas in Crestwood" activities takes place this weekend with a classic car parade featuring Santa Claus, followed by fireworks. Due to the COVID-19 pandemic, the annual tradition of Santa photos at City Hall will be canceled this year. But other socially distanced holiday activities take place throughout the month.
The Christmas in Crestwood 2020 celebration kicked off Nov. 12 —  the city's birthday — and runs through the last day of the year, Dec. 31, and activities can be participated in even with a stay-at-home order.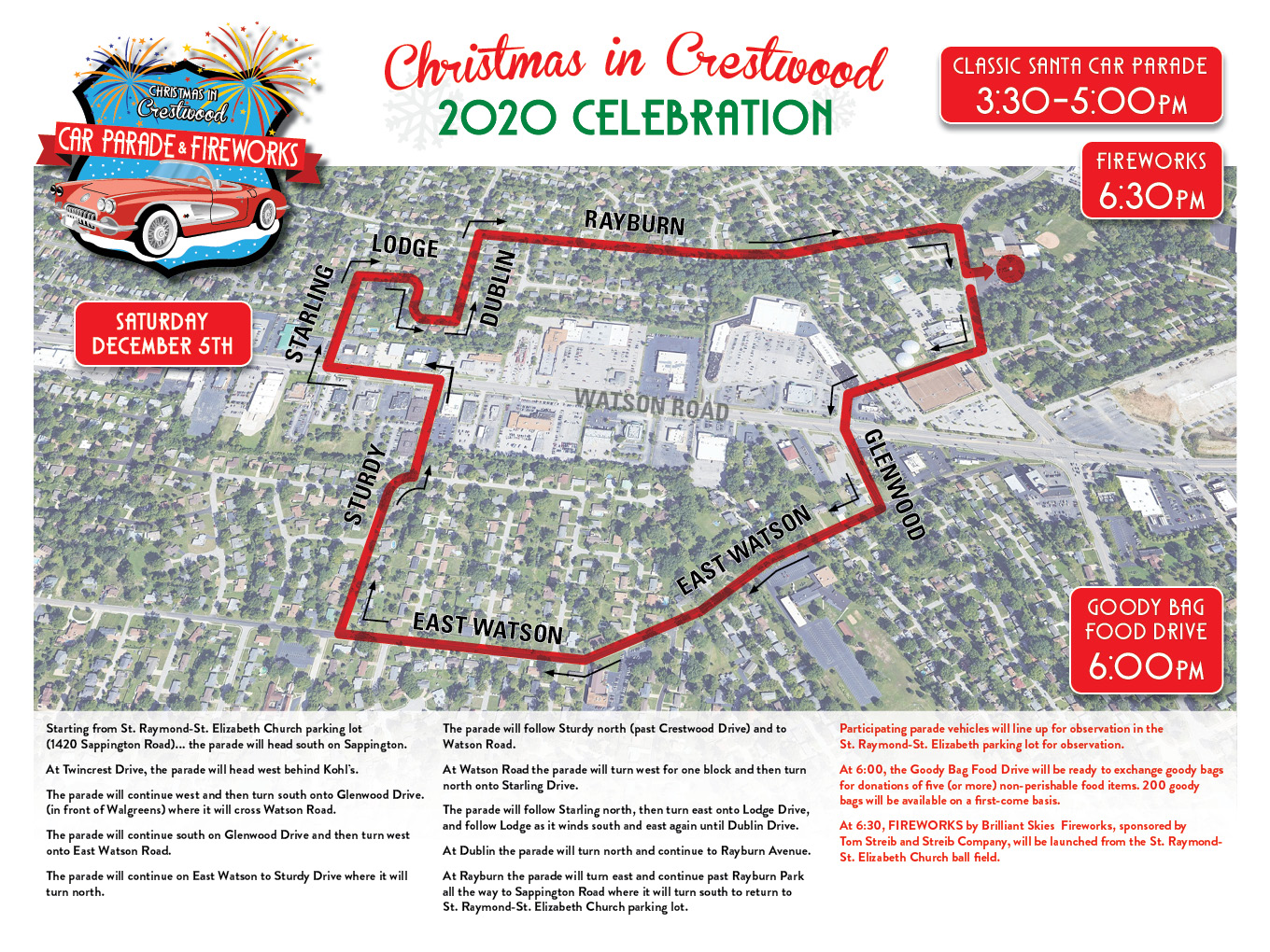 Santa Claus comes to Crestwood for his annual visit at 3:30 p.m. Dec. 5 with a classic car parade, food drive and fireworks at St. Raymond-St. Elizabeth Church, 1420 Sappington Road. Santa will lead the parade and head south on Sappington Road, eventually making his way through all four wards in the city.
Kindergarten through 12th-grade students will be able to write about their favorite holiday tradition for prizes.  Shoppers can save their Crestwood business receipts for a chance to win a minimum $1,000 Crestwood holiday shopping spree.
The Dec. 5 parade was originally slated to begin at 4:30 p.m., but the Crestwood Police Department raised safety concerns since it is often already dark by that time in the winter. The initial route was also long and along residential streets that aren't built for large events, with narrow roads and no sidewalks. However, the Christmas in Crestwood group and the city worked out a shorter route that began earlier in the day to make sure it would be safe for everyone involved, especially since there is often a high number of children who come out to see Santa and the parade.
At one point, a special Friday night meeting of the Crestwood Board of Aldermen was called to discuss the issue and then canceled when an agreement was reached.
After the parade, a food drive will be held at St. Raymond-St. Elizabeth Church at 6 p.m., followed by fireworks from the church's ball field at 6:30 p.m.
Five nonperishable food items can be traded for one children's goody bag, first come first serve. Collected food will be donated to the food pantries at First Baptist Church of Crestwood and St. Raymond-St. Elizabeth Church. The group requests no glass containers.
Those who love Christmas music can tune in online at www.stlouisclassicrock.com for around-the-clock, commercial-free music from Dec. 1 to Dec. 31.
More information about Christmas in Crestwood and entry forms for the contests are available at Crestwood City Hall, 1 Detjen Drive, and the Crestwood Community Center, 9245 Whitecliff Lane. Further information can be found at www.christmasincrestwood.com.
"The Christmas in Crestwood volunteers have a really great program planned for this season," said Crestwood City Administrator Kris Simpson. "It's a really great community event and we're looking forward to the Christmas festivities."