Ceremony renaming Affton Post Office recalls impact of fallen Lemay sergeant
Family, friends recall extraordinary life of Amanda Pinson at Affton ceremony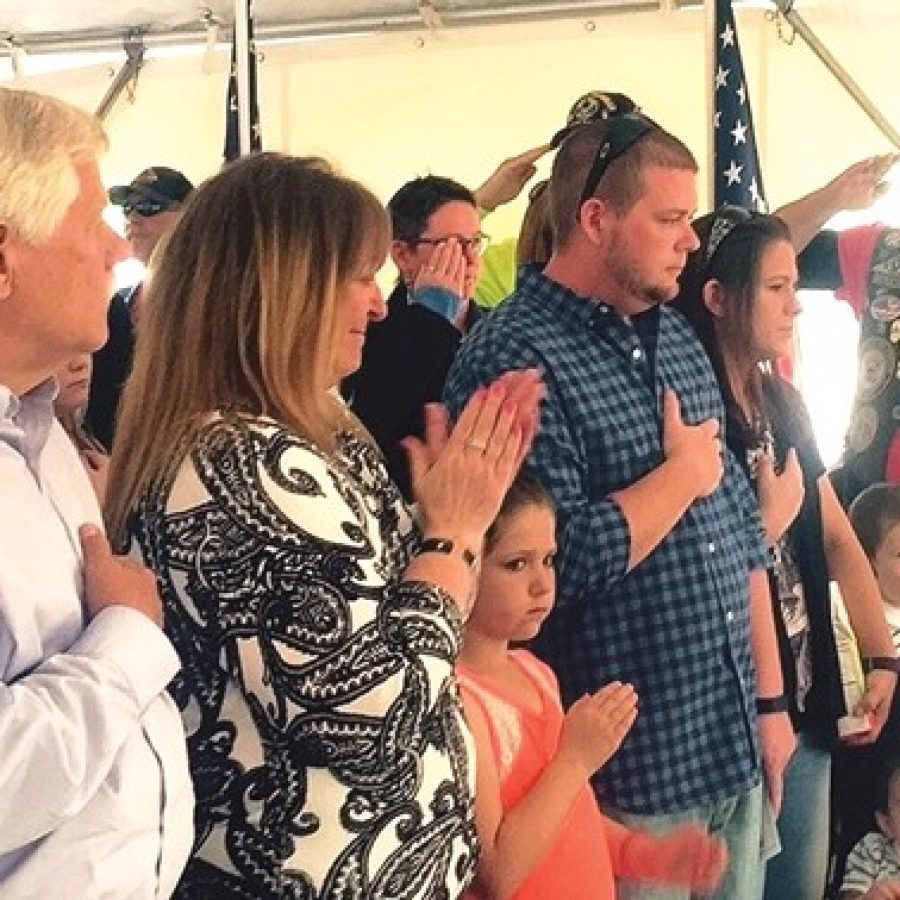 The family and many friends of U.S. Army Sgt. Amanda Pinson hope that last week's renaming of the Affton Post Office in Grasso Plaza after Pinson reminds postal customers of the fallen soldier and the impact she had on the world, and inspires them to pay it forward in her memory with their own good works.
Pinson, 21, was killed by rocket fire March 16, 2006, while deployed in Tikrit, Iraq, as a signals intelligence analyst for the National Security Agency.
The Lemay native was the first female NSA cryptologist ever killed in action.
Over the last decade, she has been honored on the memorial wall at NSA's headquarters in Fort Meade, Maryland, which is dedicated to those killed while "serving in silence."
She is memorialized on Interstate 55 with a "Heroes Way" dedication and had a building in Iraq and a training facility at Fort Leonard Wood named in her honor.
Posthumously, Pinson was awarded an array of medals including a Purple Heart, Bronze Star and the Knowlton Award, which recognizes those who have significantly contributed to military intelligence.
But to the people who knew and loved Pinson, it doesn't seem like it's been a decade. They hope that the May 6 renaming of the Affton post office for Pinson will help more people learn the story of the Hancock High student-athlete whose smile could light up a room, the enlisted soldier whose biggest dream was to serve a cause larger than herself and the daughter, sister, granddaughter and niece who "loved everybody," said her aunt, Sandy Campbell.
Last fall, Congress unanimously passed three bills sponsored by U.S. Rep. Ann Wagner that rename three St. Louis County post offices after fallen soldiers. The Sappington Post Office at 11662 Gravois Road will be renamed this summer for Lt. Daniel Riordan of Sunset Hills, who was killed in action in 2007, and the Chesterfield Main Post Office will be renamed the Sgt. Zachary M. Fisher Post Office after the soldier from Ballwin, who was killed in action in 2010.
Pinson's family, including her mother, Chris Andrews, her father, Tony Pinson, and her brother, Bryan, filled multiple rows at last week's dedication ceremony. Officials in attendance included Wagner, Rep. Bob Burns, D-Affton, 5th District County Councilman Pat Dolan, D-Richmond Heights, and Affton Fire Protection District Chief Jim Fritz. Also attending were many current and former teachers in the Hancock Place School District and fellow veterans, with a heavy turnout from the Patriot Guard Riders and Affton firefighters.
The capacity crowd packed into a tent behind Grasso Plaza on a day so beautiful that Pinson's former teacher, Hancock Middle School Principal Thomas Dittrich Jr., said Pinson must have orchestrated it herself.
The renaming is a small token of gratitude for an immense sacrifice "we will never be able to repay," Wagner said. "The United States of America owes Sgt. Amanda Pinson a priceless debt of gratitude."
Much of Pinson's work was classified. However, her impact is still felt in NSA operations and training at home and abroad, retired Army Chief Warrant Officer Kathy Carlson said at the ceremony.
Carlson works for the NSA at Fort Meade.
"I get the opportunity to go through and see patterns and outputs of her work and where she continues to influence not just those who were with her in Iraq, but throughout the intelligence community, what impact she's had in the training programs that are in place for deploying soldiers," Carlson said. "She was a phenomenal soldier, leader, mentor, who was taken a bit too early, but her sphere of influence continues to grow on a daily basis."
An environmentalist who enlisted fellow high-school students to plant flowers near Jefferson Barracks National Cemetery, where she is now buried, Pinson also volunteered to tutor struggling younger students who had no interest in reading, said Dittrich's brother and another one of Pinson's former Hancock teachers, Maplewood-Richmond Heights High School Principal Michael Dittrich.
"It was amazing how contagious her smile was," he said, looking at Pinson's picture in front of the crowd. "It was amazing when the smile that you see in front of you walked through the door how much those boys suddenly wanted to read."
In Iraq, Pinson was "everybody's big sister," Carlson said, teaching, coaching and mentoring other soldiers who needed extra help. When others were too afraid to approach their superiors to ask for help, she did it for them. She was promoted to serve as the trainer for other non-commissioned officers, and just before she was killed, their unit successfully completed a major operation against insurgents.
"Amanda's work truly did save lives on a daily basis," Carlson said. "She had the innate ability to train soldiers to be able to find the bad guy."
Campbell read a letter the family received from one of the other officers Pinson worked with in Iraq, who said in 16 years as an intelligence analyst, he never saw anyone with as much talent as Pinson.
"We are still using stuff that Amanda worked on to engage, capture and surround insurgents," the officer wrote.
And in a line that Campbell said perfectly captures Pinson's spirit, the officer added, "She was always running with stuff, while other soldiers around her were walking."
Serving in the Army was Pinson's dream. She told her mother that when she wore her uniform, she would stand up a little straighter because of the intense pride she felt serving her country.
"I remember the day she went to the recruiting office, and she came back and she was so thrilled," said her grandfather, Bufford Nickles. "She didn't know what the end might bring, but she was willing to take a chance."
There wasn't a dry eye at Grasso Plaza as Andrews read lyrics about sacrifice from Pinson's favorite song, "American Soldier," which post-office employee Margi Pennington performed.
Pinson used to belt the section of the song about freedom not being free at the top of her lungs, Andrews said.
In a high school essay, Pinson once quoted Albert Pine: "What we do for ourselves dies with us, what we do for others remains and is immortal."
The only thing left in the end is what we do for others, the future soldier wrote.
Pinson's sacrifice is remembered around the world, but Pinson's family hope that future generations — including some who may only learn about her from the plaque in the Affton post office — will be inspired to continue her legacy by taking action in the lives of others and the world, just as she did.
"Sgt. Amanda Pinson, you are my hero, you have made the world a better place, you have left an impact on so many lives," Andrews said. "You have shown others how to love and taught many to use the words 'I love you,' not only for their family, but for their friends and co-workers.
"I am very proud to call you not only my daughter and my best friend, but my hero. As long as I live, you will live. As long as I live, you will be remembered, and as long as I live, you will be loved."