Casino construction on a roll
Spring opening slated for River City Casino.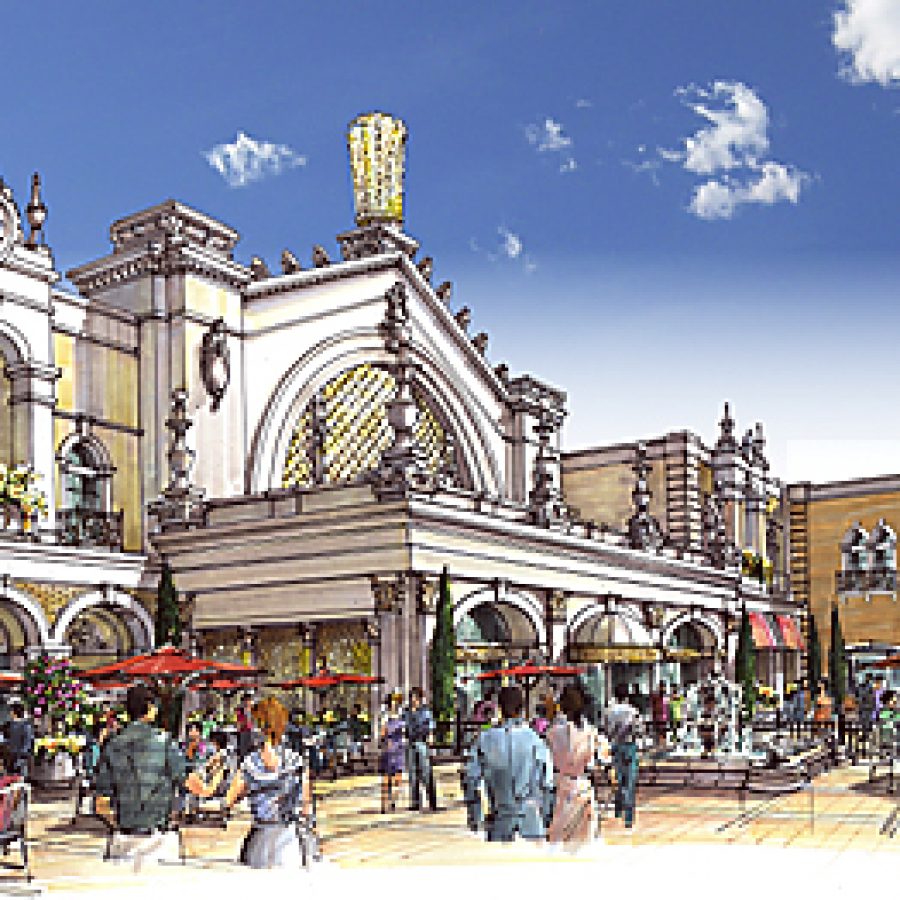 Pinnacle Entertainment Inc. officials are betting on a spring opening for their River City Casino in Lemay.
River City, 777 River City Casino Blvd., will include a 90,000-square-foot casino with more than 2,000 slot machines and roughly 55 table games. Pinnacle also owns and operates Lumière Place Casino and Hotels in downtown St. Louis.
Representatives of Las Vegas-based Pinnacle Entertainment recently told members of the Affton and Lemay chambers of commerce that construction of the new casino was on a roll.
"… We're about 80 percent complete. The casino finishes are 90 percent there," said Mario Maesano, senior director of marketing for Lumière Place and River City. "If you walked in right now, it looks pretty close to being ready as it stands right now.
"And the restaurants and the VIP room are in various stages of finishing, but if you walked through them, you look like you can serve food pretty soon.
"… We began loading slot machines be-ginning of November … Right now all of the slot machines are on the floor … They're being tested right now for access to the Gaming Commission … We should be done with the table-game installation by the end of this month," Maesano said Jan. 13.
River City is being constructed on roughly 56 acres at the former National Lead and National Imagery and Mapping Agency sites. Pinnacle, which is leasing the site from the St. Louis County Port Authority, spent more than $18 million for environmental remediation of the former National Lead site.
Pinnacle also spent more than $23.8 million to construct River City Casino Boulevard, which opened in November. The 1.3-mile road provides a new east-west link between the Interstate 55 and South Broadway corridors.
Total cost of River City is roughly $375 million, said Todd George, general manager of Lumière Place and River City.
"Between Lumière and River City, Pinnacle has invested basically a billion dollars into St. Louis …," he told chamber members.
Besides Missouri, Pinnacle owns and operates casinos in Nevada, Louisiana and Indiana. In terms of square footage, River City will be Pinnacle's largest casino.
"… To give you some comparison to Lumière for those of you that have been there, this floor is bigger than Lumière," Maesano said. "Lumière's about 75,000 square feet. This floor will be about 90,000 square feet of gaming space, so considerably bigger than Lumière."
River City will boast a variety of dining options, including a 325-seat Jeff Ruby's Steakhouse, a buffet with seating for more than 350, a 100-seat tavern, a 100-seat contemporary cafe and a classic burger joint.
"… Jeff Ruby's we brought in from Cincinnati and Louisville," Maesano said. "It's one of the premier steakhouses in those two cities and actually I think it will be a very welcome addition here. Personally, it's one of my favorite steakhouses in the country and I think you'll find it the same …"
The facade for Jeff Ruby's Steakhouse is based on Judy Garland's family home in the classic film, "Meet Me in St. Louis," he said, adding, "… It looks pretty cool, I've got to be honest with you …."
The River City project has generated roughly 600 construction-phase jobs and is expected to create more than 1,000 permanent jobs.
Regarding the jobs, Maesano said, "Right now we're on pace to do about 140 interviews a day to fill 1,200 spots … It's been a very exciting time and a lot of people are interested in working in the community and at the property. And there's a lot of talented people out there looking, so we feel pretty good about the candidates that we have. But anybody that is looking right now, we're at jobsatrivercity.com …"
Applications also are being accepted at River City's employment center at 8643 S. Broadway, he added.