Call Newspapers marks 20th anniversary of publishing first issue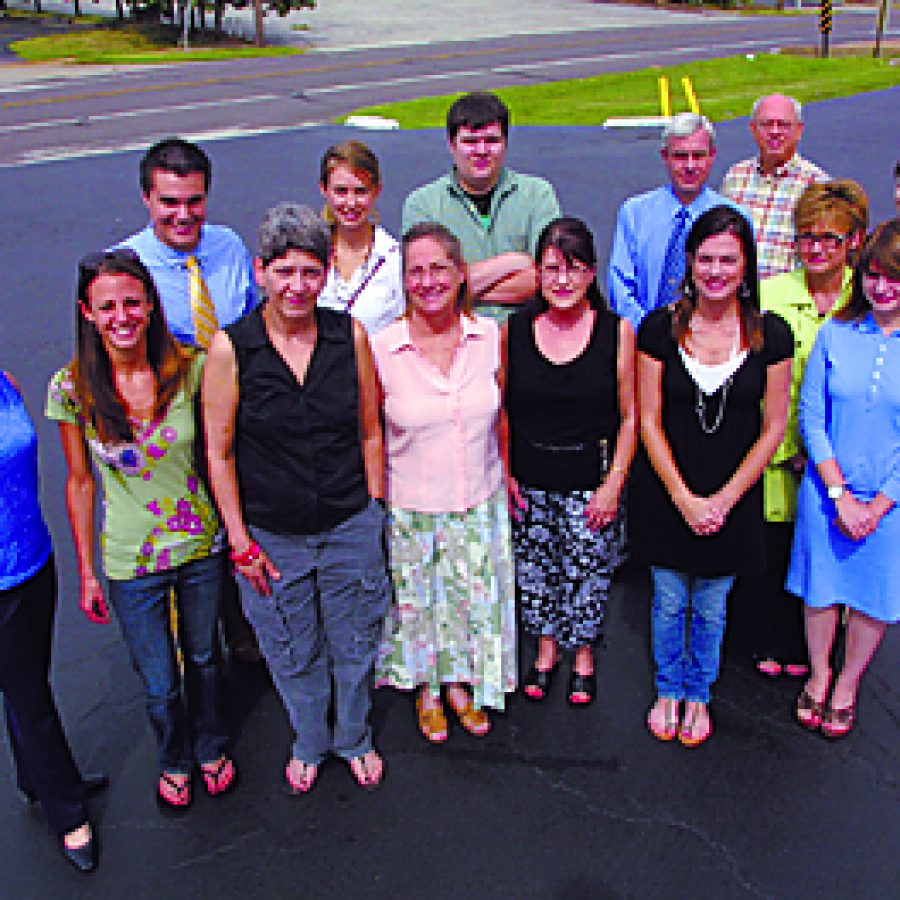 Hitting the ground running as a serious news publication isn't an easy task, and Call Publishing's first product, the Oakville Call — which debuted 20 years ago — was no exception.
Four days before its first press time, the Call's two production computers went kaput after a technical upgrade gone wrong. Several weeks worth of stories, advertisements and page layouts vanished overnight.
"When everything is considered, it is fortunate we published at all," wrote editor Bill Milligan, now the company's general manager, in a column the following week. "Every story and advertisement that had been created had to be recreated over the course of a few days … The thought occurred to move publication back one week, but we had made promises we didn't want to break."
They never had to — after three days of around-the-clock work, the Oakville Call's inaugural issue arrived in more than 13,000 mailboxes in ZIP code 63129 on Aug. 17, 1989.
The rest is history.
By December of that year, sales already had exceeded the company's projections for its third year of operation. Over the next decade, the publishing company would expand its circulation, introduce new Call products to more local communities and become the best and most accurate source of information in south county.
"I knew something was happening the first week," Publisher Deborah Baker said. "Our niche was defined early as 'folks who put out a community paper.' I didn't want to be another paper that's thrown on the lawn."
Baker attributes the Call's prosperity to solid news judgment, strong advertising support from area businesses and the publication's direct-mail setup, which she says allows circulation to grow as the region grows.
More than 50,000 Call papers are mailed every week with an additional 3,000 copies delivered to more than 160 stacks around south county and Columbia, Ill.
The company's four weekly publications — the Oakville Call, Concord Call, Sun-Crest Call and Green Park Call — are mailed to ZIP codes 63129, 63128, 63127, 63126 and part of 63123.
The Mail Call, a special monthly publication introduced in late 1999, is mailed as a supplement to the weekly paper in the same ZIP codes. It's also mailed to households in Affton, Fenton, Arnold and Lemay — a total circulation of more than 70,000 additional papers a month.
With the arrival of the new century, Call Publishing turned next to the World Wide Web.
The iCall — an online edition of the four weeklies and Mail Call — was launched in spring 2003 at
and received a slick makeover last month.
The iCall is a powerful electronic resource for residents of south county and beyond. Besides the content found in the weekly and monthly print editions, the Web site provides users with a variety of interactive features including photo galleries, an archive search, electronic announcement submission forms and, most recently, a weekly poll.
This week, in celebration of its 20th year in business, Call Publishing introduces its seventh community publication: the Welcome Call.
Designed as a comprehensive community directory, the Welcome Call will be published every six months and mailed to the eight ZIP codes covered by the Mail Call.
It also will be available as a useful online database at
.
The company and its publications were named "Call" after the town criers of Colonial America — men who called out the news on street corners while ringing bells to gather an audience. Several of the first American newspapers also took on the "Call" name in their honor.
One of the earliest newspapermen was Benjamin Franklin, inventor of the U.S. Postal Service and pioneer of the direct-mail delivery that has made Call Publishing so successful.
"We strive for excellence every week," Baker said. "Bill and I are fortunate to have such a dedicated staff who go beyond the call of duty. That is what it takes. I am proud to publish the Call every week."