Budget for Lindbergh Schools tight; will get worse as growth continues
School board will consider 2016-2017 budget June 14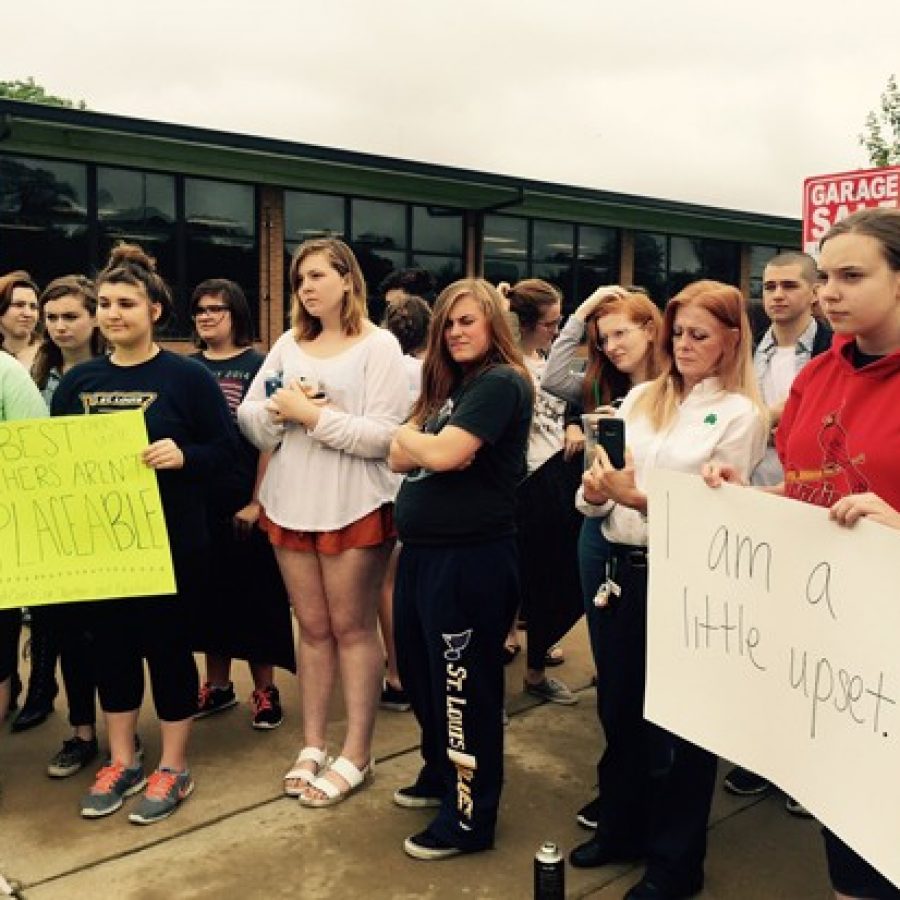 The Lindbergh Schools budget is tight this year and will only get worse in coming years as the nationally recognized district attracts more and more children.
At the same time, revenue will drop off due to the redevelopment of the former Crestwood Plaza, Board of Education members said when faced with a proposed operating budget that projects equal revenues and expenditures.
The proposed $69 million 2016-2017 operating budget is so tight that it projects no surplus while factoring in a 1.25-percent raise for teachers and freezing their steps, or years of service.
That raise was rejected by teachers in a vote May 27, and although by policy negotiations officially end June 1, at press time district officials were preparing a final offer for teacher salaries.
The board will consider the budget and what raise to give employees when it meets at 7:30 p.m. Tuesday, June 14, in the Anne Morrow Lindbergh Room on the Lindbergh High School campus, 5000 S. Lindbergh Blvd.
The budget became the focus of a student walkout and a sit-in by LHS students and alumni outside Central Office the last week of school in May, as they presented an 800-signature online petition to Superintendent Jim Simpson that asked, among other things, for a tax-rate increase to fund higher teacher salaries.
Organizing under the social media hashtag #LindberghCares, the students are encouraging residents to attend the board meeting to sway board members to find money in the budget to pay teachers more.
At Chief Financial Officer Chuck Triplett's May 17 budget presentation to the board, board President Kathy Kienstra wondered why Lindbergh residents weren't more outraged when the Crestwood Board of Aldermen approved $25 million in tax incentives for the $104 million mixed-use redevelopment of the former Crestwood Plaza. The proposal from Chicago-based owner UrbanStreet Group includes 225 apartments, retail, dining and a movie theater, funded by tax-increment financing, or TIF, or a Chapter 353 tax abatement — either of which will cost Lindbergh a total of $9 million, district officials say.
At the budget workshop, Triplett noted that the district could be helped by new businesses coming into Sunset Hills and started to jokingly say the same of the former Crestwood Plaza.
"Of course, once the Crestwood mall TIF ends …," Triplett started to say.
"We'll be dead," finished Kienstra, who called the new apartments at the mall site "devastating" to the district if children were to live in them.
A yearlong demolition is underway at the site, and UrbanStreet pledges that any apartments will be senior apartments or the company will pay the school district the property taxes that would have come from the development up to the base level it currently pays.
But going foward, the district will also lose $95,000 a year on property taxes from the mall after UrbanStreet successfully appealed the site's assessed valuation.
A TIF for apartments — paying no property taxes but sending more students to a school district already bursting at the seams — is what scares Kienstra the most, she said at the workshop.
"That's where I don't understand why people aren't saying, 'Oh my gosh, this is where we need to put our efforts,'" Kienstra said. "Because it could be devastating. Any new subdivision could be. It's not that we don't want the mall to be developed."
The mall demolition broke ground May 24, the same day the students walked out of school for higher teacher salaries.
Two Lindbergh teachers spoke out against the TIF to the Crestwood TIF Commission, but some of the Crestwood residents who have been most vocal in support of the mall development are teachers or related to teachers, including Mayor Gregg Roby, whose daughter is a Lindbergh teacher.
"I think that the teachers deserve more than what they're getting," Roby told the Call at the groundbreaking. "Unfortunately, Lindbergh doesn't have the finances."
Teachers in the Lindbergh National Education Association, or LNEA, also rejected last year's average 3.2-percent raise, seeking an average 3.5-percent pay hike that would have cost an additional $29,000. In June, the board adopted an operating budget that projected a surplus of $449.
Although teachers contend the district is not bargaining in good faith, Assistant Superintendent Brian McKenney said he and Triplett have met with LNEA negotiators 22 times since Feb. 1 to hammer out an agreement, similar to the number of meetings last year.
"The teachers don't feel valued, we feel that we're replaceable — that's basically what we've been told — so it's so much more than the salary schedule," LNEA President Kim Scronce told the Call. "I don't think (administrators) said it in those words, but they said there's people lined up to come to Lindbergh."
After hiring nine teachers for the coming year due to enrollment growth, the district has $770,000 of revenue to budget, most of which would fund the 1.25-percent raise.
One of the requests in the students' petition is that the district budget teacher raises first, then build the budget around that agreed amount.
Traditionally, Lindbergh does not deficit-spend to fund salaries, which is an easy way for a district to go bankrupt, Triplett noted.
"I wish there was more money for the teachers, I think we all do — it's one of those things where the money's just not there," said board Treasurer Vicki Englund. "Now obviously, we can and will and have entertained other ideas on how we can find more money to add to the pot. The biggest one is just don't grow.
"Just by that alone we'd be able to have … $2 million instead of $770,000."
In an effort to cut to find more money for salaries last year, Triplett personally tested out carpets at Sperreng Middle School to see if their $45,000 replacement could be delayed.
The carpets are in this year's proposed budget, however, and LNEA spokeswoman Gretchen Moser, a Sperreng teacher, cites that as an example of what could be cut to find more money for teachers.
"Does Sperreng really need carpeting right now?" she said. "They're increasing budgets that haven't been increased for years, but why are they picking this year to increase them when money is tight?"
Including $16.25 million in capital expenditures from the 2014 Proposition G bond issue that is funding construction of a new elementary school, Dressel Elementary, and improvements at the high school, the total Lindbergh 2016-2017 budget is $84 million.