Board of Education hears Compass Plan updates at workshop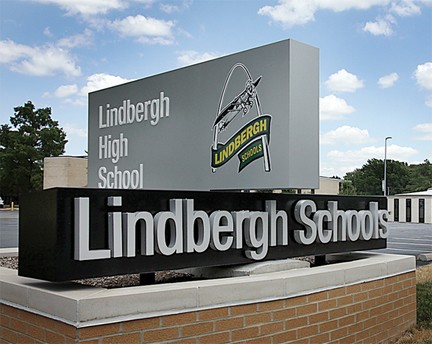 Lindbergh's Compass Plan is an outline of "how the work of the superintendent, teaching and learning, human resources, business and finance, and communications departments comes together to support all students, families and employees."
The plan is updated annually, with the most recent update presented at a May 5 special meeting.
The update is presented by four different departments, with plans for new and continued goals and programs shown to the board.
Communications
Chief Communications Officer Beth Johnston said the overarching goal for her department is to "engage and inform the Lindbergh community to cultivate support, understanding, trust and confidence, through open, honest communication."
"One of the projects I'm most excited about … is designing the new entrance for the Lindbergh High School main lobby," Johnston said. "How do we put together a design that brings our entire community together, tells the story of who we are and is inclusive of everyone?"
Johnston said the plan so far is to collect photos from students, alumni and staff about events, buildings or people from Lindbergh's past and to create a collage of the photos. 
Other projects include the implementation of consistent branding across all media and the development of a calendar for administrators to inform the community and increase in-person engagement. 
Human resources
The human resources plan is broken down into four sections — retention of staff, recruitment, employee support and teacher evaluation.
Chief Human Resources Officer Brian McKinney said the district is implementing several opportunities for teachers to receive extra training, like leadership or principal academies. The department is also researching an extra duty/extra pay program to allow each building to delegate money for clubs and sports, with the bulk being set aside for high school sports.
Lindbergh is now a part of the Spartan Academy at Missouri Baptist University and University of Missouri-St. Louis Studio, both programs that include an exclusive group of districts who have access to top-level students looking for student-teaching opportunities. 
"The students will spend an entire year with Lindbergh … they will come in the first semester and be all around the building, learning the culture, observing different teachers, different departments, different grade levels," McKinney said. "This is a really great recruitment tool."
Finance and operations
Chief Financial Officer Joël Scheible said some of the main focuses for the department going forward include looking toward future bond issues.
"The buildings that have a gymateria, where the gym is a cafeteria, those are on our list for a future bond issue to build equity so all kids have a gym, not just a gymateria," Scheible said. 
Scheible said the department is also looking to audit HVAC equipment and roofs, both of which can be expensive projects.
Teaching and learning
Teaching and learning featured categories like social emotional learning and program development. Chief Academic Officer Tara Sparks said the goal is to see 80 percent or more of students at low risk for social-emotional concerns.
The department is researching social-emotional screening tools to find that information and implement within the next year. 
Programs being developed by the department include aviation and drone piloting, JROTC and farming using a community garden. Lindbergh recently the Concord Community Garden and is looking to develop the property for future projects. 
"The idea is to keep the history of the community," Superintendent Tony Lake said. 
Programs would feature a from farm-to-table approach of showing the whole process.