Berra withdraws plan for apartment complex
County ignored zoning code, neighbors' attorney alleges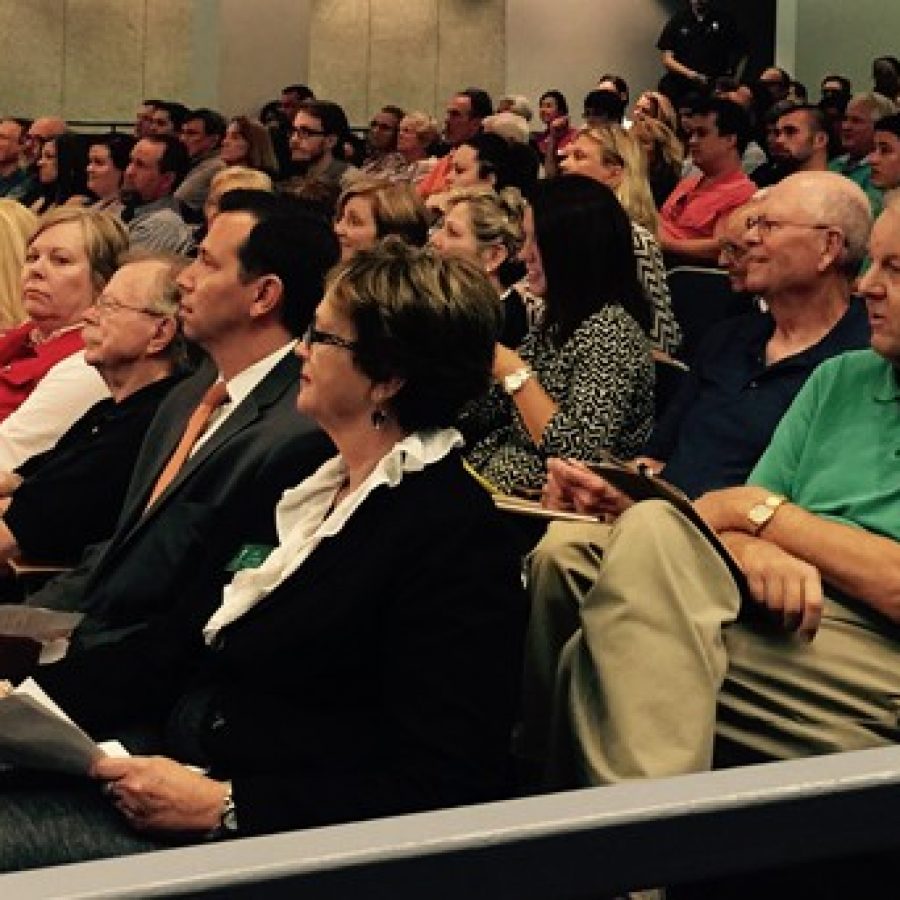 A contentious south county apartment complex may go through the entire county zoning process again, after the attorney representing the project's neighbors intervened at the last minute to allege that the county ignored its own zoning code to advance the project.
To the surprise and applause of the neighbors who oppose the apartments, the developer of the 232-unit apartment complex at Tesson Ferry and Bauer roads, Oakville-based J.H. Berra, requested that the plan be withdrawn last week, just hours before it was slated for final approval at the Sept. 6 council meeting.
Diann Valenti, legislative assistant for the site's representative, 6th District Councilman Kevin O'Leary, D-Oakville, told the Call that the project is on hold until J.H. Berra submits a new plan. If that happens, the earliest a new public hearing could be held would be October, with the project back before the council in November.
"What Berra is going to do, we have no idea," Valenti said. "That would be up to them. We don't know what their plans are at this point."
A packed crowd broke into applause when council Chairman Mike O'Mara, D-Florissant, announced Berra's decision.
Streaming out of the council chambers, the project's prospective neighbors said they viewed the surprise move as a victory against the proposal, which had been up for final approval.
Although the project is not dropped, subdivision trustee Bill Hogan said it was a welcome change from the "absolute ordeal" he and the other neighbors endured this summer trying to get county officials to listen to their concerns about the project. Hogan represents 625 neighbors in 17 subdivisions along Bauer and Keller roads who are against the project.
"We may have won the battle, but we did not win the war," Hogan said. "We'll be back at it, we're just going to hold our guns is what we're going to say tonight — and we're armed for the next session."
The property was already zoned R-6 multi-family residential in 2010 for a project with a nursing home and senior apartments that fell through.
The developer sought to change buildings around, but that many units can be built under the site's existing R-6 zoning, acting Director of Planning Gail Choate told the Call at the time of the initial public hearing in June.
"R-6 can yield that many units on that property," she said. "They don't need a different zoning calculation."
However, the neighbors' attorney, Stan Wallach, sent a letter to the County Council, the Planning Commission and O'Leary two weeks ago that questioned how the project could proceed when a section of county code calls for a reversion of a rezoning if a project stalls for more than 13 months.
In many cases, the surrounding neighbors voted for a higher homeowners' assessment on themselves to help pay for Wallach's services.
"We'll still sue if we have to," Hogan promised.
O'Leary, who has not responded to multiple requests from the Call and from neighbors to discuss the project, did not say anything at the meeting.
Residents have repeatedly said that their emails and calls to O'Leary and Valenti have gone unanswered, which added to their frustration with the zoning process.
Bauer Road resident Robert Schmitt, who is deaf, has spoken several times to the council through a sign-language interpreter.
At the Aug. 30 meeting, Schmitt told the council, "There is not one person supporting this, everyone around it is in opposition. But all of this seems to have fallen on deaf ears. I know, it's ironic."
However, Valenti told the Call that she has replied to many emails from residents, although they may not like what she has said.
"I have responded to a lot of people, so that was not entirely true," she said. "I can only give them so much information, and then after that, if they don't want to hear what I have to say, it's hard to just keep repeating the same thing. Did I contact every single person that called? At some point, they were calling everybody here (at the council)."
On the topic of O'Leary's support of the apartments, Valenti said, "You would have to ask Councilman O'Leary."
Asked if she knew why O'Leary held the bill when O'Mara was absent, she said, "I do not. It was just decided to hold it."
As to not returning calls from the media, Valenti said, "I typically do not return media phone calls myself — I was referring those to the councilman."
Minutes' transparency questioned
First District Councilwoman Hazel Erby, D-University City, began the night attending the meeting, but walked out after getting into a disagreement with O'Mara over whether the county properly responded to Schmitt about a transparency concern.
Instead of summarizing citizens' concerns about the apartment complex as is typical of the minutes, the Aug. 30 Council Journal only listed the citizens' names and noted that they were opposed to the apartments.
"I rely on the written record of the meetings since the voice recognition caption of the meetings on YouTube is wildly inaccurate," Schmitt said, noting that the county website says that if citizens speak at a council meeting, their comments will be summarized in the minutes.
When Schmitt pointed this out to County Clerk Genevieve Frank, he said, she "was adamant that she had no plan to rectify the situation."
"As well as creating a communications barrier to me personally, this decision appears to have censored us by removing our voices of opposition to Bill 180 from the official record," Schmitt said. "Transparency in local government has been compromised, replaced by what appears to be a self-serving bias to protect individual council members who support the bill."
Frank said she sometimes cuts summary statements in order to save time when residents have repeatedly made their concerns known.
Anyone who wants to hear full comments can go to YouTube or listen to the audio, Frank added.
Erby told O'Mara that someone from the county should follow up with Schmitt since he was unhappy with the response he received.
"Gen did follow up with him, and he's just repeating," O'Mara said. "We just addressed it."
"Mike …," Erby said.
"Next speaker, please," O'Mara continued.
With that, Erby left the chambers.