Belmar named chief of county Police Department
Breadth, depth of experience factors in Belmar's selection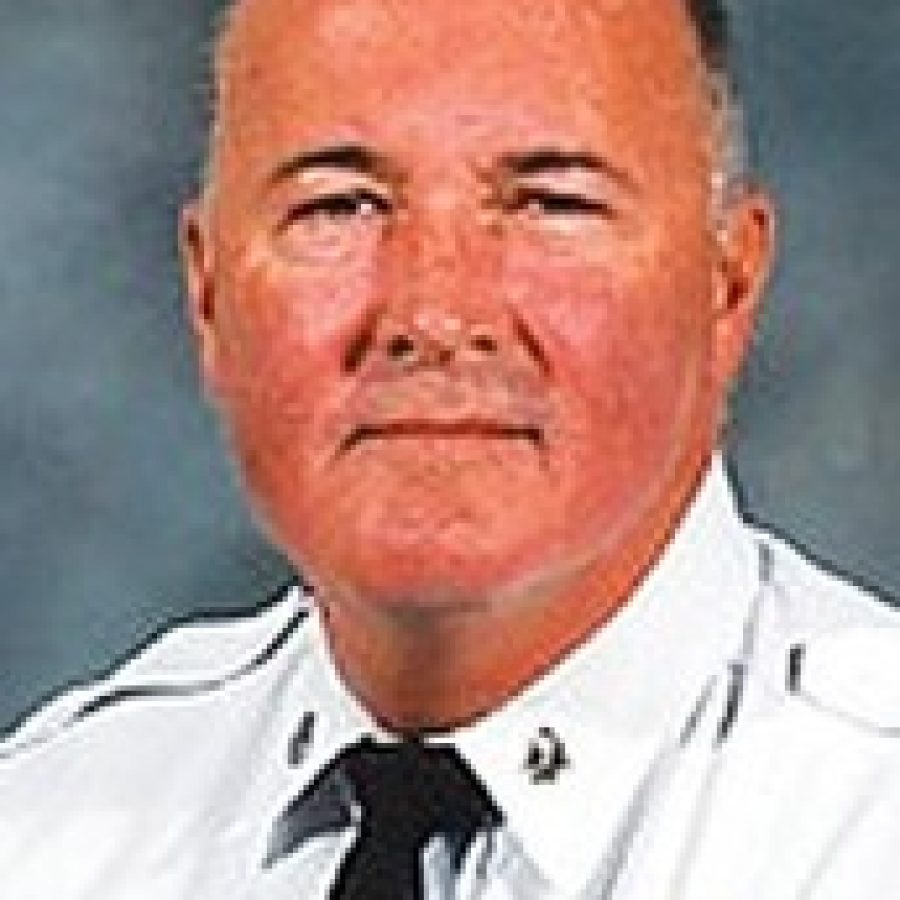 After a unique year in the history of the St. Louis County Police Department, there's a new chief in the county.
Last week, a day after former chief Tim Fitch's retirement, the county Board of Police Commissioners named Lt. Col. Jon Belmar as Fitch's replacement.
After the Jan. 31 announcement, Belmar said the outgoing chief left the department in "outstanding" shape, so he will be looking to improve its existing operations rather than making wholesale changes.
Last July, Fitch promoted Belmar, then a captain, to lieutenant colonel, the department's highest rank below chief.
Belmar, 50, has spent his entire career in the department, serving in every division since he began his career 27 years ago in the Affton Southwest Precinct, which he later commanded.
Besides his most recent assignment commanding the Tactical Operations Unit, Belmar has commanded the Bureau of Patrol Support and the Bureau of Crimes Against Persons Unit. He has supervised the Bureau of Crimes Against Property and the West County Precinct and served in the South County Precinct.
Born in north county, Belmar currently lives in west county with his wife, Kathy, and two children. He has a bachelor's degree from Arkansas State University, graduated from the FBI National Academy and has received at least 87 awards, commendations and letters of appreciation during his years on the force.
Fitch found himself at the center of county politics last summer after he recommended that the FBI investigate a subcontract that benefited a company owned by then-police board member Gregory Sansone. In the fall, Fitch asked the FBI to investigate a county Department of Health administrator who apparently received millions of dollars in county contracts through a phony company before committing suicide.
Following Fitch's initial public conflicts with County Executive Charlie Dooley and the resignation of two of the five members of the Dooley-appointed police board, in August the County Council passed a resolution supporting Fitch 4-0, with abstentions from two Councilwomen, Hazel Erby, D-University City, and Kathleen Burkett, D-Overland, and Councilman Mike O'Mara, D-Florissant, absent.
After Sansone became the third member of the police board to resign, leaving it without a quorum to meet, the council rejected Dooley's board nominee Bob Baer because of his ties to Dooley's adviser John Temporiti, fearing what they saw as a possible attempt to fire Fitch. That same night, the board approved Dooley's other nominee T.R. Carr, the former mayor of Hazelwood. Days later, Fitch announced his retirement, saying he would start his own public-safety consulting business.
Despite that recent history, Belmar said he has no concerns about how politics might affect his job or about the relationship between the police department and the county, noting that during the snap of bitter cold weather early in January he collaborated closely with the county to set up warming shelters.
"I'm not concerned about navigating those waters," he said. "Again, I've been around a long time. I don't come in here with any biases, nor should I. Each department has to have the ability to cooperate fully with the administration of county government, and we will do that."
Belmar said he also plans to emphasize regional cooperation and the importance of leadership, even among rank-and-file officers.
"You don't have to have stripes on your arms or bars on your shoulders to be a leader around here," he said.
Any potential city-county merger is a political question that is a separate issue from whether police departments should cooperate, he added, saying the two departments have cooperated throughout his decades on the force and citing the success of the departments' merged helicopter units, which they operate with St. Charles County. That collaboration is looked at by police departments nationwide as a model of successful collaboration, he noted.
"The bottom line is, when it makes sense for St. Louis County, when it makes sense for St. Louis city and then the region, when we can do some things that would streamline our services and support that, I think it bears talking about," Belmar said. "And again, I would just assert to you that many of these things are happening already, and because of some political things that are happening out there regarding the merger — which is not going to have anything to do with me — then (people are) talking about, is this even possible? I would tell you it's already happening. It's happened already."
Noting that St. Louis Police Chief Samuel Dotson viewed Fitch as a mentor when Dotson took the top job in St. Louis at the end of 2012, Belmar said he would look to Dotson, whom he has known and worked with for years, for advice and mentoring as Belmar adjusts to his new role as chief.
The decision of whether to merge the crime statistics of the city and county is ultimately not up to the police chief, Belmar said, but will be decided by the FBI and the police board.
"Tactical Operations has been supporting the city of St. Louis for my entire career. I used to spend my summers at the VP Fair. This is nothing new," he said. "Can we look at things that take it further? Cross-deputization — how does that help us? Does that solve a crime or actually save a life, and if it does, we're going to seriously explore that."
As chief, Fitch had an active Twitter account, and Belmar promised to focus on the basics of policing — response times and service — but also explore social media, noting what a quick and powerful tool it could be for police to spread news and information during an emergency, such as a child being kidnapped.
A few minutes after the announcement, Belmar called his wife to tell her he had been selected as chief, but she told him she had already learned the news from Facebook.
"I suspect I may not be quite as savvy (in social media) as Chief Fitch, but it's 2014, and it's a way to communicate with folks," Belmar said. "I'm still a little bit of a dinosaur when it comes to those sorts of things, but it matters, and people expect information that way."
Roland Corvington, acting chair of the police board, said the decision to promote Belmar over the department's two other lieutenant colonels, Kenneth Gregory, of Florissant, and Kenneth Cox, of Oakville, was not an easy one.
Fitch promoted Gregory and Cox shortly after he took the top job in 2009.
"These are three fine individuals, each with experiences that would have been a benefit to the county police," Corvington said after making the announcement. "With respect to the selection of Col. Belmar, the breadth and depth of his experience derived from 27 years of law enforcement experience is what compelled us to choose him."