By Gloria Lloyd
News Editor
news3@callnewspapers.com
Ismaine Ayouaz has worked for years to get elected to the Crestwood Board of Aldermen, and it happened last week when he defeated incumbent Ward 4 Alderman Timothy Anderson to become Ward 4's next alderman.
Ayouaz defeated Anderson with 419 votes, or 58.85 percent of the vote, to Anderson's 292 votes, or 41 percent.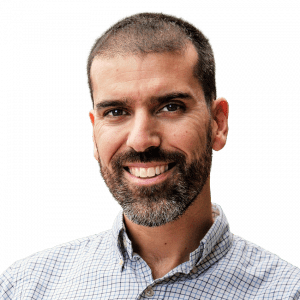 Anderson led after the first of two precincts rolled in, but Ayouaz took a sizable lead in the second precinct.
Anderson, an attorney, was elected to the Board of Aldermen in 2015. Ayouaz, an operations and system specialist at Washington University who was born in Paris, France and became a U.S. citizen in 2015, came in second in 2016 in a four-way race for the Ward 4 aldermanic seat held by Tony Kennedy.
Ayouaz said he is proud to live his American dream by being able to serve his new country and city as an alderman.
"It is showing that it's possible to do that in America, and because I care about my community and because I care where I live because I'm raising my two children, that's why I run for office," Ayouaz said. "It's a way to show that people like me can achieve something in America even though I have a strong accent, even though I have a name that is not very common."
He has attended nearly every Board of Aldermen meeting for about three years, and has served on the Economic Development Commission and the Parks Board. He visited every door in the ward twice in both elections.
But although Ayouaz proclaims his love of Crestwood, he said not every person in the city has treated him with respect. Some have assumed things about his religion, made assumptions because he's an immigrant or worse.
"I just want to help and serve and be part of my community and feel accepted," Ayouaz said. "Since I've been in America, been in France, prejudice has been strong on me."
But that didn't keep him from approaching Mayor Gregg Roby just after Roby was elected in 2014 to ask if he could get involved with the city. Roby agreed and later appointed Ayouaz to city boards.
"Maybe I'm naive, but I still think it's possible to serve people without becoming a politician the way we see it at the national level," Ayouaz said.
"That's what I told people — I'm here to help and serve to the best of my abilities and I don't want to become a politician. I don't have ambitions more than becoming an alderman and trying to do good for my community."
But he hopes to bring the fresh perspective of someone raised in France to the board. He promises to hold at least one town-hall meeting a year, applauding Ward 2 Alderman Justin Charboneau's "Juice with Justin" events.
The new alderman plans to focus on engagement through social media and will explain every vote on Facebook.
He sees a lack of engagement through town halls as one of the reasons he was able to beat Anderson.
"Mr. Anderson is a good fellow, he's a good guy, but he failed to engage people on a regular basis," Ayouaz said. "In three years he was an alderman, we didn't have any town-hall meeting."
Ayouaz ran into resistance at the city level in 2016 because he issued a press release that he would run as a write-in candidate because, under the Crestwood City Charter, he had not been eligible to vote long enough to officially file for office. But Ayouaz later filed anyway, setting off a potential legal battle if he had won.
The city accepted his filing, but the Board of Aldermen was prepared not to seat him if he had been elected.
Ayouaz said that he thought that he was complying with the law when he decided to run as a write-in candidate.
But he later received legal advice that the city Charter conflicted with state statute and he should be able to file.
"I had someone who was a lawyer tell me, 'If I was you, I would file,'" said Ayouaz, who has declined to name the attorney at the attorney's request. "I'm not someone who's going to cheat the system. That's a bad example not only for the people I want to represent but for my kids."