Audit shows increase in Crestwood's net position
Mayor accepts 'presence' of former alderman at podium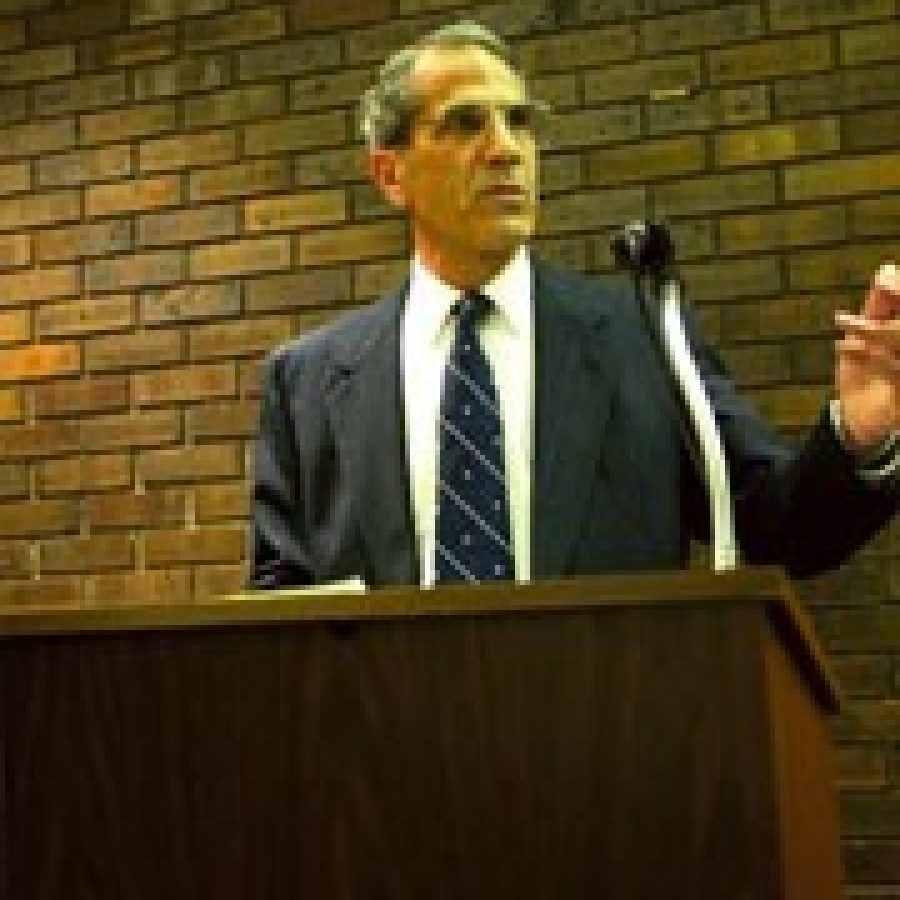 The Crestwood Board of Aldermen voted unanimously last week to accept a fiscal 2014 audit that shows, among other things, an increase in the city's net position and overall fund balances compared to fiscal 2013.
The audit performed by Schmersahl Treloar & Co. was not available on the city's website before the June 23 board meeting.
"… By the way, this document will be voted on this evening by the board to accept and it will be placed on the (city's) website first thing tomorrow morning," Mayor Gregg Roby said before Mark Graves of Schmersahl Treloar presented the audit results.
Graves noted his firm previously served as the city's independent auditor and "truly we are happy to be back." Schmersahl Treloar gave the city an "unmodified opinion" — meaning it considers Crestwood's financial statements, ending Dec. 31, 2014, accurate and properly prepared.
The city's net position of $21,135,784 at the end of 2014 showed an increase of $2,048,916 compared to the previous fiscal year.
"The increase is included in cash and investments, which is up about $862,000 at that period in time. All of your funds are fully collateralized, so there's no concern from that standpoint," Graves said. "The other significant increase is in the area of capital assets of nearly $1.3 million, and that's thanks in large part to the Spellman Road reconstruction, as well as improvements to the city streets that took place this year. I think there were some 15, 18 different street projects that were ongoing during 2014."
The city has total liabilities of $1,279,333, which are up "slightly" — roughly $65,000 — compared to fiscal 2013.
"… The primary increase there is related to accrued salaries and accrued compensated absences," he said. "A lot of accrued salaries tend to fluctuate from year to year, depending on where that last pay date was and how many dates of accrued salary are required."
Unlike the last time Schmersahl Treloar performed an audit for Crestwood in 2008, the city carries no long-term debt. At that time, the city had nearly $5.5 million of long-term debt on the books, Graves noted.
"Now the city has a good financial position given your total net position, which is your assets minus your liabilities of $21.1 million — $14.3 million is invested in bricks and mortar and streets and pools and things of that nature," he said. "Nearly $3 million is restricted for the various funds and the remaining unrestricted balance of $3.9 million improved by half a million dollars from 2013 to 2014."
The city's total expenditures for fiscal 2014 increased by $404,446 from 2013 to $11,399,445 from $10,994,999. The city's total revenues for fiscal 2014 increased by $892,831 from 2013 to $12,227,321 from $11,334,490.
For fiscal 2014, the city's governmental funds had a combined ending fund balance of $7,442,608 — up $827,876 from $6,614,732 in fiscal 2013.
The audit report also states that Crestwood, like many surrounding municipalities, has experienced the long-term impact of a declining economy.
"While the economy has improved over the last couple of years, there are still challenges that the city faces, such as maintaining high public safety and service levels while experiencing a declining retail base and overall declining revenue streams," the report states.
The report cites UrbanStreet Group of Chicago's proposal to redevelop the former Crestwood Plaza property into a mixed-use project.
"This evaluation process is ongoing and may lead to changes in the city's outlook in the future," the report states.
At one point, Ward 1 Alderman Darryl Wallach asked Graves about the city's pension plan.
"It looks like we're fully funded. We're at 116 percent, so I'm assuming you would probably say kudos to the city in regards to that," Wallach said.
Graves replied, "I would absolutely have to say kudos to the city. There are a majority — I shouldn't say that because I have not done all of that homework. There are many municipalities that do not see that number in the hundred-percent area. So the fact that the city of Crestwood has, in reality, taken your responsibility for those pension-plan amounts and paid in the appropriate amounts, I mean kudos truly to the city for doing that."
After aldermen finished with their questions, Roby said, "If any residents in the audience have questions, I'd — if you wouldn't mind, I'd prefer that you have an opportunity to review the audit. If you do have questions, please forward them to (City Administrator) Mr. (Mark) Sime, and he'll be happy to get those answers for you through our finance officer and/or Mr. Graves …"
Despite his request for only written questions, Roby did permit former Ward 3 Alderman Jerry Miguel to ask some questions about the audit.
"This is actually just a report, but I'll accept your presence at the podium," Roby told Miguel.
Miguel said, "… While I did not have the opportunity to review the audit report, first I will point out that in past years the audit report was made available to the public prior to the presentation by the auditors. Last year it was marked, the audit report was marked 'preliminary,' but it was available to the public. Nevertheless, I can ask — I do have some questions based on what Mr. Graves said in his presentation."
Roby said, "Could you — could you please direct your questions to Mr. Sime in an email and let us answer those so that we're not …"
Miguel said, "I would prefer to ask my questions to Mr. Graves."
Roby said, "Because I don't know that the rest of the people in the audience understand what you're asking."
Miguel said, "I would hope that the Board of Aldermen might understand."
Questions Miguel asked Graves included the increase in total liabilities and a recent 2015 budget amendment.
Miguel also asked City Attorney Lisa Stump, "Is the audit report a public report at this point in time? As we speak, is the audit report …"
Stump interjected, "The final audit report is a public report …"
Miguel asked, "What about the report that was received by the city this past week?"
Stump said, "I believe that that is the final report."
Miguel said, "… Are you saying that a preliminary report would not be a public document?"
Stump said, "Under the Sunshine Law, preliminary reports are not — the Sunshine Law provides an exception, so it would be up to the city, but it provides an exception — except for it specifically provides that the final document, the final audit report, is a public document."
Miguel said, "So you're saying that a preliminary report is not a public document."
Stump said, "A preliminary audit report can be exempted under the Sunshine Law."
Miguel said, "OK. Thank you."