Assistance available for Arnold, Sunset Hills flood victims
Those with flood damage are urged to register with FEMA at relief center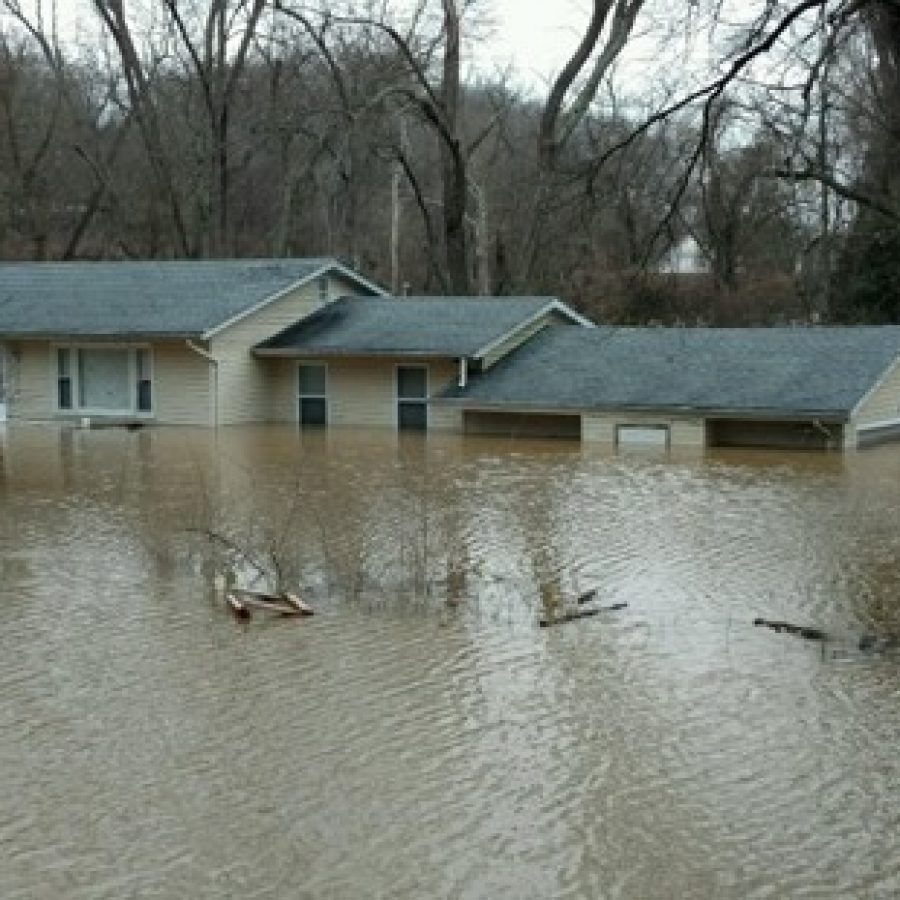 Officials in Arnold and Sunset Hills hope the federal government will buy out the houses of residents who lost their houses in December's record flooding, but in the meantime federal agencies are officially registering flood victims who need any type of assistance.
In the last two weeks, the Federal Emergency Management Agency, or FEMA, has opened offices around the region to provide grants and other disaster assistance to people affected by the flooding. A south county location opened Friday at the Jefferson Barracks Visitor Center at 345 North Road, and a Jefferson County location opened Jan. 30 in the former library space at Arnold City Hall, 2101 Jeffco Blvd.
The centers are staffed with recovery specialists from FEMA and the Small Business Administration, or SBA, to help residents and business owners who may have had losses or damage in the floods from Dec. 23 to Jan. 9.
President Barack Obama's Jan. 21 federal disaster declaration paved the way for the federal assistance. The agency has 60 days from that declaration to register people for any type of assistance.
Arnold and Sunset Hills officials are focused on helping residents who were affected by the worst flood to ever hit either city, while still calculating the financial fallout.
Arnold City Administrator Bryan Richison told the Call that the first step for anyone who suffered damage in the flooding is to register with FEMA through one of the disaster relief centers, which should be open for at least several more weeks. The centers are open from 9 a.m. to 7 p.m. Monday through Saturday.
"That's the prime thing — if you don't get registered, you're eligible for nothing," he said. "Once they stop taking those signups, you're not going to be able to get in the system and be considered. Just signing up doesn't mean you'll get something, but it at least opens the door."
With prime flooding season soon arriving, Arnold officials are allowing subdivisions to keep their sandbags up through the spring.
Residents who lost their homes in the rare winter flooding may not learn whether they will get FEMA buyouts for a year or longer, but officials in both cities say these victims — five in Sunset Hills and 10 to 15 in Arnold — are their highest priority.
If FEMA decides homeowners are eligible for buyouts, the agency requires a 25-percent match of the funds from the city or the county. The State Emergency Management Agency, or SEMA, acts as the middleman and selects the best buyout proposals to go to FEMA this December, said Sunset Hills Public Works Director Bryson Baker, who formerly served in the same position in Arnold.
"The chance of receiving buyout funds is very slim because there's so many people who want this pot of money," Baker said, but other programs are also available, including grants and low-interest loans.
As far as a local match, Richison said, "If that's what it takes to get it done — if FEMA is going to put up most of the money but we need to put in a match — I think we'll do everything we can to do that. There are houses that were completely underwater that we strongly believe should be bought out or seriously considered for a buyout."
The Sunset Hills Public Works Department is still estimating how much money the city could pay if it pursues buyouts on behalf of the five residents who are seeking one. The Finance Committee will consider whether the city has the money when it meets Feb. 22. The city has $6.5 million in reserves on an $8.85 million budget.
Several displaced flood victims came to a Public Works Committee meeting last week to ask for buyouts, but the aldermen on the committee said they can't make a recommendation until they know the financial ramifications. If the destroyed houses are bought out, the city would also have to pay demolition and maintenance costs of what would become city property in a flood plain, similar to the often-flooded Minnie Ha-Ha Park.
Ward 1 Alderman Richard Gau suggested city officials delay more than $200,000 in equipment purchases until they know how much money they might need to pledge for buyouts.
A $93,562 boom mower and a $37,417 tar melter are needed right now, but a $44,928 pickup truck and $68,631 dump truck can be delayed, Baker said.
"The residents are needing this buyout money, and we are going to be trying to scrounge every penny we can, and I think we would all want to be supportive of the residents — do we not need to maybe be a little more conscious with every penny we spend?" Gau asked, gesturing to resident Steve Hayes, whose family lost his house in the flood. "If you talk to a resident and say we need a dump truck for $68,000, I think this gentleman over here would rather have this assistance in his home."
"Thank you," Hayes said.
"I feel like our budget can handle it, I think we have money in reserves," Baker said. "I would hope we can find the money if we want to buy the properties at a later date."
"I appreciate your concern for watching the pennies, I think that's important," said acting Board of Aldermen President Tom Musich, chair of the public works panel.
The city also has its own unexpected flood expenses on city property to factor into the decision, said Ward 4 Alderman Pat Fribis, a committee member who chairs the Finance Committee and is running for Sunset Hills mayor.
Minnie Ha-Ha and Arnold City Park will be closed for months as both cities repair electrical equipment destroyed when the parks flooded.
Arnold's park could be closed until May, and its bathroom might have to be replaced entirely due to the millions of gallons of raw sewage the Metropolitan St. Louis Sewer District released into the Meramec River after its Fenton wastewater treatment plant went underwater, Richison said.
"We're monitoring that pretty closely for any contamination," Richison said.
A rough estimate of the damage to city infrastructure in Sunset Hills is $300,000, Parks and Recreation Director Gerald Brown said, but that could decrease based on bids from contractors.
Arnold does not yet have an estimate on total damage, Richison said, but the Parks Department is also seeking bids from electrical contractors for the park.
Since the flooding is now declared a federal disaster, cities may be able to get reimbursed for infrastructure, Baker noted.