'All good': Oakville community unites to help local crafters sell out, for first time ever
Two local crafters were able to sell out of their products for the first time ever thanks to a Facebook post and the generosity of the Oakville community.
After a slow start to the weekend, Will Allgood and his sister-in-law Sheila Bone both nearly sold out all their handiwork at the Oakville Band Parents Association Craft Fair Dec. 8, held at Oakville High School. Allgood, who lives in Lemay, specializes in wood-burning and painted illustrations, while Bone makes tissue holders, gift card holders, coasters and other crafts out of yarn.
The effort to help the two artists was spearheaded by community member Lacey Belz, who was manning her own booth at the craft fair Dec. 7 with her daughter's softball team to support nonprofit organization Project Lydia. Her booth was across from Allgood and Bone, and as the 12-and-under softball players came and went throughout the weekend, they kept admiring the classic crafts across the way, which still weren't getting any buyers.
"They were all commenting on their (Allgood and Bone's) crafts saying, 'If I could pick one out…,'" said Belz. "As the day went on… I noticed they had no customers whatsoever, and it made me so sad."
Belz, who is a member of the Facebook group Oakville Residents Unite, said she realized that she could use the group to rally the community to come out and support the two crafters on the second day of the craft fair.
"I just remembered Oakville Residents Unite and I thought had anyone posted about the craft fair at all on there?" Belz said. "Much less that we can rally as a community and shop people not getting a lot of business."
Belz asked Allgood and Bone if she could take photos of their goods, telling them that she had some "friends" who might be interested. Then she posted on Oakville Residents Unite urging residents to come out to the craft fair.
"I am here working the Project Lydia booth with my daughter…. but this post isn't about us. It's about the little elderly couple in the booth ACROSS from us. O.M.G. The sweetest 2 people who have sat here all weekend and barely moved any product," said Belz in her Facebook post, attaching photos of the engraved wood and the yarn crafts. "I would just LOVE for Oakville to come and clear their tables! I would love for this to be a story where our community came and rallied so these 2 people didn't have to drag their items back to their car at the end of the day."
Within an hour, business was picking up for Allgood and Bone as Oakville shoppers came to the craft fair specifically to buy from them. One resident even hitched a ride from another resident she'd never met before to get there.
"It was just a feel good moment," Belz said. "They (Allgood and Bone) kind of caught on but they just kept saying, 'You have an amazing group of friends. Tell all your friends thank you, we're so appreciative,'" Belz said. "At the end of the day he had very little to pack up, and the other table was almost cleaned up."
In addition to encouraging the community to come out to the craft fair, Belz also purchased items for people who had expressed interest on Facebook in helping out but could not make it to the craft fair themselves. They paid her back through Venmo, a money-sharing app.
"I knew people would want to participate even if they didn't get to the craft fair. Within 24 hours… I had people Venmo for all of it and come and pick it up," said Belz, who added that another pile of items Oakville residents purchased from Allgood and Bone is being donated to Bethesda Health Group for the center's common room.
It wasn't until the end of the day when Belz got a business card from Allgood that she saw his last name.
"All good — really no better way to sum up the day," she posted.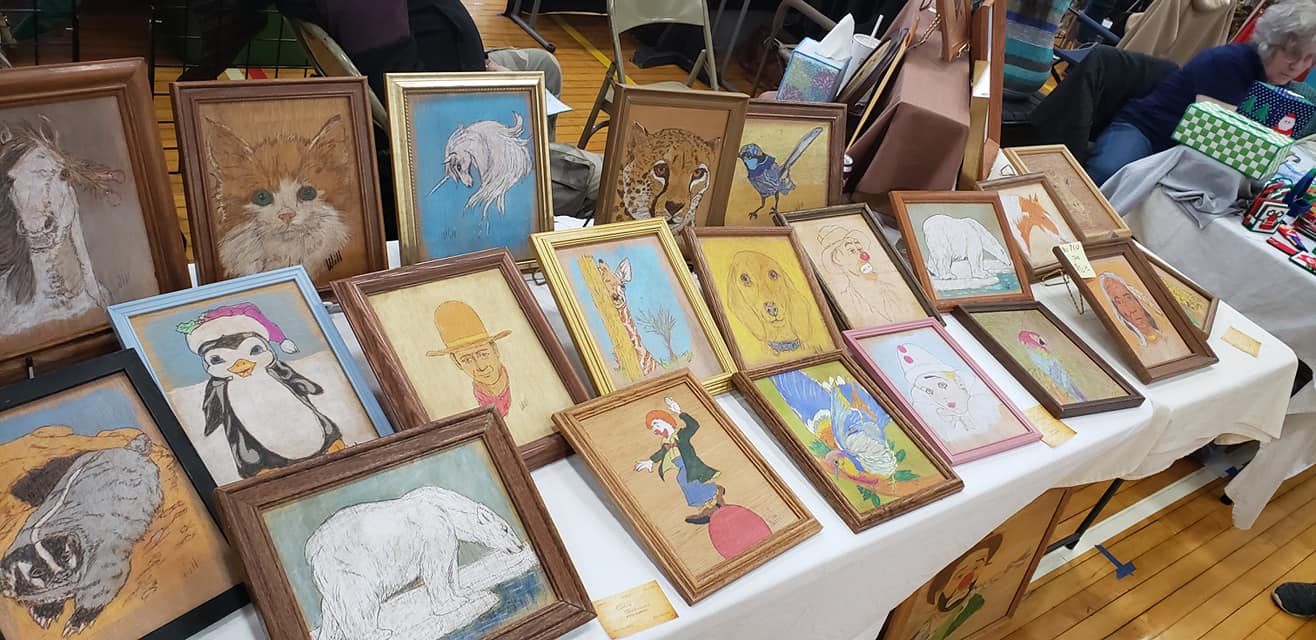 And other Oakville residents soon took to social media to talk about what they'd purchased. Belz's daughter gave her sister a dog painting for her birthday. One woman bought up all the yarn crosses for her church. A resident said she was hanging her new leopard painting between her kitchen and her living room. One poster said she was gifting a John Wayne painting to her grandmother. Another said she "can't wait to hang my new clown. I wish I could have bought more."
For Allgood and Bone, the Oakville craft fair marks the first time either of them have nearly sold out of their stuff.
Bone grew up in St. Louis and moved to Belleville, Illinois, roughly 20 years ago when her husband was in the military. She got into crafting thanks to her father-in-law and mother-in-law, who used to make the same crafts. She's only visited craft fairs for about a year.
"I'm retired and I just started doing some more of them," Bone said.
She had attended the Oakville craft fair in the spring, but this was the first time she sold out.
"It was a good craft show and not just because I sold out, but the vendors around us and the people coming through… they were all pleasant and very courteous," said Bone, whose nephew attended Mehlville High School. "I thought the people all around, they seemed to be friendly and courteous and very pleasant. I say thank you for that as well as purchasing stuff because I can be the type of person even if someone doesn't buy something, I'll chitchat with the people looking."
Bone, who is retired after working at a bank and as a cashier at Walmart, said she crafts as a hobby and not a business. Some of her crafts, like tissue boxes, can take up to six hours to complete while the smaller items, like gift card holders, take around an hour.
"My husband is a trucker so he's in and out, but it gives me something to do instead of just sitting here on the computer or watching TV," said Bones. "I'll watch while I craft or I'll just turn the music on… and work… The fairs get me out of the house to where I get to interact and meet people. It's just something to fill the time and kind of keep me active."
Allgood moved to St. Louis in 1966 by way of Georgia and South Carolina. He was raised in Sidney, Nebraska, but his job with the Army as a civilian kept taking him to different places.
He has been crafting for 76 years, since he was 10 years old. He doesn't remember how he got started making illustrations but it was some time when he was in grade school. He got into wood burning over the last 35 years.
"I (usually) sell very little… This is the first time I've ever had a good sale. Most of the time I don't make expenses," said Allgood. "It's more of a hobby than anything else, a way to pass time."
This is Allgood's second time at the Oakville Craft Fair, and he calls it "a great show."
"It was really quite a surprise (selling out). I usually get a lot of admirers but very few buyers," said Allgood. "I just had buyers from everywhere. I got rid of things I had for 20 years that I had kept showing because I like them. People bought and bought and bought… It's nice having people see what you do and appreciate it and say so."
Some of Allgood's favorite subjects are animals, particularly birds, fish and mammals because "there's a lot to choose from." On average, an illustration or woodburning can take four to six hours, depending on if he has everything ready to go.
"I have a dozen works in progress right now… For one thing, I gotta replace everything that went in this show so that's a bit of work there," said Allgood. "I'm adding to the list all the time whenever I find something that I like."
One upcoming illustration will be extra special, inspired by the many Oakville residents who chose to support a pair of crafters on a Sunday in December. Allgood plans to illustrate Oakville High School's mascot, a tiger.
"I thank the community for coming out and supporting us. It was really nice. And I'll be back come spring," He said. "They have a tiger, and I'm going to do that tiger so that people there can take it home as a copy of their symbol for their teams. When I get there in spring, I'll have quite a few tigers for people to see. Big cats are my favorite to do."