Aldermen to meet this week with administrator candidate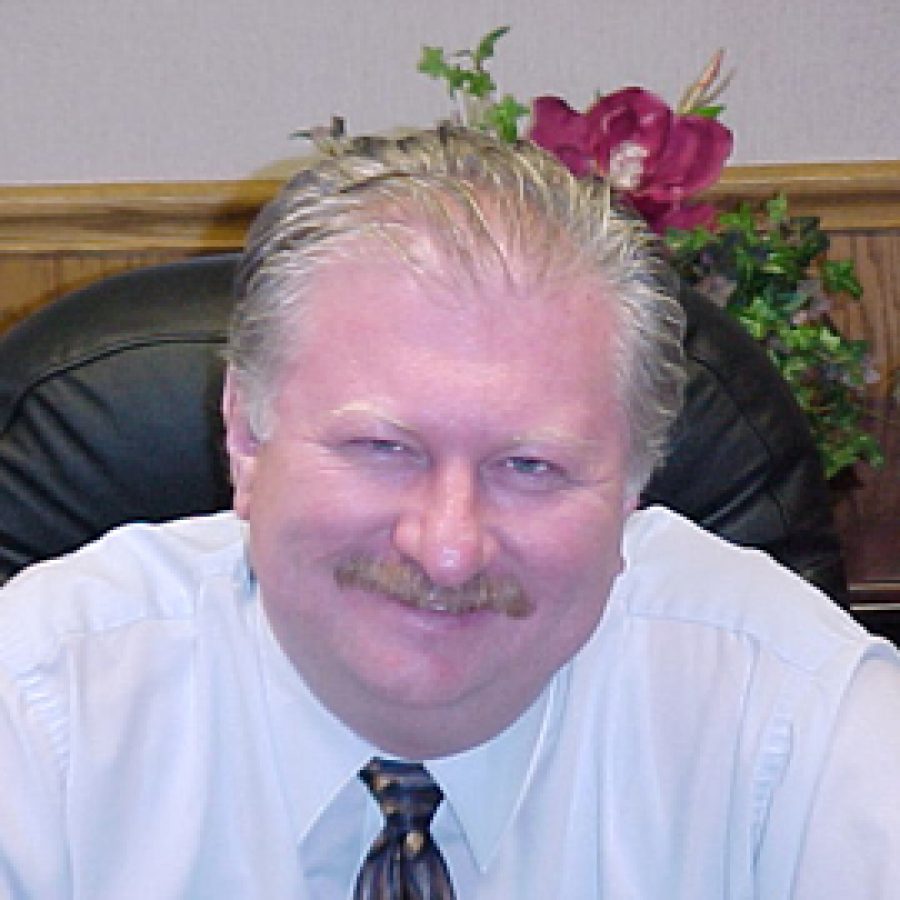 The Crestwood Board of Aldermen last week tabled consideration of Mayor Roy Robinson's recommendation for city administrator and were scheduled to meet with Frank L. Myers in a closed session this week.
The Board of Aldermen was scheduled to meet with Myers in a closed session Tuesday night — after the Call went to press.
If approved, Myers would succeed Don Greer, who has been serving as both city administrator and police chief since December 2002.
Aldermen voted in August to approve Greer's returning to his full-time duties as police chief and discontinuing his city administrator duties when a new city administrator is hired and begins work.
Myers, who has 22 years of experience in local government, previously told the Call that serving as Crestwood city administrator is an exciting opportunity. His experience in local government includes 17 years of service as either a city manager or administrator.
At the Jan. 10 board meeting, Robinson publicly announced that Myers was his choice to serve as city administrator, and read a detailed biography of Myers' qualifications and experience.
"I think this gentlemen … will assist us in bringing this city back on track and help us tremendously in our redevelopment process, and I just hope that this board will take that into consideration …," the mayor said.
Ward 1 Alderman Richard LaBore noted that Robinson had introduced Myers and his wife, Carolyn, to the board after a work session in December, but aldermen did not have an opportunity to speak much with him because most were concerned the session could have "constituted an unannounced meeting of the board … So most of us had to say hello and then leave …"
He wondered if other aldermen would be "comfortable" in postponing a vote on Myers' appointment for one meeting until they could meet with Myers in a closed session "so we can interview and talk to him ourselves …"
Robinson said aldermen could do what they wanted, "but the thing about it is you know that I brought that gentleman in at city expense … I have offered to bring him in at any other time the board so desired, but you wait until tonight to ask for that privilege, and the other thing is, those who were here had the opportunity to talk to this gentleman on that day, but individually, and some did. Those who chose not to we assumed had no interest in talking to him … We didn't have a quorum and some of our aldermen were not even at the meeting … at their own choosing. Some were excused and some weren't excused. So what I'm saying is they were gone. They weren't here.
"So it costs money to bring people back in to do this … As all of you know, I met with you in executive session. I've in-formed you on two different occasions of this man's credentials and qualifications. I just find it strange tonight that you want to keep extending things. We've got to run a city here and it's time to move forward," Robinson added.
LaBore said it was not his intention to "unnecessarily extend" the decision and he was aware of the expense, but he was "a little uncomfortable" making a decision until he could sit and talk with Myers.
Robinson said, "… I think that's great and I think if that's what you all want to do, that's fine, but I think you all have been around long enough, most of you have, that if this is what you wanted, you should have come forward way before tonight … It just delays the process."
LaBore said, "It was not deliberate."
Ward 1 Alderman Richard Breeding later said, "I'm prepared to vote … I'll let the other aldermen talk, but I'm prepared to vote this evening …"
Other aldermen, including Joe O'Keefe of Ward 4, Pat Duwe of Ward 4 and board President Trueblood of Ward 2, agreed with the concerns raised by LaBore.
Trueblood said, "I would have some questions I would like to ask the candidate in private regarding his last employment that I wouldn't want to discuss here publicly, just in deference to him …"
Ward 3 Alderman Jerry Miguel later said, "… I'm ready to vote this evening, but I sense a discomfort now on the part of now four of my peers. So in deference to them, I am more than willing to hold off …"
Myers, 46, currently serves as vice president of marketing and local government services for the Kilduff Co., a retail development and consulting firm in Mequon, Wis. His first city manager position was in St. John and he also served as the first town manager of West Warwick, R.I.
Myers served as city manager of Trot-wood, Ohio, where he worked closely with elected officials, staff, the business community, and county, state and federal officials to begin the process of transforming an 88-acre dying shopping mall into a more than $70 million redevelopment project called The Landmark.
More recently Myers served as village administrator in Matteson, Ill., where a split board last summer voted to terminate his contract after he served nine months in the post.
Noting that Matteson is "a community growing through a lot of change," Myers previously told the Call, "I was recruited from Trotwood, where I served for 6½ years, by a professional head-hunter to go to Mat-teson. They did a nationwide search and I was hired there. The community is undergoing a lot of change, both racially as well as growth — just phenomenal growth — and there were some governance issues.
"The board was split over governance issues and I became a casualty of that. Two months later, the acting administrator was removed. So they've had three administrators in a period of about four to five months — unfortunately undergoing a lot of instability right now and I was a casualty of that," he previously said.