Alderman steps down after serving 24 years
St. Louis County executive declares Jan Hoffmann Day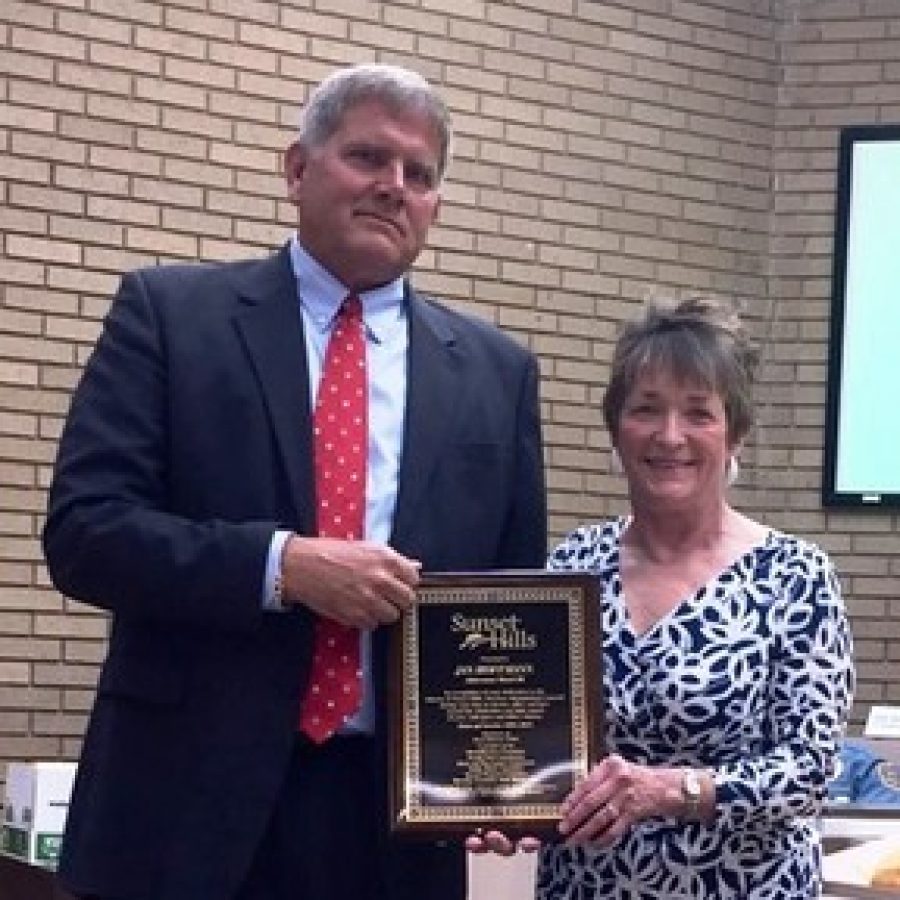 For the first time in 24 years, the Sunset Hills Board of Aldermen met this week without the longest-serving alderman in the city's history, former Ward 3 Alderman Jan Hoffmann.
During a tenure she began by going door to door in the 1980s to convince city leaders to convert Murphy's junkyard into the city's first municipal pool, Hoffmann has been honored for her decades of volunteer efforts on behalf of Sunset Hills residents by the city, the county and by the Crestwood-Sunset Hills Area Chamber of Commerce, which named her Citizen of the Year this year.
"Over the course of more than two decades, I have served alongside seven different mayors, and I've witnessed dramatic changes and taken part in some amazing efforts that have transformed us from a beautiful, somewhat rural, but a financially stressed community to one of St. Louis County's most beautiful, thriving and self-sustaining communities," Hoffmann summed up her time on the board in a statement she gave April 28, just before her successor, Ward 3 Alderman Keith Kostial, was sworn in.
The same day, County Executive Steve Stenger declared "Alderman Jan Hoffmann Day" in St. Louis County, the second time Hoffmann received that honor. Former County Executive Charlie Dooley also declared June 11, 2010 as "Jan Hoffmann Day" in the county to coincide with the opening of the city's new Aquatic Center, a project that former Mayor Bill Nolan attributed to the leadership of Hoffmann, who has continuously served on the Parks and Recreation Board since 1989.
"Whereas Alderman Jan Hoffmann has proudly represented Ward 3 in Sunset Hills, Mo., since 1991 and is the city's longest-serving alderman … And whereas Alderman Hoffmann's professional career as director of campus activities at Concordia Seminary and volunteer commitments such as PTO president reflect her passion for connecting people to services …
"And whereas the St. Louis County executive is happy to recognize this amazingly civic-minded individual, for people like her make this a great place to live, therefore I, Steven V. Stenger, do hereby declare Tuesday, April 28, 2015, Alderman Jan Hoffmann Day," stated Stenger's proclamation, which was read by Hoffmann's fellow outgoing alderman, Scott Haggerty of Ward 2.
Before Haggerty read Stenger's proclamation, Mayor Mark Furrer read a proclamation from the city and the Board of Aldermen in honor of Hoffmann.
"In recognition of your dedication to the citizens of Sunset Hills, you have distinguished yourself during your time in office as chairman of the Pool Advisory Committee, 1994, member of the Beautification Committee, Gempp Park Commission, Parks and Recreation Commission, Public Works Committee, Special Projects Committee, Steering Committee for the parks master plan," Furrer read. "On behalf of the citizens and the Board of Aldermen, we extend our appreciation for your service… And also Woman of the Year from the Chamber, correct? This year. So thanks for your service. Enjoy your retirement."
Hoffmann did not run for re-election, and the candidate she endorsed to replace herself, Lori Scarlett, came in three votes behind Kostial and has filed for a recount, which has not yet been granted.
The second longest-serving alderman in the city's history is Joseph Von Gruenigen, who served 22 years as an alderman, from 1959 to 1981. He is honored with a plaque and the benches just outside City Hall. With Hoffmann's departure, the city's current longest-serving alderman is now Ward 4 Alderman Pat Fribis, who was first appointed in 2008.
Hoffmann's political career began through her campaign for a city pool, and she was the only alderman to survive the city's 2005 attempt at eminent domain of 250 homes in Sunset Manor for a doomed $165 million lifestyle shopping center from Novus Development Co. Hoffmann opposed the proposal, which also asked for tax-increment financing, and cast the sole vote against eminent domain for the project. In the fallout from that project, the entire Board of Aldermen turned over except for Hoffmann.
Still, Furrer considered Hoffmann part of the "old guard" that he hoped would lose members in last month's election, including Fribis, Haggerty and Ward 1 Aldermen Dee Baebler and Richard Gau. With some votes from Ward 3 Alderman Kurt Krueger and Ward 4 Alderman Donna Ernst, the group and Hoffmann — whom Furrer labeled Fribis's "minions" — voted since October for a vote of no confidence in Furrer and for measures that would have advanced his impeachment.
Although Hoffmann hopes to remain on the park board after leaving office, Furrer has announced his intent to replace her on the board, to bring on "young new faces." Later on the same night he presented Hoffmann a proclamation honoring her on "Jan Hoffmann Day," Furrer also presented his nominee to replace her on the park board, longtime Sunset Hills Garden Club member Esther Gier. The nomination failed 6-2, with only acting board President Tom Musich and Ernst voting for Gier to replace Hoffmann.
Furrer again placed Gier's nomination to replace Hoffmann on the agenda for Tuesday's meeting — which took place after the Call went to press.
At the gala for the opening of the Aquatic Center in 2010, Nolan surprised Hoffmann by honoring her for her petition for the original pool and her efforts to open the Aquatic Center. In addition to a resolution from Dooley declaring the first countywide "Jan Hoffmann Day" for the day of the Aquatic Center celebration, Nolan presented Hoffmann with an award from the city and a resolution honoring her years of service from Gov. Jay Nixon, a letter of congratulations from U.S. Sen. Claire McCaskill, a certificate of appreciation from the U.S. Congress, a Missouri Senate resolution honoring her from Sen. Eric Schmidt, and letters of commendation and appreciation from Rep. Mike Leara and former Sen. Jim Lembke.
The award from Sunset Hills, which included the city logo, noted it was being presented on the opening of the Sunset Hills Aquatic Center and stated, "You made it happen."
When Hoffmann ran for re-election in 2005, she said the city had made "progress and growth in every area" since she took office in 1991, and she reiterated those changes in her parting comments, where she again touched on how some of the now-thriving businesses in the city were once empty parking lots.
"Those first few years in the mid- to late '90s were quite a challenge," Hoffmann said. "What is now the beautiful and thriving Sunset Plaza looked more like a ghost town of empty buildings and a pothole-covered parking lot. When the E.J. Korvette Department Store shuttered its doors, the exodus of merchants and sales tax revenue began. We were thankful back then to have a few stalwarts like Rock Bottom Grocery Store, Sunset 44 Restaurant and the Sunset Hills Cinema. The aldermen at the time were challenged to find enough money just to keep our police and public works vehicles operating, let alone be able to purchase or lease replacement vehicles.
"Ken Vogel, who had been elected mayor, realized that we couldn't allow this financial decline to continue," Hoffmann said. "With the enthusiastic and unanimous support of the Board of Aldermen, Ken put together a committee of dedicated citizen volunteers and aldermen who were determined to turn the situation around — because of their efforts, we now have a thriving Sunset Plaza and a level of sales tax revenue necessary to support the city services that our residents expect and deserve.
"Our main thoroughfare, Lindbergh Boulevard, looks very much different than it did in the 1990s. The Shoppes at Sunset Hills replaced the old Heritage House smorgasbord restaurant that had been closed for years. O'Leary's Restaurant and its surrounding buildings stand on what was originally the site of Sunset Plantland. Our Police and Public Works Departments are located where once stood a two-story wood frame home and a brick house known as the Row property. Gone is the Clarion Trailer Park and in its place are the northern section of the Sunset Village Shops and a portion of the Sunset Office Condos."
Among the city's accomplishments during her time in office, Hoffmann mentioned the many advances made in the city's parks, including the construction of the Community Center, which opened in November 2010, the construction of the Aquatic Center, which opened in May 2010, the Kitun Dog Park that opened in July 2014, the opening of Minnie Ha Ha Park in May 2005, the partnership with the Missouri Department of Conservation on the Claire Gempp Davidson Memorial Conservation Area starting in 2003, and various partnerships and donations that have greatly expanded the park property, including $2.3 million in grant funds over the past decade. Hoffmann attributed much of the growth in Sunset Hills parks to Parks and Recreation Director Gerald Brown.
"I'm deeply grateful to all the people who allowed me to work with them on scores of projects for the betterment of Sunset Hills," Hoffmann said in her parting words. "I hope that in some small way I have fought to make this a better community for all of our citizens. God bless you all, and I wish you and Sunset Hills a bright future."