Aging forum turns into clash on national health-care reform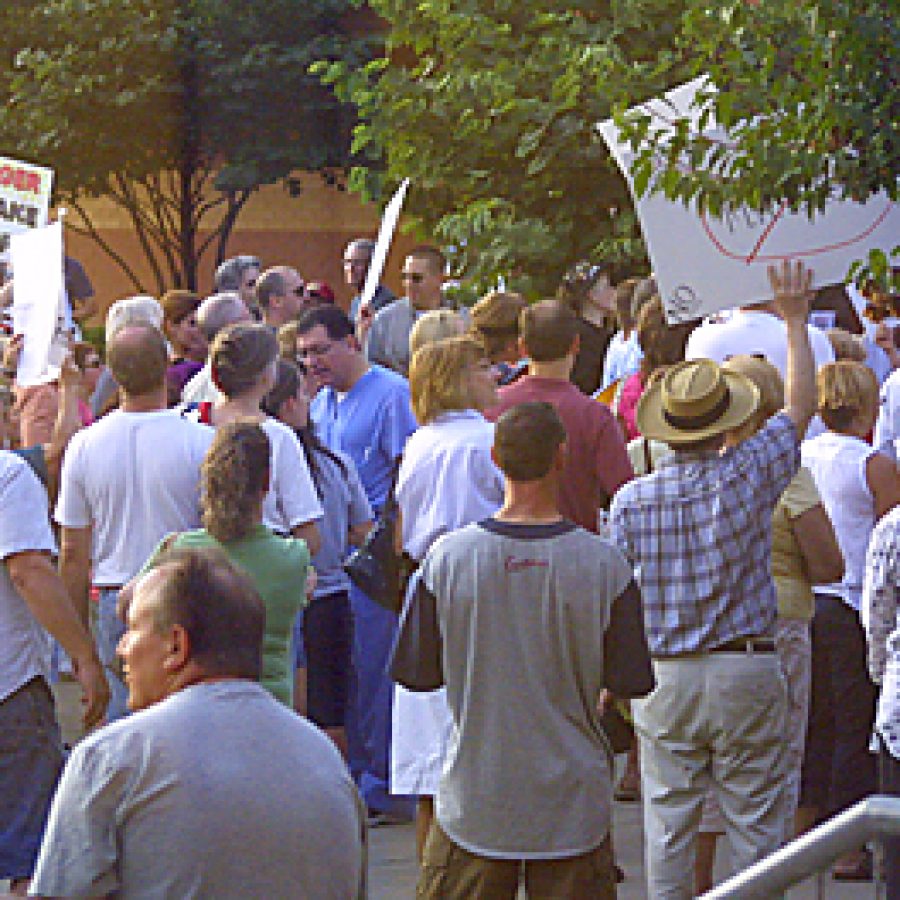 It was supposed to be a town-hall meeting about aging, but a forum last week at Bernard Middle School in Mehlville became drenched in politics as local supporters and opponents of national health-care reform clashed on the issue.
Several hundred people packed the middle school's gym Aug. 6 for a forum about "Aging in America" sponsored by 3rd District U.S. Rep. Russ Carnahan, D-St. Louis.
The crowd filled the 200 seats provided and lined the back wall of the gym. Others waiting outside in a line that wrapped around the building were denied entry to the event; hundreds of them remained on the campus to demonstrate.
Carnahan, along with a panel of speakers representing agencies like the AARP and Medicare, attempted to provide attendees with information on senior citizen services and resources.
But the atmosphere quickly turned political, and the audience in front of the speakers' podium and dais was split, literally, down the center aisle.
On one side, people applauded wildly for Carnahan but struggled to hear him and his presenters over frequent heckling from spectators on the other side, who apparently wanted to change the subject from aging to health-care reform.
A number of those in the audience were members of the St. Louis Tea Party Coalition, a grass-roots organization that advocates limited government.
The group opposes President Barack Obama's policies, including his push to reform the U.S. health-care system to provide federally funded health insurance to uninsured Americans.
After a brief introduction, Carnahan turned the microphone over to AARP representative Ron Sergent, who told the crowd the United States was "on the cusp" of health-care reform and that the "status quo is not acceptable for anyone" — remarks that drew both applause and jeers.
"Who's gonna pay for it?" several opponents shouted.
Protesters in the gym appeared to grow more restless as each speaker stepped up to the podium. Several interrupted presentations on senior services, demanding Carnahan take their questions about health care.
Sharon Wells, the evening's master of ceremonies, said a question-and-answer session addressing written questions submitted before the forum would follow the presentations.
At one point, Wells reminded the audience that the evening's focus was "Aging in America."
"Those of you who aren't here for that purpose are free to leave," she said to applause from supporters.
Carnahan did speak again, but only answered one submitted question — firing off benefits of government-provided health insurance. He left the gym shortly thereafter for a television interview in downtown St. Louis, but not before addressing his boisterous critics.
"I know there are people here who have questions, and I wanted to be able to speak to them," Carnahan said. "And for those of you that aren't serious, I will invite you to our next town hall on manners."
The forum ended unceremoniously shortly after the congressman left.
As attendees left the building, St. Louis County police arrested six people, including a St. Louis Post-Dispatch reporter, on suspicions ranging from interfering to resisting arrest and assault, following a series of violent confrontations in front of the school.
Later that evening, Carnahan said in a statement, "Some attended this educational event with the intent to deny seniors and families the right to learn more about the challenges they face.
"Sadly we've seen stories about disrupters around the country, and we have a handful of them here in Missouri. Instead of participating in a civil debate, they have mobilized with special interests in Washington who have lined their pockets by overcharging Americans for a broken health-care system."
However, the Tea Party countered Carnahan's statement by calling on him to apologize for criticizing protesters, and to denounce the alleged assault of one of the party's supporters.
Kenneth Gladney, a black conservative who had been handing out flags that read "Don't tread on me" outside the school, allegedly was attacked by three men and a woman after the forum ended, according to a letter from his attorney, David Brown, which was posted Friday on the party's Web site.
Gladney was taken to St. John's Mercy Medical Center's emergency room to be treated for "numerous injuries," according to Brown.
Two of the men and the woman were among the six people police arrested. But Brown wrote that the three men "clearly" belonged to pro-health care reform Service Employees International Union, several of whose members also attended the forum.
"Kenneth was merely expressing his freedom of speech by handing out the flags," Brown wrote. "… He in no way provoked any argument or altercation, as evidenced by the fact that three assailants were arrested … We will be pursuing legal action at our discretion. This was a truly senseless hate crime carried out by racist union thugs.
"Regretfully, Rep. Carnahan's statements blaming Kenneth for being a disruptive force are wholly untrue and slanderous. We would like to think that an elected official in Rep. Carnahan's position would gather accurate information before carelessly rushing to judgment."
The SEIU denied allegations of member misconduct and, in a statement also released Friday, accused Tea Party supporters of assaulting a union member at the town-hall event.
Brandon Davis, the SEIU's Missouri State Council executive director, said in the statement that accusations of "thug" violence "couldn't be further from the truth."
"Let's be clear: These groups, backed by insurance companies and corporate front groups, want nothing more than to preserve the status-quo system of rationing, where HMOs choose doctors and insurance companies deny us the care we need," Davis said. "… But SEIU and hardworking women and men all over this country are standing up to their bullying tactics. We deserve a national conversation about how we will fix our failing health-care system and help make this an economy that works for everyone."