Young leader attends Boys' State program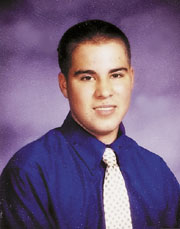 Michael Vielhaber, 17, recently attended the American Legion Boys' State of Mis-souri on the campus of Central Missouri State University in Warrensburg.
Vielhaber was sponsored by American Legion Post 299. He has completed his junior year at St. Mary's High School and was selected based on his leadership and citizenship skills.
His accomplishments include the National Honor Society, Renaissance Award, Peer Listening program, Past House Art Competition and Boy Scouts. He is the son of Dave and Carol Vielhaber.
Boys' State is a pure democracy in that all citizens may vote and are eligible to hold office. The program is designed to educate and train Mis-souri's young leaders in functional citizenship, leadership and government. Nearly 1,000 student leaders build an entire state government in a single week.
The entire Boys' State staff is comprised of educational, legal, professional, and civic leaders who volunteer their time each year. Missouri Boys' State is sponsored by the Missouri American Legion.