World War II veterans relate their experiences to LHS students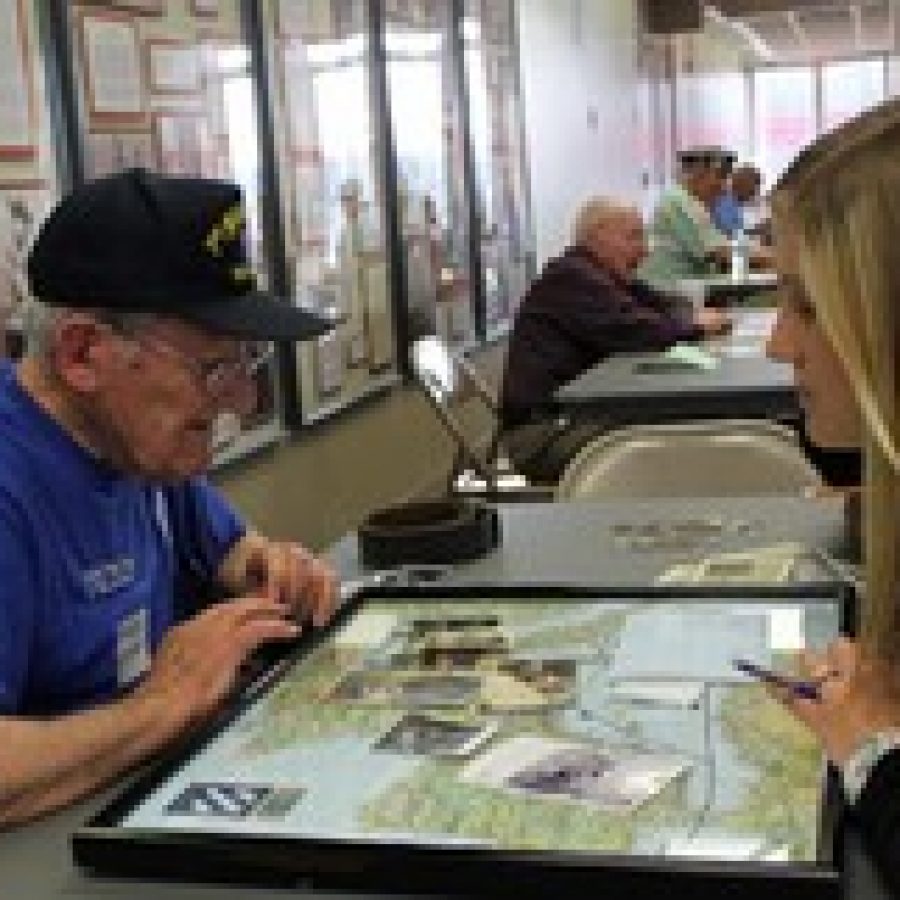 During the third annual History Alive program at Lindbergh High School on March 15, students learned that history is comprised of more than just stories. It is experiences, sights, sounds, smells and even tastes.
For example, retired Navy Quartermaster Bob Garwitz displayed a grayed and tattered American Flag that flew from his ship, the USS Farnholt, on the day it was hit in 1944, near the Solomon Islands in the South Pacific.
"Ships used to lay a smokescreen around them when they were in enemy waters, and that's why this flag is covered in smoke," he stated in a news release, handling it with care as he showed it to the students. "My conning station was right behind the smokestack, and I could taste the smoke on my lips, but hey, we didn't complain, because it kept us safe from the enemy."
More than 40 World War II veterans visited with small groups of students, sharing their personal experiences and the life lessons they learned while serving in the American Armed forces.
"The goal of History Alive is to connect generations and promote meaningful conversations through a series of interviews between the students of today and America's heroes," history teacher Brad Durnell stated in the release. "History is more than what takes place in a textbook or a classroom, or on the History Channel. History is walking around us on a daily basis, and we are a part of it as well. The History Alive program is about breathing life back into our past and getting back to learning from our elders."
Elders such as William McGrath, who was 19 when he joined the U.S. Air Force 67 years ago, serving as a staff sergeant in the 499th and 345th bombardment squads. McGrath earned the Distinguished Flying Cross, the Bronze Star and the Purple Heart.
"We got hit by one of the first Japanese suicide planes, and that's when I found out we were really at war," McGrath told students.
Students visited with the veterans throughout the day, asking questions and learning history from the source: The men and women who lived through it themselves.
History Alive's subsequent dates this spring include visits from Korean, Vietnam, Iraq and Afghanistan war veterans as well. Veterans who are interested in participating in future sessions can contact Durnell at bdurnell@lindberghschools.ws.