Wohlwend Elementary School third-graders bring history to life for 'Living Museum' project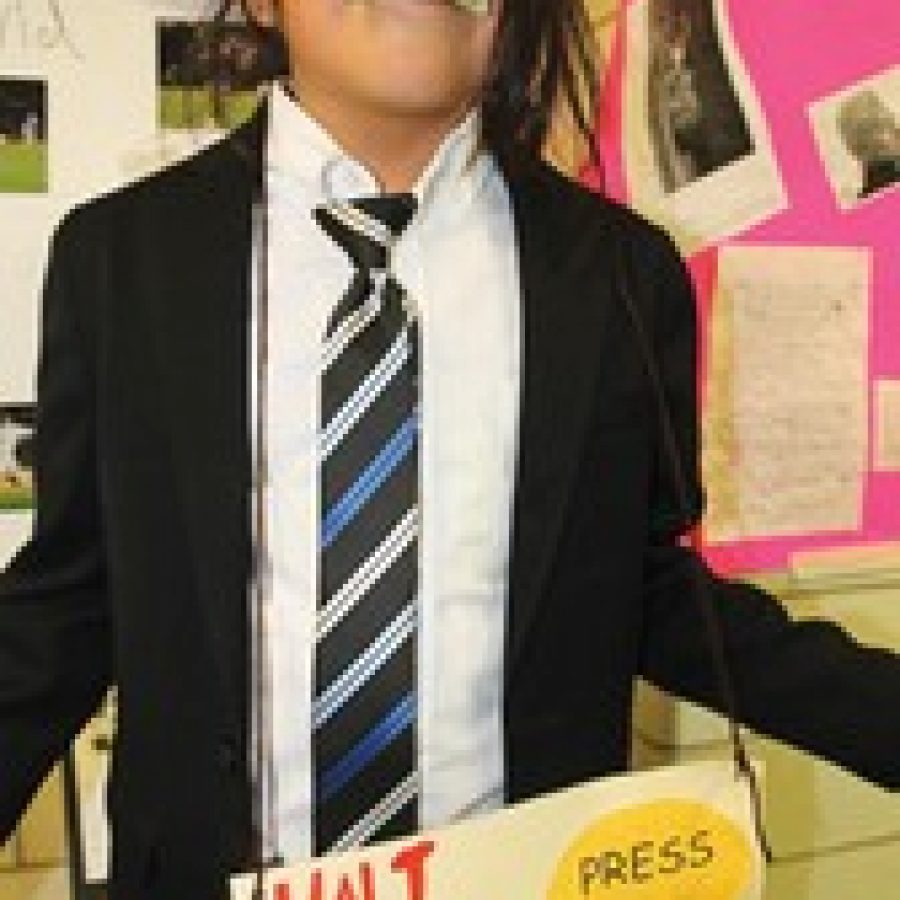 In the hallways of Wohlwend Elementary School, Abraham Lincoln stood next to Anne Frank.
Next to Frank was U.S. Olympic swimmer Michael Phelps. Around the corner, George Washington leaned up against a locker, talking to pop stars Katy Perry and Taylor Swift, while former Cardinals third-baseman Dave Freese watched.
Julie Durham's third-grade class put on a living museum, featuring students dressed up as famous characters throughout history, according to a news release.
Durham stated in the release, "There are three parts to their project — they need to make a presentation. And that's where our living museum comes in. They dressed up as their famous person and we've had classes come in all week to visit and learn about who we are."
Each student wore a sign identifying what historic person they were portraying, and next to the name was a circle that read "press here." If somebody pushed the button, the student would launch into his or her presentation, in character, about their person's place in history.
Cameron Knecht, in his role as George Washington, could be heard saying, "Not everyone voted for me to become president, but I still won the election."
"When I was younger, I had a strong interest in drawing," explained Elissa Schmitt, who was dressed up as Walt Disney. "At 16, I started drawing pictures for the school newspaper and attended art school."
"We have been studying history in social studies," Durham stated in the release. "We have been talking about the history of the United States. So many of the things we're doing tie into people who have been important to the history of our country."
In her role as Sacagawea, Rachel Granda said, "When I was 16, I married a fur trader. I am famous for helping Lewis and Clark find the Pacific Ocean. I also helped them find medicine."
Cohen Faire, in his role as professional baseball player Andrew McCutchen, said, "In high school I was a three-star athlete. I ran track, played football, and played baseball. I now play for the Pittsburgh Pirates as center fielder."
Durham said the students also try to answer questions, in character, about their famous person's life.
"Oh my gosh, they love it," Durham stated. "This is the fourth time they've done this this week, and they keep asking me, 'How many minutes until we get ready?' They've had a great time. They've really enjoyed getting to perform for other classes."