With four touchdowns by Hamm-Bey, Lindbergh defeats Marquette 34-21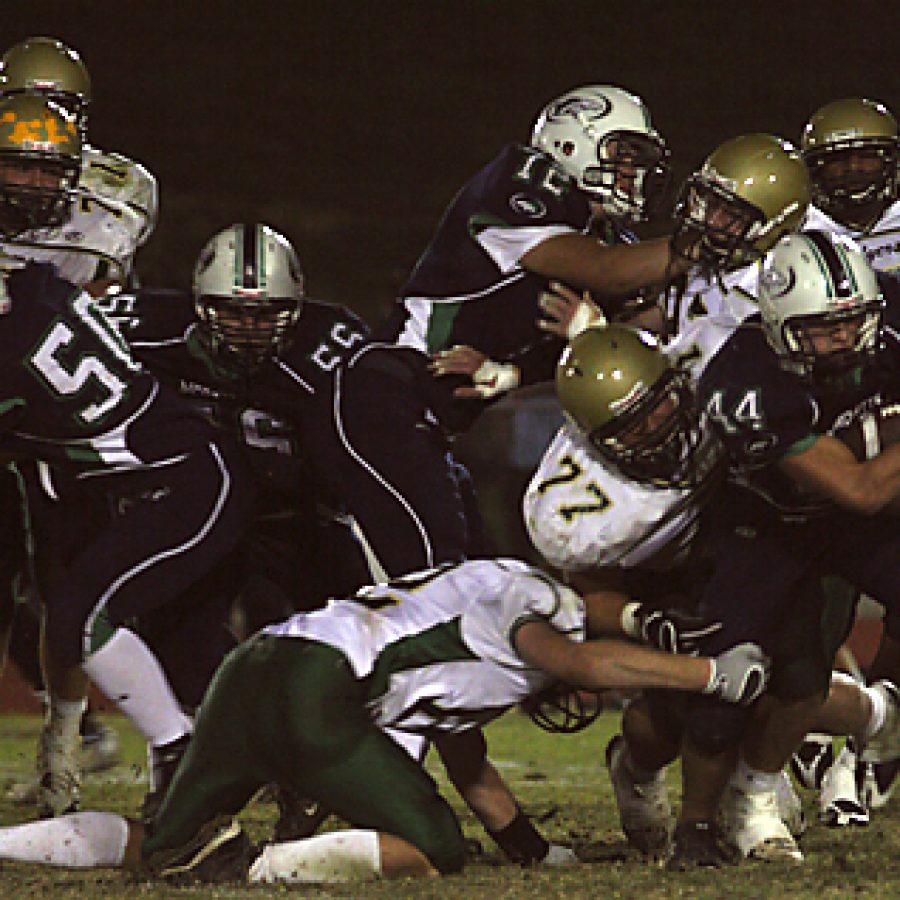 Behind the four-touchdown performance of Tim Hamm-Bey, the Lindbergh High School football team posted a 34-21 win at Marquette Friday night.
The Flyers (6-0, 4-0 Suburban West) led 27-7 midway through the third quarter before Marquette scored two touchdowns in the final 13 minutes of the game.
"I thought we played hard and got up early on them, but we then let up on them a little bit at the end," Lindbergh head coach Tom Beauchamp said. "You just can't let any team in the Suburban West Conference get back into a game like that."
Lindbergh jumped out to an 8-0 lead when Hamm-Bey scored on a 15-yard run with 8:21 left in the first quarter.
Hamm-Bey carried the ball 19 times for 96 yards.
"Our quarterback has been sick all week and Tim really picked it up Friday night," Beauchamp said. "Tim's a very good athlete that's very big and strong and he really went over the top in that game."
Hamm-Bey proceeded to give the Flyers a 14-0 lead when he scored on a 50-yard punt return with 6:05 left in the first quarter. The junior running back scored again in the second quarter on a one-yard run with 6:21 remaining in the first half.
Marquette finally got on the scoreboard with 1:20 left in the first half when quarterback Sean Ullrich connected with DeAndre Cain on a 31-yard pass to trim the Flyers' lead to 20-7.
The Flyers continued to corral the Mustang defense when Hamm-Bey again scored on a one-yard run with 5:52 remaining in the third quarter.
The Mustangs trimmed Lindbergh's lead to 27-14 on a four-yard run by Dante McKinney with 0:36 left in the third quarter.
Lindbergh's most impressive touchdown of the game came when Tony Robinson scored on a fumble recovery in the Marquette end zone with 8:07 left in the fourth quarter.
"Cory Boemer hit the quarterback and the running back at once and the ball came out," Beauchamp said. "Robinson then jumped on the ball right away and that play put the icing on the cake for us."
The Flyers return to action at 7 p.m. Friday when they travel to Parkway South.
The Patriots (4-2, 3-1 Suburban West) are coming off a 52-13 win at Northwest last Friday when they racked up a total of 458 yards rushing against the Lions' defense.
"They (Parkway South) have done a really good job running the option, so that's going to present a lot of issues for us," Beauchamp said. "It's going to be one of those games where we're really going to have to get after it."