Windshields are important safety devices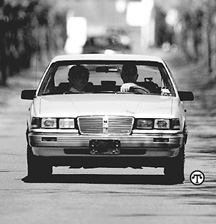 Many lives may be saved if more people could see their way clear to getting top-quality windshield replacements. A good, properly installed windshield can help keep drivers and passengers from being thrown through the window opening in an accident.
An estimated 7,800 fatalities a year are attributed to people being fully or partially ejected through the windows of their vehicle. "A windshield can be as important to auto safety as seat belts, air bags or anti-lock brakes," said Darrell Hibjan of Pilkington's Automotive Glass Replacement (AGR) division, a member of the Auto Glass Replacement Safety Standards Council. "Sadly, many drivers unknowingly jeopardize occupant safety because they are more concerned with cost and convenience when replacing a windshield than with installer competency and windshield quality."
The windshield is also designed to prevent the roof from collapsing during collisions and rollovers. In addition, a properly installed windshield can absorb the potentially lethal force of the airbag, which can be deployed at over 100 miles per hour, and help position the bag in front of the occupant.
There's no legal requirement for glass replacement installers to be licensed or certified, despite the skill and training needed to properly install a windshield. With approximately 12 million windshields being replaced every year, drivers should try to ensure the installation is done correctly to reduce the chance of a future tragedy.
The five "P's" can help you get a good look at glass replacement: Process, People, Performance, Price and Product.
• Process: Be involved in the installation shop selection process. Does the shop follow the Auto Glass Replacement Safety Standards? Do the installers do their job indoors during inclement weather? Do they tell you when it is safe to drive the vehicle away to allow for sufficient curing time for adhesive?
• People: Are the technicians and installers trained and certified or registered by the Independent Glass Association or other organization? Do they adhere to and follow industry safety standards?
• Performance: Are there referrals from customers for service provided? Does the shop guarantee its work?
• Price: Educate yourself on what your insurance policy covers. Consumers have a right to choose who does the job. Don't sacrifice quality and safety for cost and convenience.
• Product: Ask if the shop uses high-quality glass from an original equipment manufacturer that will fit the vehicle correctly without re-work or adhesive compensation.
Insist that an automotive-grade adhesive and related primers designed for glass bonding be used. These should be certified for your vehicle by the adhesive manufacturer.
Ask if the moldings and gaskets are replaced with quality products that fit well and are designed to weather well for long- term durability.