William and Kay Duerst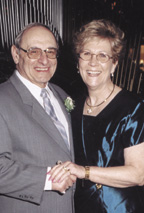 Duersts celebrate 50th anniversary
William and Kay Duerst celebrated their 50th wedding anniversary Jan. 31 by taking their children, spouses and grandchildren on a seven-day Caribbean cruise.
They renewed their vows on Feb. 15 at Assumption Church followed by a small reception for family at their home.
The couple was married Jan. 31, 1953 at St. Agatha Church in St. Louis.
They are the parents of Kathy Ballance, Gene and Linda Duerst, Rich and Sue Duerst, and Terry Buchanan. They are the grandparents of Katie, Jeff, Ashley, Kelly, Eva and Mark; and great-grandparents of Aaron.