Feed My People Thrift Stores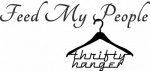 About:
Feed My People is South St. Louis County's and Northwestern Jefferson County's food pantry and emergency help center. Helping those who have lost their jobs and those who are trying to survive on a low income – whether from a minimum-wage job or from low levels of Social Security or Disability – Feed My People is able to provide food, help with utility bills, medicine, affordable housing, fans, heaters, school supplies, new shoe certificates for children, weatherization materials, housing rehab, help in getting food stamps, circuit breaker and earned income credit, jobs and legal counseling, 2 low-priced thrift stores and special programs which provide help at Christmas and other special occasions.
Feed My People started in 1982 by Carol and John DeGuire in a little house near the South County Shopping Center and moved to its present location at 171 Kingston in Lemay in 1986. In 1989 two special things happened – the Oakville Call was born and Feed My People's second office opened, this time in northern Jefferson County near Fenton. This office moved into a larger facility in 1992. In 1996, the Lemay facility expanded into the building next door which had been occupied by the South County Health Clinic, and in 1997, the Jefferson County facility purchased a building near High Ridge which was expanded a few years later. In 1999, the Lemay facility acquired 48 units of affordable housing directly across from its office.
Because of the economic crisis which our country and community is experiencing, the rise in the number of people coming to Feed My People for help has jumped 15% over the last year, placing a major burden in trying to raise enough funds and food to meet the needs. In addition many donors have been affected and some have even become new clients in need of help.
To help or to donate: 314-631-4900 or 636-677-9885
fmphelp@earthlink.net