Wedding vows exchanged by Slinger, Franks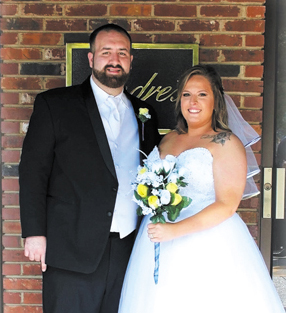 Tiffany Slinger, daughter of Chuck and Terri Mier and Vince and Toni Slinger, and Nathan Franks, son of Christy Hunt, were married Sept. 23.
The ceremony was performed by Lisa Marie Pini. The ceremony and reception took place at Andre's South.
The bride chose Lindsay Abernathy as her maid of honor. Bridesmaids were Samantha Mier, Jill Brumbaugh, Stephanie Summers and Kim Wallace.
The groom chose Chris Baretich as his best man. Groomsmen were Jeff Hooten, Bobby Spicer, Drew Baretich, and Charlie Mier.
The flower girl was Tabitha Hayes, niece of the bride.
Ringbearers were Carter Wood and Landon Franks, sons of the bride and groom.
The couple will reside in St. Louis County.