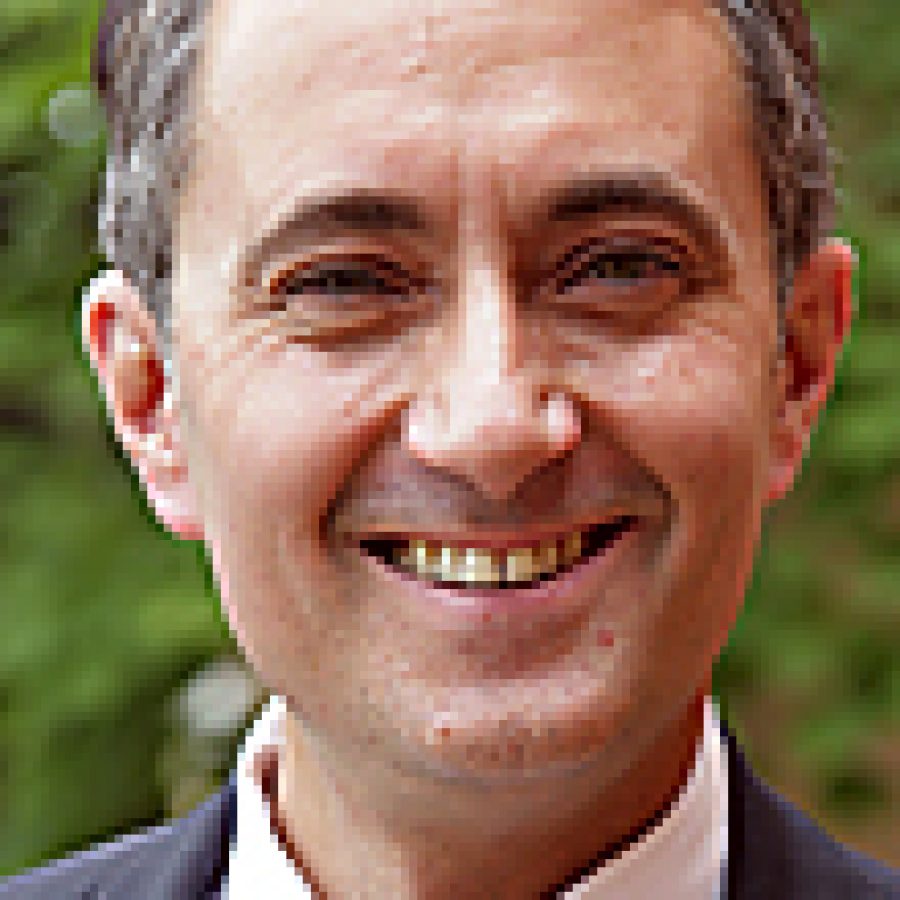 Staff Report
Democrat Pat Dolan and Republican Randy Jotte are vying for the 5th District County Council seat in the Nov. 2 election.
Democrat Barbara Fraser, who currently holds the 5th District seat and serves as council chair, is seeking the 24th District Missouri Senate seat in next week's election.
Asked to identify the most important issue in the race, Jotte said, "Economic development. St. Louis has the capacity to return to a premier economic position in the nation and beyond. St. Louis has internationally respected corporations and universities. With these community assets working together, we can create new jobs, products and businesses in our area.
"Having served on the (Webster Groves-Shrewsbury Area) Chamber of Commerce Board of Trustees and on the Washington University Faculty Senate, I know this is possible. County government must create incentives for this cooperation. St. Louis has the potential to become a hub of technology-based startup companies, competing not only nationally, but globally."
Dolan did not respond to a Call questionnaire.
Jotte, 50, 120 Orchard Ave., Webster Groves, is an emergency room physician at Barnes-Jewish Hospital and an associate professor of emergency medicine at Washington University. He and his wife, Susan, have two children, ages 11 and 13.
Jotte served on the Webster Groves City Council from 2004 to 2008 and as mayor pro tem from 2006 to 2008. He served on the Webster Groves Board of Adjustment from 2002 to 2004 and on the Village Council of Chagrin Falls, Ohio, from 1996 to 2001.
Jotte said he is seeking election to the 5th District County Council seat because "St. Louis is a wonderful place to live, work and raise a family. While I was born and raised here, my wife and I actively chose St. Louis as our home. I would like others, including our children, to have this same option. For St. Louis to remain desirable for future generations we must invest time and energy in decisions today that will determine the course of tomorrow.
"Some of the most critical decisions that will affect our region occur in the legislative body of St. Louis County — the County Council. My decade of experience in local government and my exposure to the needs and concerns of tens of thousands of citizens through my profession as an emergency physician have well prepared me for this task."
Other issues Jotte perceives the race include:
• "Establish fiscal responsibility in county government, requiring appropriate, reasonable and sustainable budgets. Taxpayers invest $500 million annually in county government. We must re-evaluate the return on our investment.
"With jails/courts consuming nearly $60 million, we need innovative, cost-effective, lasting solutions to common problems like DWIs as I suggested in my zero-tolerance commentary in the Post-Dispatch (Dec. 31, 2009).
"We spend $50 million in the Department of Health. As a physician, I will ensure these dollars are spent wisely."
• "Institute a fair system of property assessment. I believe we must eliminate the current financial relationship between the assessor's budget and the assessed value of your home or business. I also believe all market conditions should be considered when determining the value of your property for tax purposes, not just select comparables which elevate assessed values.
• Eliminate financial and operational problems at MetroLink as identified in the 2008 state audit, including inappropriate executive stipends, severance payments and retroactive raises and mismanagement of capital projects."
Jotte gave the following responses to the Call questionnaire:
Do you support the trash-district program that has been established in St. Louis County?
Jotte said. "The trash-district program recently established in St. Louis County must be re-evaluated. Concerns of citizens, neighbors, and waste management contractors need to be addressed."
Do changes need to be made to the county's assessment process?
Jotte said, "Absolutely. Part of the assessor's budget is based on a percentage of assessed property values.  This is a conflict of interest and must be eliminated. Other reforms, such as taking into account what property can actually be sold for, must be addressed."