Warriors crush Flyers' dream of state title
Flyers came out, got it done all season long, coach says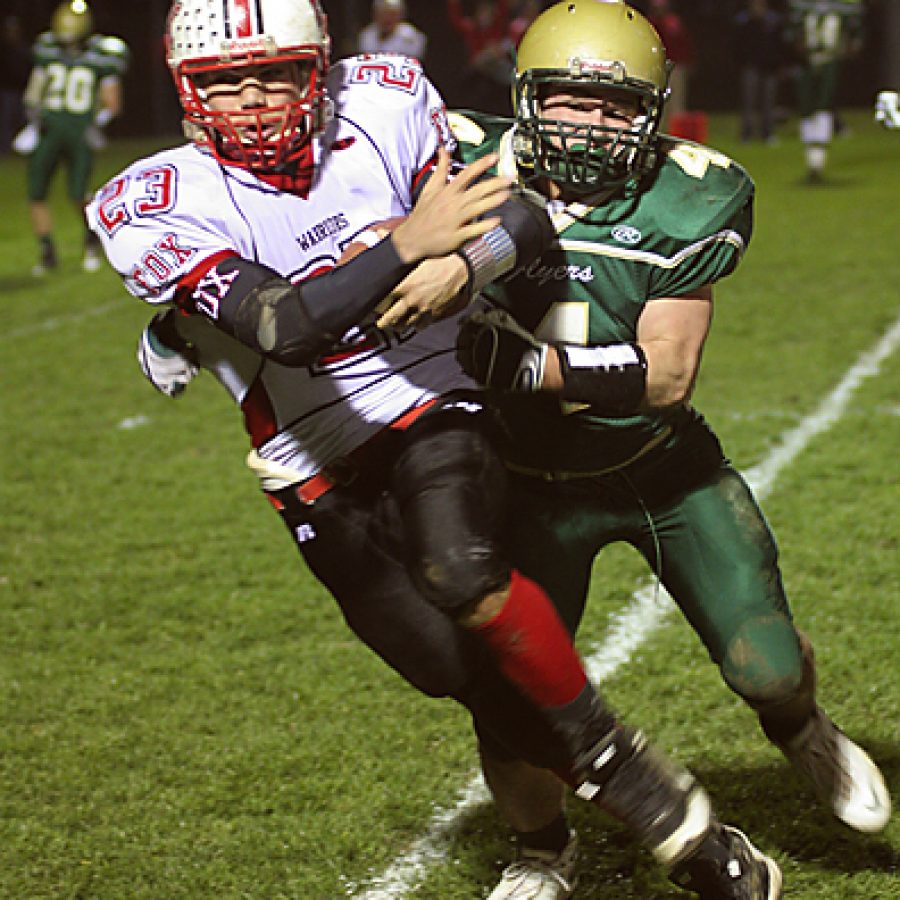 Within a couple of hours Friday night, the Lindbergh High School football team's dream of a state championship slipped through its fingers when the undefeated Flyers dropped a 31-28 decision in overtime to Fox.
Despite the loss, Lindbergh head coach Tom Beauchamp had to take his hat off and praise his players for their hard work this season.
"We had a great group of kids this year," Beauchamp said. "We didn't have any superstars, but what we did have were kids that were willing to work hard."
The Flyers (10-1, 6-0 Suburban West) were one of three Class 6 teams in the area to stay undefeated throughout the course of the regular season. Lindbergh was the first school to win the Suburban West Conference with an undefeated record since Kirkwood went 5-0 in conference play in 2007.
"To run the table in the Suburban West is something you don't normally see," Beauchamp said. "The kids came out and got it done all season long."
On Friday, both schools were scoreless in the first quarter, but it was Fox that took a 7-0 lead when D.J. Chambers grinded in a 5-yard touchdown run with 11:53 left in the first half. Chambers carried the ball 19 times for 65 yards.
The Warriors extended their lead to 14-0 with 7:21 left in the second quarter when Fox quarterback Bobby Mahoney hit Mike Rademacher for a 12-yard pass. Mahoney completed nine of 11 passes for 136 yards, two touchdowns and one interception.
Lindbergh notched the final touchdown of first half when Eric Schwartz grinded in a 1-yard run with 1:24 remaining. He carried the ball 14 times for 65 yards.
"Eric has been our Swiss Army knife all year long for us," Beauchamp said. "When you give him the ball, you know that he's going to do well for you."
The Flyers evened the score 14-14 on a 7-yard run by Tim Hamm-Bey with 3:03 left in the third quarter. Hamm-Bey finished the evening with eight carries for 32 yards.
"Tim also had a couple of big punt returns for us," Beauchamp said. "When he's on the field, he's out there to win the ball game for you."
Fox took a 21-14 lead on a 34-yard run by Jordan Clerkley with 18 seconds left in the third quarter. Clerkley finished the night with 13 carries for 63 yards.
Lindbergh tied the game 21-21 with 3:43 remaining in the fourth quarter on a 5-yard run by Hamm-Bey.
The Flyers took a 28-21 lead on a 5-yard run by Grant Krueger with 1:06 remaining.
Krueger led the Flyers with 12 carries for 96 yards.
"Grant has been starting all year long at safety and also had some playing time at running back for us," Beauchamp said. "But he ran for us like a senior that night."
Fox tied the game 28-28 on a 7-yard pass from Mahoney to Jimmy Brewer with 17 seconds left. The Warriors won the game 31-28 in overtime with a 30-yard field goal by Nick Bartolotta.