Warners share lesson of acceptance, CHEER with LHS students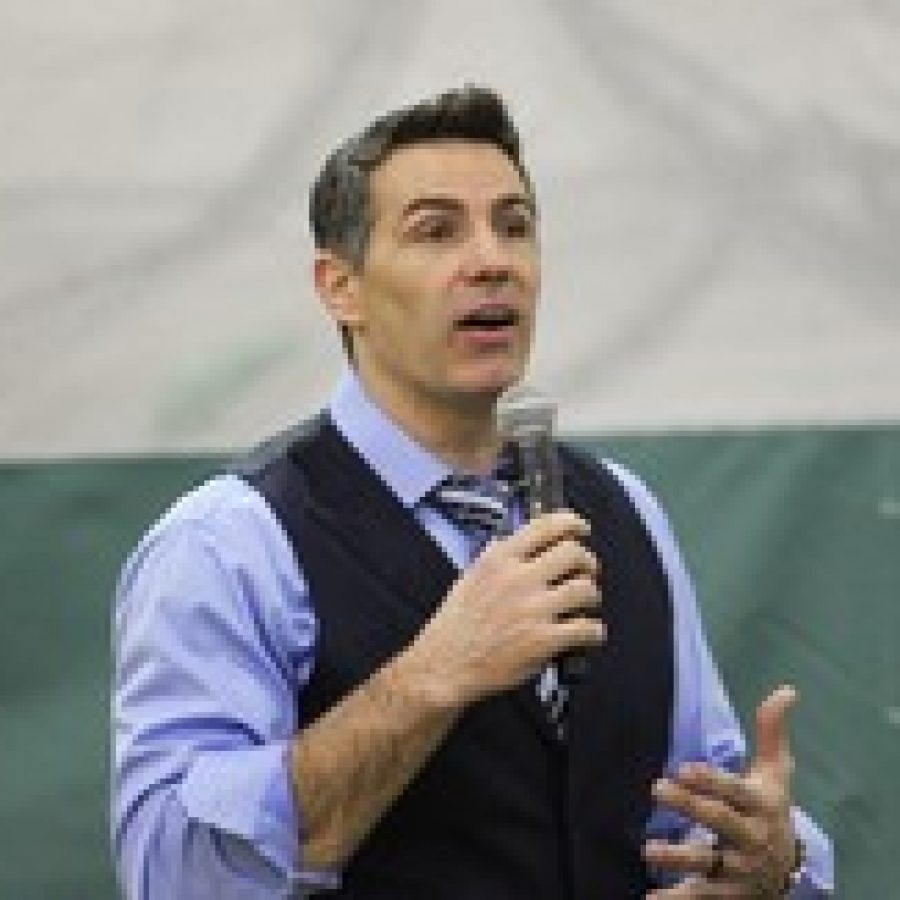 Lindbergh High School students recently participated in a weeklong program, Consciousness Helps Encourage Equal Respect, or CHEER, which is designed to encourage inclusion and open the eyes of students to see their fellow peers with special needs as more than their disabilities.
The program concluded when former St. Louis Rams quarterback Kurt Warner and his wife, Brenda, led a disability awareness assembly for the student body, along with their oldest son, Zack, who suffered a traumatic brain injury at 4 months old.
The CHEER program invites student volunteers, called CHEER Leaders, to adopt a disability for a day such as using a wheelchair or wearing visual impairment goggles, according to a district news release.
Participating schools also organize events and offer information throughout the week to help raise awareness about those living with disabilities. The Kurt Warner First Things First Foundation started the CHEER program in 2008 in Phoenix. Lindbergh High School was the first school in St. Louis to participate in the program, and before the assembly, several CHEER Leaders talked on-camera about their experiences, as part of a video that will be used to promote the program nationwide.
"I signed up to be a CHEER Leader because of my involvement with LHS Lunch club," sophomore Joe Witt, who experienced a day in a wheelchair, stated in the release. "We sit and eat lunch with students with disabilities."
Witt went on to explain how being a part of the program would widen his outlook on the courage and strength his fellow students have every day despite their disabilities.
"When I had to write everything down it was hard, because I wasn't allowed to talk all day," freshman Skyler Harris stated in the release. "Being mute was hard because I could not write a response fast enough for some people, and I noticed people slowly stopped even trying to communicate with me. I think it was because it was too much work to converse that way."
During the assembly, other CHEER Leaders shared their experiences with the Warners and the rest of their peers. They said the program opened their eyes and hearts to those with disabilities, and gave them a new respect for these individuals and the obstacles they face.
The Warners shared a personal story about Zack, who suffered a traumatic brain injury at 4 months old when he was dropped in the bathtub. Now age 24, Zack travels with his parents to share his story and spread awareness to others.
The Warners also expressed the importance of seeing people as individuals who have a lot to offer, according to the release. A disabled person in a wheelchair could be limited in physical activities, but offer much more through another talent.
Their hope for the CHEER program is that students will continue to embrace what they have learned and carry it on in their lives, the release stated. LHS already has several clubs such as Key Club and Lunch Club that play an important role in serving and connecting with others.