Warm-weather cuisine can be made without having to turn on your stove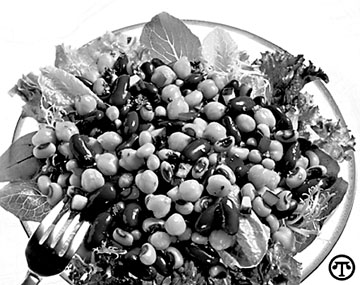 As the temperature increases during this long, hot summer, so does interest in fast, tasty meals that can be put together without turning on the stove.
For many people, a hearty staple of this warm-weather cuisine is beans.
Not only are these hearty legumes a great way to make dishes more filling, but they're also a terrific source of both protein and fiber.
In addition, with a number of canned varieties available on the shelves of your local grocery store, it's possible to put fresh spins on classic dishes.
For instance, this recipe for Black Bean and Mango Salad, made with tasty black beans and zesty adobo seasoning, is a nutritious summer creation that can be assembled in just a few minutes — a colorful, flavorful centerpiece for a picnic or outdoor repast.
Black Bean
and Mango Salad
¼ cup olive oil
¼ cup water
2 tsp. adobo
all-purpose seasoning
with pepper
2 cans (15.5 oz. each)
black beans,
drained and rinsed
2 Tbsp. pimientos, diced
1 Tbsp. chopped fresh cilantro
1 medium size, ripe mango,
peeled and diced
In a small microwaveable bowl, combine oil, water and adobo.
Cover and microwave on high for 1 minute.
In a bowl, combine the beans, pimientos, cilantro and mango. Pour warmed oil mixture over beans and toss.
Variations
Substitute other kinds of beans for black beans.
Replace mango with 2 cups diced peaches or pineapple.