VIDEO: Meet the football Tigers' 'secret weapon'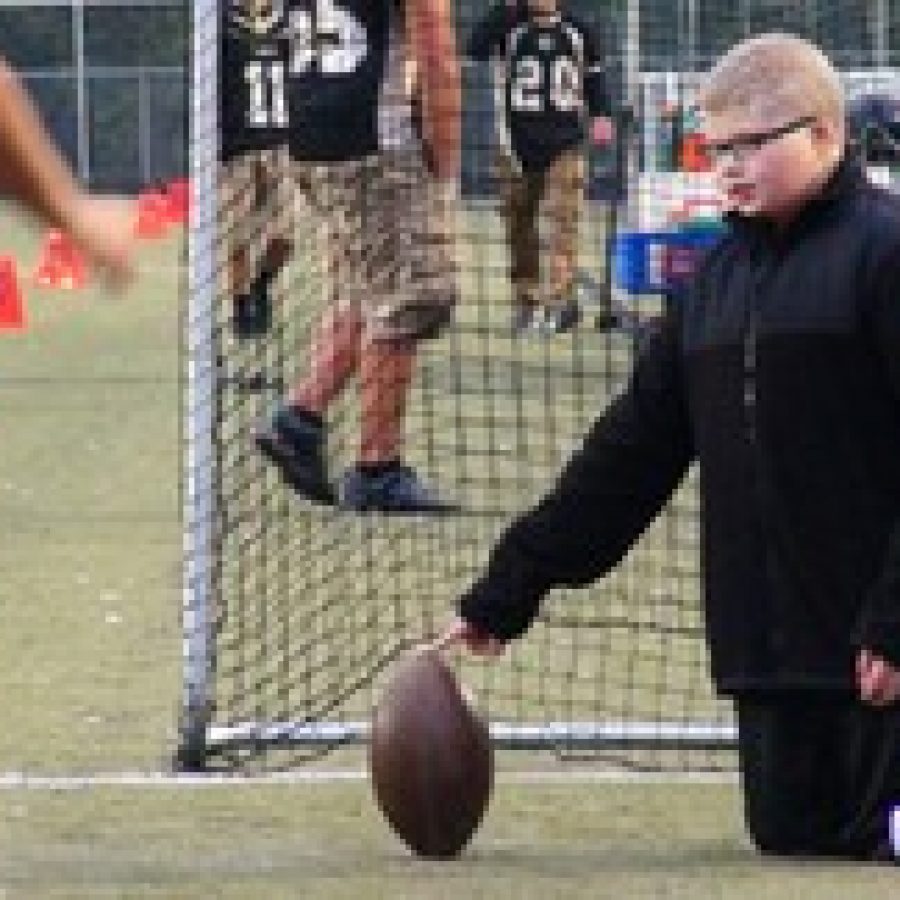 Freshman Drew Yost is a member of the Oakville High School football team, but you won't find him on any roster and he has a grand total of zero touchdowns or quarterback sacks so far this season.
In fact, during game time Drew roams the sidelines, but he never misses practice, according to a district news release.
Drew is a team manager. He also has a condition known as 22Q, a chromosomal abnormality that has caused development delays.
Arlee Conners is Oakville High's football coach.
"Manager, part player, part cheerleader, you name it — he wears all those hats," Conners stated in the release. "One of our counselors at the high school came to me and told me Drew wanted to be involved with a club or a team or a program or something. I first met with him last season.
"He's very inspiring. For a guy to be facing what he's facing and remain positive, it definitely rubs off on other people and it inspires me. The players treat him like a brother. They really do. They tweet him, they text him. He does everything they do. So whatever they're wearing, he's wearing. So when they're out there practicing in black shorts and gray shirts, he has on the same thing," the coach added.
Drew talked about his game-time duties.
"I cheer them on. I fill up the water bottles, and go get something if a player needs it," he stated in the release.
Drew's father, Mark Yost, stated, "If your son has a disability and can't play a sport which he loves, this is great. To get him involved to the extent that he is with this team, it makes me happy and proud to know there are good people out there to take him in."
"Drew Yost is the man," junior outside linebacker Steven Freukes stated in the release. "He supports us. He comes out here every day. He works just as hard as we do. We respect him."
Junior Oakville Tiger Harison Zeneli added, "He'll come up and play songs for us. He's really supportive. He's a really cool kid. We love him on the team."
Drew's parents very much appreciate his role on the team.
"Never having been to high school before, the anxiety for him to come to a new school as a freshman would have been overwhelming," Mark stated. "Now it's like he's got 60-plus best friends."
Drew's mother, Deb, agreed.
"With the boys cheering him on and being there for him, his head is completely in that game," she stated. "They are there for him. He talks constantly about the players and how much they dedicate their time."
"They treat me awesome," Drew stated. "They got my back. They give me high-fives at school. They say my name out loud, in a deep voice. Yeah."
"He's fun to be around," junior teammate Josh Kuntze stated in the release. "And we've developed a pretty good friendship, which is nice to have with the new guy on the team.
Junior team member Mitchell Elliott stated, "He's a great guy all around. Everybody gets along with Drew. He helps out with day-to-day stuff like help getting balls or water."
"He's here every day," added Jevon Jones, another one of Drew's teammates. "He's a nice kid."
Check out this video: