VIDEO: Lindbergh High School students walk out to protest teacher salaries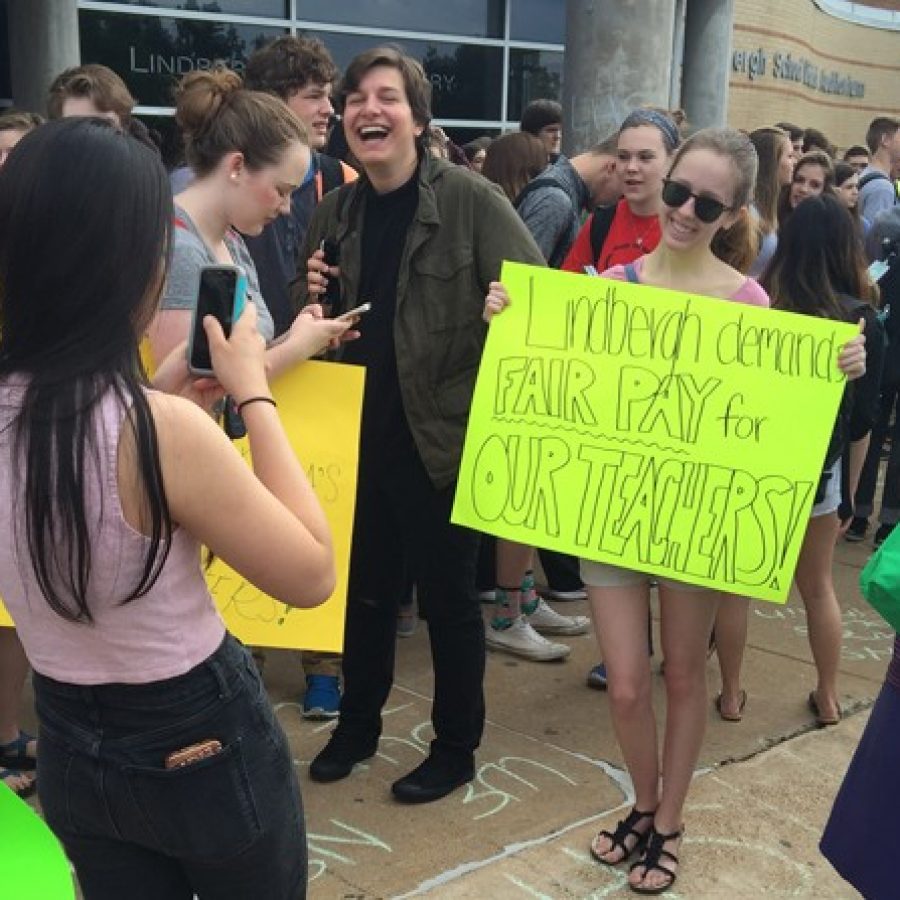 Lindbergh Schools teachers have protested their salaries since last year, and students at Lindbergh High School joined them Tuesday, walking out of final exams to show their support for what they see is an underappreciated, underpaid Lindbergh staff.
With a promise from Principal Eric Cochran that they would not get into trouble for walking out as long as they returned to class in time for their second final exam, hundreds of Lindbergh High students walked out of school and chanted, "Who do we love? Teachers!"
The proposed total $84 million 2016-2017 Lindbergh Schools budget is so tight that it projects a zero-dollar surplus while factoring in a 1.25-percent raise for teachers and freezing their steps, or years of service. The salary schedule is still in negotiations, but last year, the board approved the salary schedule with a 3.5-percent raise even though teachers overwhelmingly rejected it.
Although teachers have received an average 8.5-percent raise over the last two years, which district officials say is the highest salary hike in the region, teachers say that it's not enough to stay competitive with other districts. The district says almost all its new money has to go to hiring new teachers to continue to deal with growing enrollment at all its schools, including a projected 312 new students next year.
Through a megaphone, walkout organizers listed the reasons they walked out Tuesday morning — a set of grievances against the Lindbergh administration given to them by an anonymous teacher.
"Lindbergh is not without money," student Heidi Budd said. "We have a winning tax record, meaning our voters do support the district and they do support our tax issues — it's the budgeting of the tax revenue that we have that is what's causing the problem. So what the teachers want basically is, contact the Board of Education and ask them to impose more tax issues."
Students organized the walkout using the hashtag #LindberghCares, where they listed things their teachers have done for them.
After presenting the proposed budget to board members last week, Chief Financial Officer Charles Triplett said, "This is a lean year, no doubt about it… Keeping teachers at step is never something we want to do."