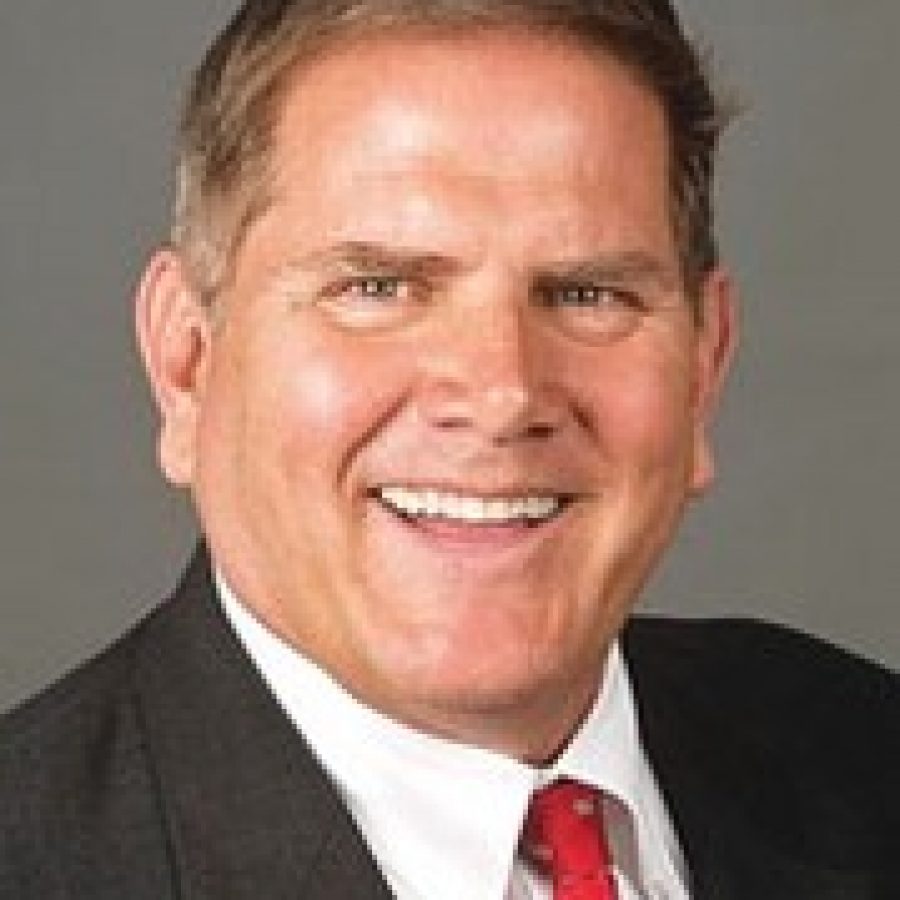 A judge declared a mistrial last week in Sunset Hills Mayor Mark Furrer's jury trial for allegedly intentionally hitting a bicyclist with his car, but county Prosecuting Attorney Robert McCulloch said he will try Furrer again on felony charges of assault and property damage.
Furrer will be tried again on the charges at 9 a.m. Monday, Feb. 22.
As testimony in the four-day trial opened Dec. 15, Sunset Hills residents Randy Spaethe and William Freeman told the jury that they were driving on Old Gravois Road on July 29, 2014, when they witnessed Furrer drive into Fenton resident Randy Murdick, 48 — in what Freeman called an "attack on a bicycle rider" and Spaethe called an "intentional hit."
Furrer and Murdick often told their opposing versions of what happened in the days after the incident, but last week was the first time the eyewitnesses publicly said what they saw that day.
The mayor, who turns 62 on Dec. 26, took the witness stand Dec. 17 and said he wasn't angry, never set out to attack Murdick, never cursed at him and never hit him with his car.
He said he was shocked when the cyclist grabbed onto his 1991 red Mercedes convertible, and then he saw the bicyclist tumble into the road through his rearview mirror.
Hours after the mistrial, McCulloch vowed to try the case again because, he said, the evidence against the mayor is compelling.
"Witnesses testified that they saw him intentionally turn into the guy on the bike and knock him down — that's something you can't do," McCulloch told reporters. "That's against the law. That's a crime."
The case was tried by Assistant Prosecuting Attorney Alan Key, who said in his opening statement that the state's witnesses tell the same story as Murdick: They saw Furrer turn his steering wheel to the right and intentionally drive into Murdick, who did not grab onto Furrer's car, and the mayor accelerated and drove away.
The witnesses testified that they did not know each other, the bicyclist or Furrer before the incident, and did not know the convertible driver was the mayor.
Murdick, the defending state mountain-biking champion that year, testified that just as he had hundreds of times before, as he neared the end of a 40-mile training ride from Fenton to Jefferson Barracks and back, he stopped at the T intersection at Weber Hill, Kennerly and Old Gravois, unclipped his shoes from his pedals, clipped them back in and turned right on Old Gravois. He didn't see any cars, he said.
But a red convertible pulled up seemingly out of nowhere, he testified, and Furrer screamed, "'Get off my f—ing roads,' four or five times. After he stayed next to me, I told him to go f— himself, and that's when he jerked over and hit me."
Furrer told a much different story: On his way home from City Hall, he stopped at Kennerly and was cut off by Murdick breezing through the stop sign.
He swerved into the left turn lane on Old Gravois to avoid hitting Murdick, and then he pulled alongside the cyclist.
"It startled me, and I just said, 'Hey man, you should stop at the stop sign,'" Furrer testified. "It wasn't like I was mad."
Murdick responded with a string of profanities, Furrer said, and when the cyclist asked, "Who the F are you?" Furrer said he replied, "I'm the mayor," and Murdick grabbed onto his car.
"Why didn't you just stop?" Furrer's attorney Tom Magee asked him.
"I didn't want to have a confrontation with the guy," Furrer said.
Freeman, 70, had just left work and was heading home in his 1978 Oldsmobile Cutlass Supreme down the hill on Kennerly when he saw the bicyclist struggling to stay upright between the car and curb as Furrer leaned over, his car inches away, Freeman said. And on the witness stand, he said he had no doubt about what happened next.
"The driver of the red convertible attacked the bicyclist with the automobile in an abrupt maneuver," Freeman said. "(Murdick) went up into the air, then he came down on the automobile, bounced off of that and fell onto the concrete."
Heading eastbound on Old Gravois, Randy Spaethe, 61, was driving his white Chevy Silverado pickup truck with his son, Andrew, 28, in the passenger seat. Randy Spaethe serviced the city's police cars when he worked at Sunset Ford, and in the police report, two Sunset Hills officers who responded to the scene vouched for his trustworthiness.
As Spaethe drove by, he testified he saw Furrer turn his steering wheel to the right to hit Murdick, who flew over the handlebars.
Furrer hit the gas and sped away, Spaethe and Freeman testified.
"I said, 'Holy s—, he just hit that guy, call 911, he's running!'" Randy Spaethe said he yelled to his son.
Spaethe made a U-turn to chase Furrer, who turned around at the Friendship Village entrance that is also his subdivision entrance.
On the stand, Furrer said he believed it was unrelated to what had just happened when Spaethe blocked his path, honking his horn and flashing his lights. He didn't know why the man was "trying to ram me," Furrer said.
When they got out of their cars, Randy Spaethe said he confronted Furrer: "Hey a–hole, when you hit somebody, you're supposed to stop."

Spaethe said Furrer replied that he had not hit anyone, to which Spaethe responded, "Bulls—!"
Furrer then accused Spaethe of pushing him into the bicyclist, Spaethe said.
Spaethe testified that he was so angry about what happened that he secretly hoped Furrer would fight with him at the scene so he could hit him. Testifying later, Furrer said that he didn't understand why Spaethe was so angry, "like he wanted to fight with me," and that the man had "almost hit me head-on."
Key asked Spaethe on the stand, "Why were you so angry?"

"I just saw an intentional accident — it wasn't even an accident, it was an intentional hit," Spaethe replied.
Magee said in his opening statement that Freeman had changed his story, and they pressed him on the stand about a statement he gave to police days later in which he said it could have been an accident. But Freeman fought back that whatever term he used, he knew what he saw.
"I used 'accident' because it's a common word," Freeman said. "In actuality, it was not an accident. It was a deliberate act to hit a bicycle rider."
Magee did not ask if Furrer made a phone call just after the incident, but Sunset Hills Police Lt. Greg Zveitel testified that although he had already finished his shift, he went to the scene after Furrer called him.
Three times on the stand — when Furrer alleged Murdick ran the stop sign, grabbed the convertible and then Spaethe chased him — the mayor said he'd never seen anything like the strange succession of events that happened that day.
"I was totally stunned, to tell you the truth," he said. "It was something I'd never seen in 61 years."