UPDATE: Tesson Ferry apartment complex sent back to Planning Commission
Neighbors' attorney argues project doesn't follow county zoning code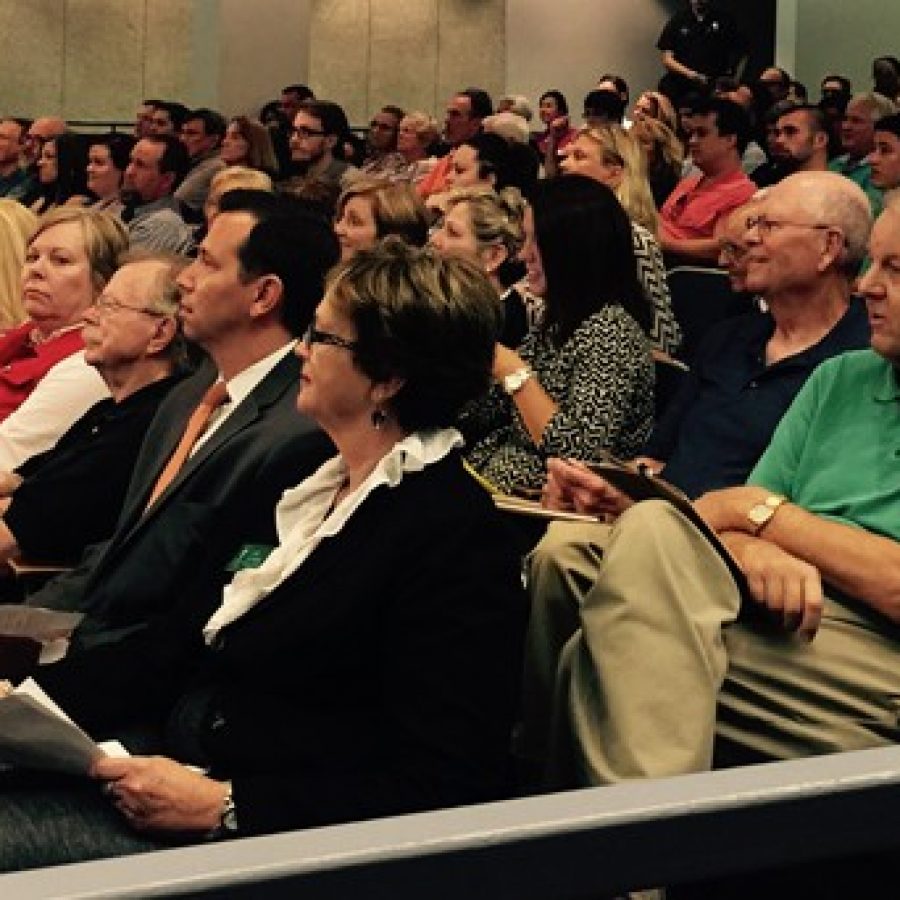 After last-minute intervention from an attorney representing residents opposed to a south county apartment complex found the project's rezoning might violate county ordinance, the developer requested Tuesday night that the zoning proposal go back to the county Planning Commission.
Developer JHB Properties, a subsidiary of Oakville-based J.H. Berra, hopes to build 21Bauer, a 232-unit apartment complex at the corner of Tesson Ferry and Bauer roads.
A packed crowd broke into applause when council Chairman Mike O'Mara, D-Florissant, announced Berra's decision. A council member had tried to send an email to let neighbors know so they wouldn't have to drive to Clayton, but the word had not gotten out since the decision was so last minute, said 5th District Councilman Pat Dolan, D-Richmond Heights.
Streaming out of the council chambers, the project's prospective neighbors said they viewed the surprise move as a victory against the proposal, which had been up for final approval.
Although the project is not dropped, subdivision trustee Bill Hogan said it was a welcome change from the "absolute ordeal" he and the other neighbors endured this summer trying to get county officials to listen to their concerns about the project. Hogan represents 625 neighbors in 17 subdivisions along Bauer and Keller roads who are against the project.
"We may have won the battle, but we did not win the war," Hogan said. "We'll be back at it, we're just going to hold our guns is what we're going to say tonight – and we're armed for the next session."
The property was already zoned R-6 multi-family residential in 2010 for a project with a nursing home and senior apartments that fell through.
The developer is asking to change buildings around, but that many units can be built under the site's existing R-6 zoning, acting Director of Planning Gail Choate told the Call at the time of the initial public hearing in June.
"R-6 can yield that many units on that property," she said. "They don't need a different zoning calculation."
However, the neighbors' attorney, Stan Wallach, sent a letter to the County Council, the Planning Commission and the site's representative, 6th District Councilman Kevin O'Leary, D-Oakville, a week ago that questioned how the project could proceed when a line in county code calls for a reversion of a rezoning if a project stalls for more than 13 months.
Wallach also
south county residents in Sunset Hills who are unhappy with the prospect of a drive-thru Jimmy John's near their backyards.
In many cases, the surrounding neighbors voted for a higher homeowners' assessment on themselves to help pay for Wallach's services.
"We'll still sue if we have to," Hogan promised.
O'Leary, who has not responded to multiple requests from the Call and from neighbors to discuss the project, did not say anything at the meeting.
He could drop the project if he wanted to, but has instead advanced it. It was perfected on a 4-3 vote, with O'Leary, Dolan, O'Mara and 2nd District Councilman Sam Page, D-Creve Coeur, in favor. Opposed were 3rd District Councilwoman Colleen Wasinger, R-Town and Country, who represents some of the neighbors, 1st District Councilwoman Hazel Erby, D-University City, and 7th District Councilman Mark Harder, R-Ballwin.