UPDATE: Pousosa challenges Reinagel for Green Park mayor
Pousosa seeking to unseat Reinagel in mayoral contest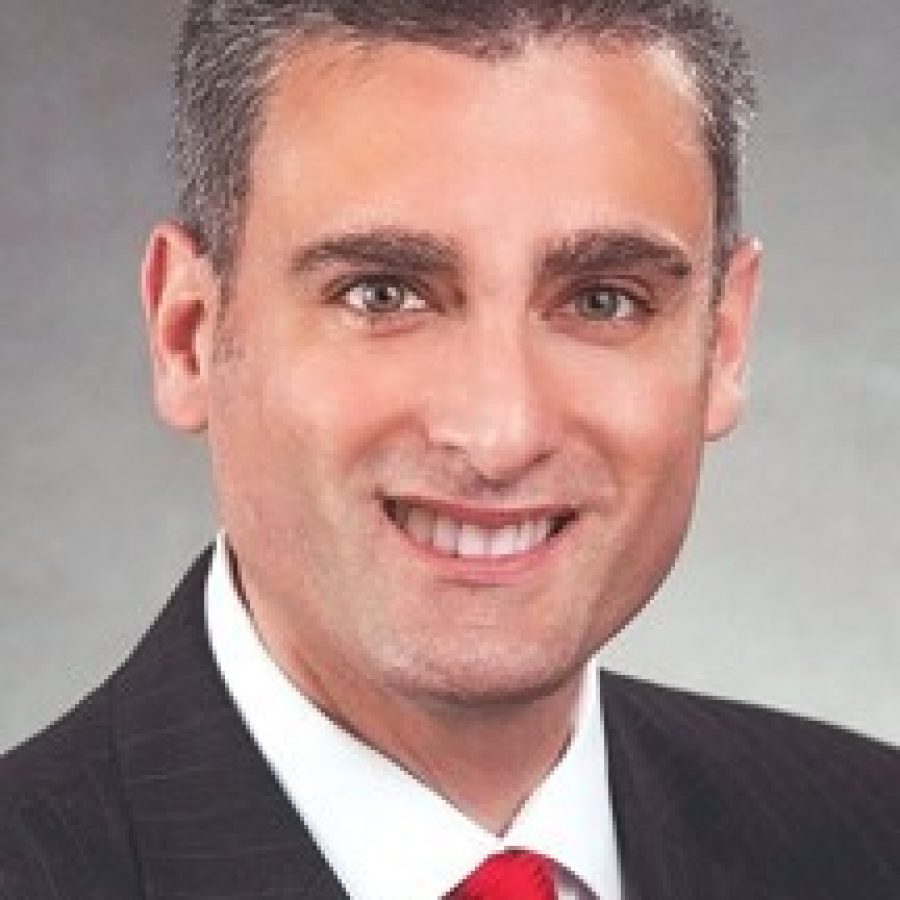 Former Green Park Ward 1 Alderman Tony Pousosa is challenging current Mayor Bob Reinagel in the April 4 election.
The mayoral race is the only contested one in the city, since all aldermen seeking re-election are unopposed. Although Reinagel and Pousosa are now veterans of Green Park politics, the race marks a rematch of the 2007 race for Ward 1 alderman in which then-newcomer Pousosa defeated then-Ward 1 Alderman Reinagel, who had been elected in 2005.
"The biggest issues are code enforcement, rental properties and researching annexation. All of these issues need to be addressed in a manner that allow current and future residents the opportunity to have a small government that is responsive, open and transparent to their needs, protects property values and is a place where people want to live. I am prepared to take on these challenges if I am elected mayor of Green Park," Pousosa said.
"Maintaining the quality and character of Green Park's residential neighborhoods and infrastructure and services to support this," Reinagel said.
Pousosa, 46, 9700 Antigo Drive, is a surgical resource nurse and served as a Ward 1 alderman and Planning and Zoning Commission member from 2007 to 2015.
He unsuccessfully sought the Republican nomination for county executive in 2014 and the 6th District County Council seat in 2012 and 2015.
Pousosa and his wife, Gina, have two children who attend Lindbergh Schools.
Pousosa is running for mayor because "I believe our city needs to do more to secure its future and protect the integrity of our property values. We have had many of our elected officials run unopposed for many election cycles, and residents have grown complacent with following our city government. This is a sign of stagnation that must be addressed.
"Our city has entered a turnover phase that will give us either an opportunity to thrive, if handled properly, or die a slow death if we remain complacent."
Reinagel, 76, 10957 Suanis Court, is retired. He was appointed to the mayoral post after the resignation of Mayor Tony Konopka in 2012 and elected to two-year terms in 2013 and 2015. He and his wife, Nancy, have three grown children.
He is running for re-election because of the "residents and homeowners in Green Park. Our city is a great place to live and raise a family. I want to keep it that way."
Pousosa said, "He should treat all residents, city officials, other co-workers and other visitors with respect. There should always be an open line of communication between the mayor, city officials and city staff."
Reinagel said, "Learning the procedures and policies of Green Park — encouraging the 'growth' and getting to know our residents and businesses."
Pousosa said, "Serving your community is a thankless job. I believe in doing what is right and just. I have not wavered in how I serve. It will be up to Green Park residents and time to determine what I really have accomplished during this time."
Reinagel said, "Working with the aldermen to achieve positive results for the city.
"We have purchased the building for City Hall, which has become a great asset for the city and provides a meeting room for our residents to use."
Pousosa said, "I believe that rental code enforcement has grown lax and problematic across the city, especially in Ward 3. Property owner landlords who rent their property have the right to do so within the law. However, deadbeat landlords will be held accountable and will adhere to all city and county ordinances under my administration."
Reinagel said, "Yes — we are enforcing our occupancy permits legally and ethically. As home values rise, this should help."
Pousosa said, "As an alderman, I was able to voice opinions and concerns as all of these services, including trash services, were implemented. I believe that all the companies that provide and have provided services — street replacement — have done a good job. The decision to go with these companies was based on financial responsibility to city residents and quality of the product or service they provide."
Reinagel said, "Yes, however, as we can, we are exploring other services we can provide."
S
Pousosa said, "I believe that annexation should be researched thoroughly and at some future point establish the city of Green Park as a charter city. It is that status that will help our city survive the ongoing push toward city/county reunification. The next annexation mapping window will open Jan. 1, 2018. After the April election, the city will only have about eight months to get the required information gathered.
"As a newly elected alderman in 2007, I had started to research and ask questions regarding annexation. Unfortunately, city officials of that time had no interest."
Reinagel said, "This is an option always on the table."
Pousosa said, "I would like to see a fiscal note attached to provide an open and transparent record of how these capital-improvement taxes are spent within our city."
Reinagel said, "Yes."
Pousosa said, "I believe that the city should keep a fund balance that it could operate for least eight months to a year to allow providing basic services such as trash and police protection during any times of hardship."
Reinagel said, "Our ordinance states 50 percent of budgeted expenses annually."
Pousosa said, "While there might have been some questions in the recent past, I believe that adherence to the Sunshine Law has been acceptable. If we want to send a message to our residents that small government works for the people, we must be open and transparent."
Reinagel said, "Yes — continue operating with transparency."
Pousosa said, "I do not support TIFs because it places the tax burden, in most cases, on us taxpayers. I don't like CIDs (Community Improvement Districts) or TDD (Transportation Development District), but with the last 10 years of stagnant growth and over-regulation across the county, it is sometimes necessary to help complete a project."
Reinagel said, "Only if necessary. Don't see any need for it in Green Park."
Pousosa said, "I believe that we should be more proactive protecting our interests as a municipality. We must be vigilant and pay attention to what is happening within our city as well as neighborhoods surrounding our city."
Reinagel said, "Yes."
Pousosa said, "The tax burden owed to St. Louis County is already quite high for businesses within our city. A fee or license that this time would only add to that burden."
Reinagel said, "Not being considered at this time but could be an option."
Pousosa said, "I was on the Planning and Zoning Commission when the last review of the comprehensive plan was done. I believe that the plan should be at least reviewed once a year to make sure there are not any updates that need to be made to keep the plan current."
Reinagel said, "Yes."
Pousosa said, "I would encourage residents to set aside the time to attend the Board of Aldermen meetings, Planning and Zoning, Board of Adjustment, town hall or open house meetings. I would make phone calls or drop by visits to random Green Park households in each ward to get an accurate pulse of the city. The future success or failure of our city will depend upon those who are willing to get involved."
Reinagel said, "More mailings to keep them informed. Activities — concert in the park, senior bingo, and we are looking for input and ideas."
Pousosa said, "I believe that rental code enforcement has grown lax and problematic across the city, especially in Ward 3. Property owner landlords who rent their property have the right to do so within the law. However, deadbeat landlords will be held accountable and will adhere to all city and county ordinances under my administration."
Reinagel said, "Yes — we are enforcing our occupancy permits legally and ethically. As home values rise, this should help."
Pousosa said, "Disagreement on the trash district issue made me decide to run for alderman in 2007. During that time, I envisioned the city of Green Park utilizing our tax dollars to pay for all trash services —one trash pickup, recycling, yard waste and two bulk pickups per year — at a reasonable cost. Overall, Green Park residents have been very happy with their trash services. Green Park residents can direct their income to other needs such as food, home repair, medical et cetera, instead of being both taxed and having to pay for trash services."
Reinagel said, "Yes."
Pousosa said, "As alderman, I wrote the bill that placed the northwest corner of the city under a redevelopment plan that would encourage current business owners to upgrade their businesses knowing that the city would work with them to expedite any permit applications or fees for such improvements. This bill was voted on and was passed unanimously by the board. This opened the door for Fresh Thyme to look at the old library site."
Reinagel said, "Long term, we envision a walking business area with retail and shops and improving the infrastructure."
Pousosa said, "My vision for Green Park is a city where residents' voices are heard. City codes are enforced. Property owners who rent their properties are held accountable in order to maintain the integrity of our city. Our city is strengthened and grows in a way that will project our municipal interests beyond the onward push toward St. Louis and St. Louis County reunification."
Reinagel said, "A city with business and residential complementing each other. Stable or increasing housing values. Growing and thriving."
Pousosa said, "I support the St. Louis County Police Department and municipal law enforcement 100 percent. I do have concerns with this tax because the (County Executive Steve) Stenger administration has not completely delivered on comprehensive auditing of all departments to find possible waste and areas where county operations can be streamlined. This tax has no fiscal note to provide transparency and let taxpayers know exactly what is being done with our tax dollars. The term public safety is a broad term that could potentially send our tax dollars toward things outside the realm of law enforcement. There is no sunset on this tax. If we pass the tax, those taxes given to the city would be used for law enforcement and/or code enforcement issues."
Reinagel said, "Yes, we contract with police and public safety. If it will bring in more than our contract price, we will use the excess for programs for our residents."
Pousosa said, "The St. Louis County police are top-notch and provide excellent service to our city."
Reinagel said, "Absolutely. It's a great partnership."
Reinagel said, "Sensible control of properties and occupation permits."