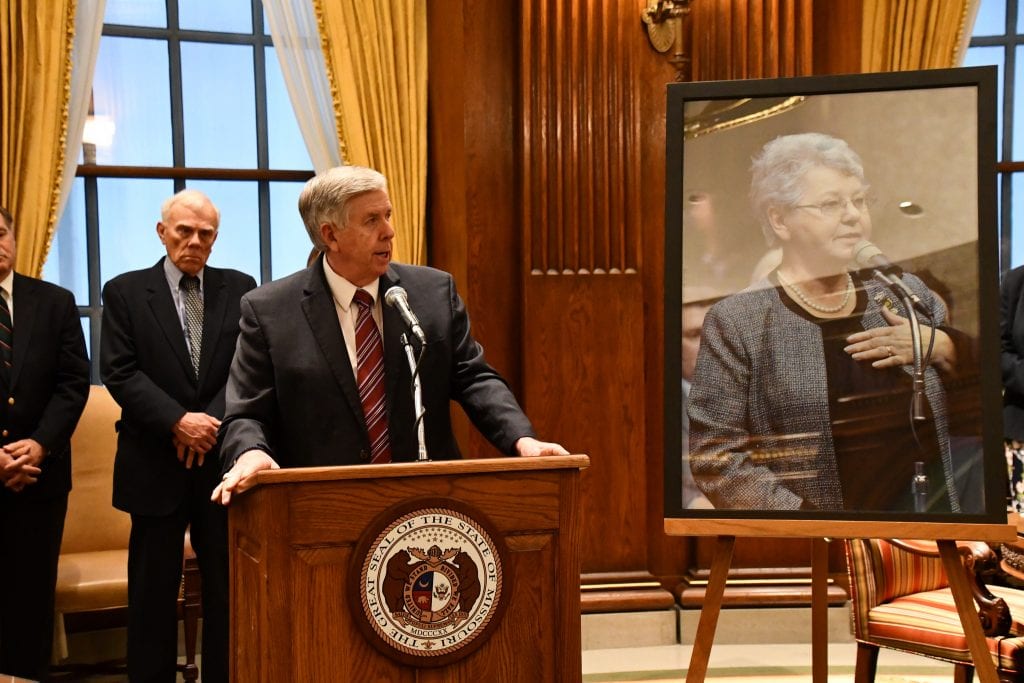 A day after requesting help from the federal government to manage the COVID-19 pandemic, Gov. Mike Parson on Wednesday shared details about the state's response.
Missouri's Department of Health and Senior Services has confirmed 356 cases of COVID-19 as of Wednesday afternoon.
In Wednesday's briefing, Parson touched on unemployment, agriculture, federal response and personal protective equipment.
In the past week, the number of unemployment claims filed with the state reached 30 percent of the total number of claims made in all of 2019, Missouri Department of Labor Director Anna Hui said.
Hui said the department would work with employers to help process mass unemployment claims.
Parson also addressed farmers, truck drivers, restaurant and grocery store employees and others involved with food production across Missouri.
"I want everyone in or involved in the food industry to know that your work has never been more important," he said. "Obviously, employee safety and public safety is our first priority. If you're sick, stay at home. However, if you're able to work, we need you at your farm, your truck, grocery store and everywhere else to keep doing your jobs and keep our products on American shelves."
After announcing Tuesday that Missouri would move $18 million to cover personal protective equipment for first responders, Missouri Department of Public Safety Director Sandy Karsten announced that the State Emergency Management Agency had sent out equipment to 100 first-responder agencies and long-term care facilities across the state.
Parson also mentioned the request he sent to President Donald Trump on Tuesday that would declare Missouri to be in a "major disaster." The declaration would unlock Federal Emergency Management Agency funds and relief, which Parson said would go to several key priorities.
In the request, Parson asked for two programs statewide: Disaster Unemployment Assistance and Crisis Counseling under FEMA's individual assistance program.
Parson also requested FEMA's Public Assistance Program to assist local governments and nonprofits with emergency response expenses. He also asked for FEMA help with debris removal expenses if needed for the disposal of waste related to COVID-19, according to the statement.
"Although it is continuing to develop, it's already clear the COVID-19 pandemic will have a more sweeping impact on the entire state of Missouri than any other previous disaster that has affected our citizens," Parson said in a statement. "There is an urgent need for federal assistance to help Missouri families meet today's challenges and the many more that we will face."
In Wednesday's news conference, Parson also said he had spoken with officials at Missouri State University about potentially using dorms to house first responders and doctors who had been exposed to the virus.
"The COVID-19 pandemic has already had a devastating effect on the state of Missouri, straining hospitals, health care facilities and nursing homes, businesses large and small, schools, and tens of thousands of Missourians who have been forced out of their jobs," Parson said in the statement.
If approved, Missouri would join Iowa, California, Washington, Louisiana and New York as states with a federally recognized major disaster status.
On March 13, Parson declared a state of emergency in Missouri. ST. Louis County and several cities across the state, including St. Louis, Columbia and Kansas City have already adopted stay-at-home orders.
For more COVID-19 related news, see our section dedicated to COVID-19 updates. For the latest news statewide, see the Columbia Missourian's COVID-19 special section.