Undefeated Flyers stomp Lafayette 38-14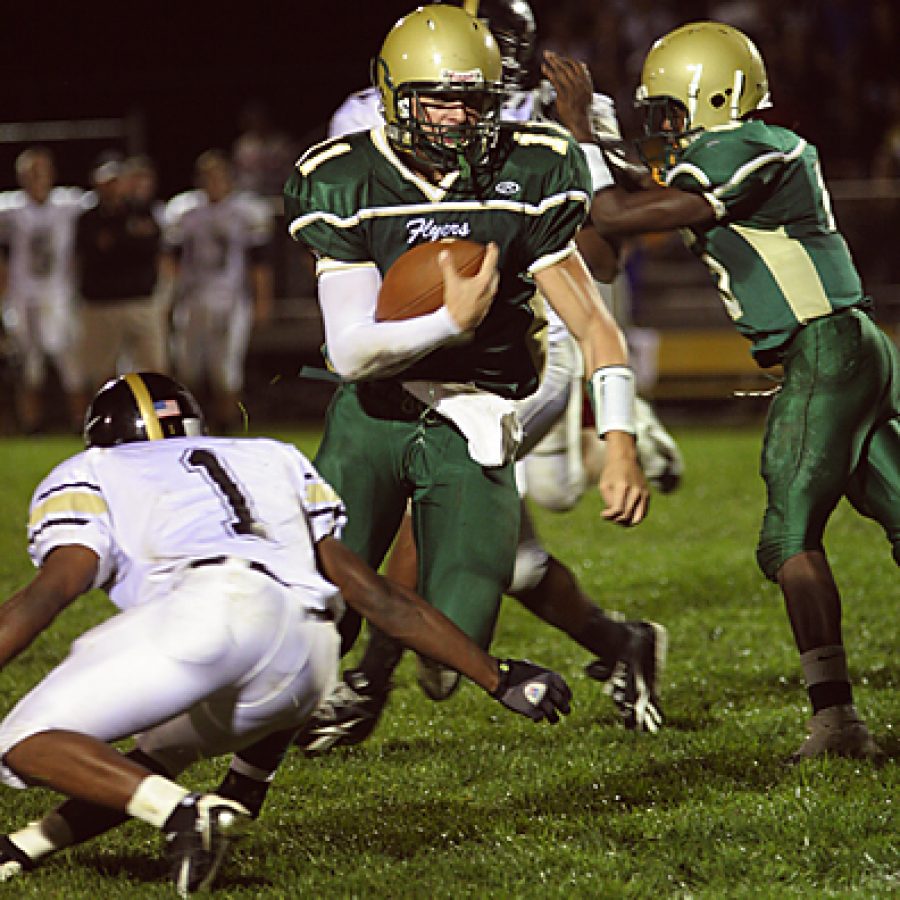 For the first four weeks of the 2009 season, the Lindbergh High School football team has been flying under the radar as the media focused their attention on other schools.
That luxury ended with Lindbergh's convincing 38-14 win over Lafayette (3-2, 1-2 Suburban West) Friday night at home.
"The kids played well," Lindbergh head coach Tom Beauchamp said. "I was real proud of the way they played in the second half."
The Flyers (5-0, 3-0 Suburban West) held the Lancers scoreless in the second half, which was the first time that Lafayette went scoreless throughout a half this season.
Lafayette took a 7-0 lead when Kyle Green busted out an 84-yard touchdown run with 11:38 left in the first quarter. He carried the ball 13 times for 124 yards.
But Lindbergh immediately responded with a 7-yard touchdown run by Kyle Portell with 7:29 left in the first quarter. The senior quarterback led the Flyers with 17 carries for 112 yards.
"Kyle had a great night," Beauchamp said. "He probably had four or five catchable balls that were dropped, but I thought that he really played one of the better games I've seen him play."
Green scored again for Lafayette on a 20-yard pass from J.T. Miller with 11:54 remaining in the second quarter. Miller completed 10 of 12 passes for 118 yards and one touchdown.
The Flyers tied the game 14-14 with 8:15 left in the second quarter on a four-yard run by Eric Schwartz.
"Eric comes to play every day," Beauchamp said. "He's always ready to go when we call on his number."
Lindbergh took the lead on a two-yard touchdown run by Portell with 41 seconds left in the half.
The Flyers dominated the second half when Portell connected with Connor Jones on a 22-yard touchdown pass with 8:21 left in the third quarter to give Lindbergh a commanding 28-14 lead. Jones' touchdown catch was his lone reception.
"Connor's a tall and lanky receiver that's playing really well for us," Beauchamp said. "He's been playing so well as a sophomore that we just had to give him a shot on the varsity."
Portell inflicted even more damage to the Lafayette defense with a one-yard touchdown run with 11:54 left in the fourth quarter to give Lindbergh a 35-14 lead.
Lindbergh's final assault on Lafayette came with 9:29 remaining in the game when Schwartz nailed a 39-yard field goal to bring the Flyers' lead to 38-14.
The Flyers return to action at 7 p.m. Friday when they travel to Marquette (1-4, 1-2 Suburban West), which has struggled throughout most of the season. But the Mustangs posted a 35-28 win over North-west last Friday at home. The Mustangs racked up a total of 247 yards rushing as Dante McKinney led Marquette with 16 carries for 102 yards.
"When you look at Marquette, they're actually a good football team," Beauchamp said. "They have some talent, they play well and they're disciplined. So it's a wonder how they're 1-4 right now."