Two Memorial Day observances planned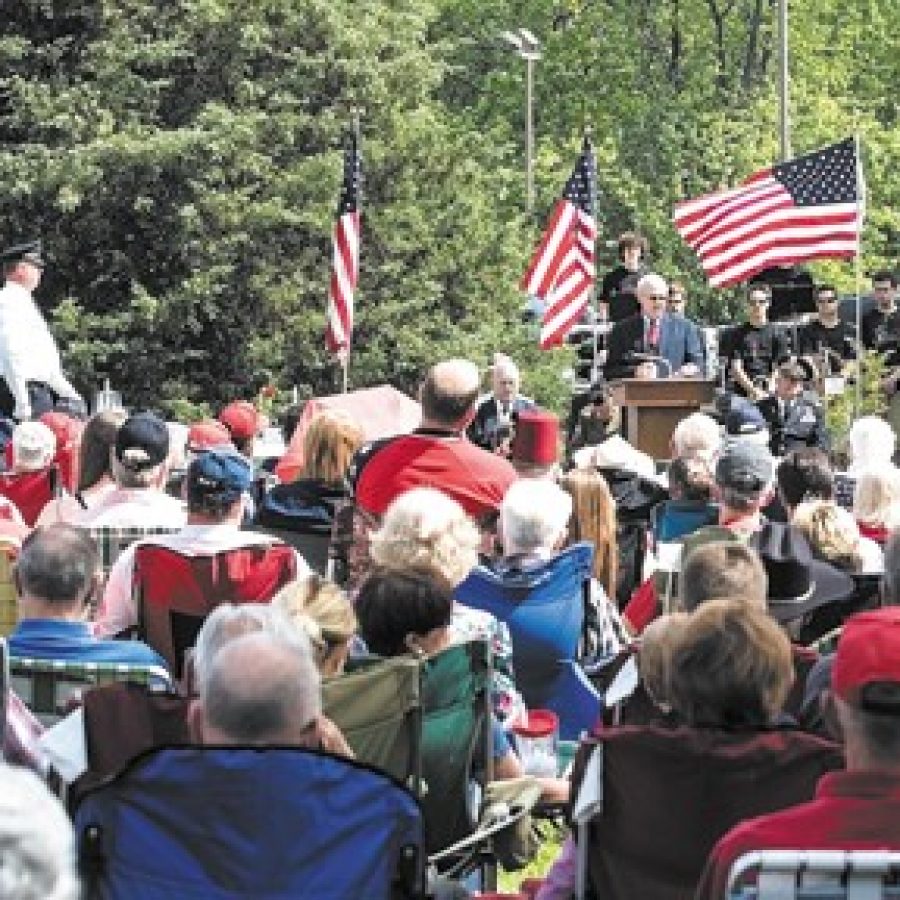 Memorial Day observances are planned Monday, May 30, at two south county sites — Jefferson Barracks National Cemetery and St. Lucas United Church of Christ.
Sunset Hills resident Joe Frank, who served as national commander of the American Legion from 1996 to 1997, will be the keynote speaker at the Memorial Day program at Jefferson Barracks National Cemetery, 2900 Sheridan Road.
The program will start at 10 a.m. Beginning at 8 a.m., bus and tram transportation will be provided from the Sheridan Road Metro Station and the Jefferson Barracks Veterans Affairs Medical Center.
An open house is planned from 11 a.m. to 3 p.m. Monday at the Jefferson Barracks National Cemetery Chapel.
The Sappington-Concord Historical Society will sponsor the biggest little annual Memorial Day observance in south county at 10 a.m. on the green at St. Lucas United Church of Christ, 11735 Denny Road. The green is the large, open lawn just east of the church along Denny Road.
Musicians from the Lindbergh High School Spirit of St. Louis Marching Band will kick off the celebration, with the St. Louis Marine Corps League advancing the colors. Boy Scout Troop 646 from St. Catherine Laboure Catholic Church will lead the Pledge of Allegiance and Lindbergh High School sophomore Rachel Nieters will sing "God Bless the USA."
The event will feature a remembrance of Patriot Guard Rider Mark Schroeder, who was killed this March while riding his motorcycle in a Patriot Guard funeral procession. Mr. Schroeder had been a ride captain since 2011 and had participated in the Memorial Day ceremony for several years.
"Mark Schroeder was dedicated, funny in a quiet way, and a great guy all around," Patriot Guard Ride Capt. Denny Eads stated in a news release.
The guest speaker will be Ret. Brigadier Gen. Ronald I. Botz, who served as commander of the 404th Chemical Brigade in the Illinois Army National Guard. The event also will feature a tribute to prisoners of war and soldiers missing in action by Bob Pieper and the Mehlville Fire Protection District.
Retired Chief Warrant Officer 5 Randy Ottinger, a veteran helicopter pilot who served in Iraq, will be master of ceremonies. An American Bald Eagle from the World Bird Sanctuary will make an appearance before the celebration, and doves of peace will be released.
The free ceremony is open to the public.
Guests are urged to bring lawn chairs, and parking will be available on the east parking lot at St. Lucas — enter through the west parking lot entrance. A reception will follow in the church auditorium.
The society will have a booth at this year's event to collect residents' memories, stories and photos about Johnny's Market for a special online compilation that is being created.