Try this tasty way to eat right, light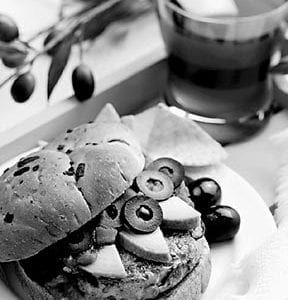 More and more, nutritionists agree with fashionistas: Black can be slimming, specifically, black ripe olives from California.
These olives are rich in healthful mono-unsaturated fats that can contribute to the health of the 97 million American adults who are overweight-and the millions more who don't want to be.
Obesity and heart disease are not just adult problems, the Centers for Disease Control and Prevention says the percentage of overweight children and adolescents has more than doubled since the early 1970s.
Health experts attribute the rise to poor food choices and lack of physical activity.
To help, many parents are preparing meals that are low in saturated fat, but full of the kind of good taste children — and grownups — like, such as these Mexican turkey burgers:
Mexican Turkey Burgers
1¼ lbs ground turkey
¾ cup sliced California Ripe Olives
1/3 cup chopped green onions
2 tsps minced jalapeno pepper
1 ¼ tsps minced garlic
2 Tbls lime juice
2½ tsps chili powder
1 tsp ground cumin, toasted
1/2 tsp ground sage
½ tsp kosher salt
4 (2.5 oz) onion rolls,
split and toasted
4 oz avocado, sliced (optional)
½ cup prepared salsa (optional)
In a large mixing bowl, combine turkey, ½ cup California Ripe Olives, green onions, jalapenos and garlic. Season with lime juice, chili powder, cumin, sage and salt and mix thoroughly. Divide mixture into fourths and shape into patties.
Grill turkey burgers over medium-high heat for 4 to 5 minutes on each side until cooked through. Place each cooked burger on the bottom half of a toasted onion roll.
Top with remaining sliced California Ripe Olives. Garnish with avocado and salsa, if desired.
Cover with top half of bun just before serving. Serves 4.
For more information and recipes visit www.CalOlive.org.