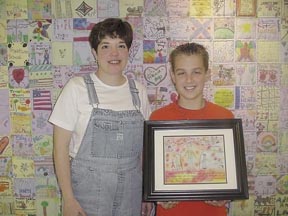 Hooray for heroes is what Trautwein Accelerated School in the Mehlville School District is saying now that it has $250 worth of extra art supplies — courtesy of Art Mart — to share with pupils.
The school owes it all to David Zink, a sixth-grade pupil who won first place in the "Every Child Needs a Hero" contest sponsored by the Family Support Net-work, according to a Mehlville news re-lease. Pupils in Mary Ellen Roungon's sixth-grade class were given the opportunity to enter the contest by drawing a picture of their hero and describing how that person is a positive part of their life.
David said he knew his dad, Ed Zink, was his hero because they have many of the same interests.
The Family Support Network received 165 entries for the contest from the St. Louis area and chose David's drawing.
David was recognized at a gala event for the "Every Child Needs a Hero" contest at the Renaissance Grand Hotel.
David was a guest of honor at the event and received two tickets to Six Flags, various other prizes and $250 worth of art supplies for Trautwein Accelerated School.
David hopes to take his dad as his guest this summer to Six Flags.