Trash day brings Oakville boy special memories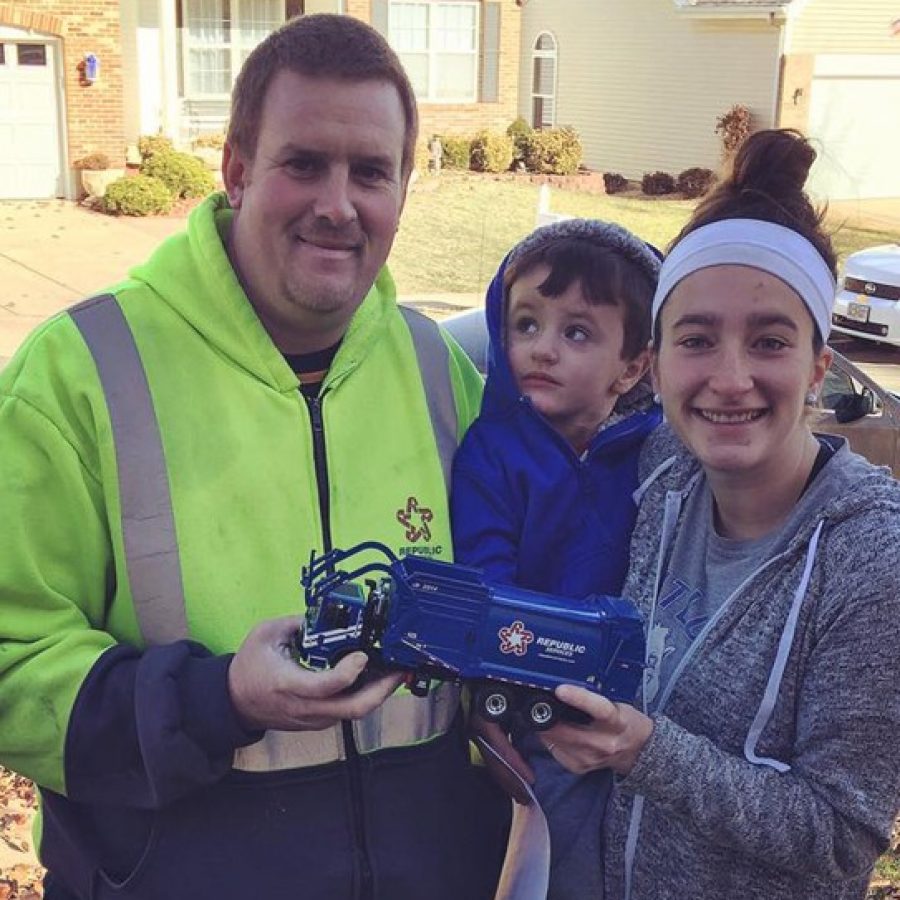 For one 3-year-old boy in Oakville, trash day is his favorite day of the week.
That's because every Thursday on trash day, Sam Miskovic gets to see his hero Fred Davenport, a waste hauler for Republic, in action. And the feeling is mutual: Davenport, pictured above with Sam and his mother Annie, surprised his buddy Sam before Christmas with his own mini trash truck.
Every day for more than a year, Miskovic and Sam have waited outside for Davenport's trash truck to come by. He began to expect them every week, and he always honks, waves and shows Sam his truck and how it dumps the trash in the back.
"Fred makes our week every week," Miskovic said. "He's an awesome man and loves making his customers happy."
The week before Christmas, they surprised each other with Christmas cards.
But when Davenport came by the Miskovics' house just before Christmas, she posted the next week on Facebook, "He told us to wait a second and came back with a toy trash truck and two hats for Sammy … Thank you, Fred, for everything, and for making our Thursdays every week!! Merry Christmas, Fred! We appreciate you! This touched my heart."
Sam treasures the little truck so much he won't put it down, carries it with him wherever he goes and is even sleeping with it, his mother wrote.
To thank Davenport, she contacted his bosses at Republic and told them the story. His supervisor replied to her Facebook post, which received hundreds of likes, to say that he had received the message and showed it to Davenport, who is a "good, hard-working driver" for the company. Members of Davenport's family even saw the post and commented on it.
And last Thursday, like every Thursday, Davenport came by with another honk, another wave and more priceless memories for the Oakville boy who looks forward all week to trash day.