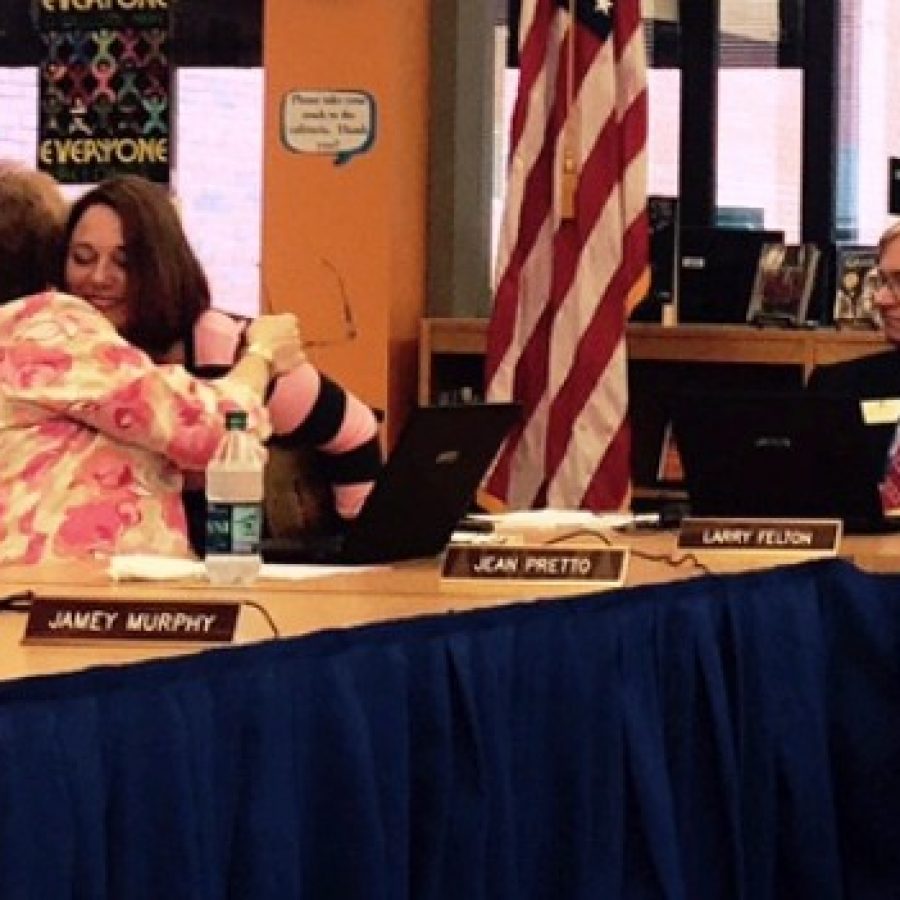 Although for years Mehlville Board of Education member Lori Trakas has not shied away from criticizing Mehlville, she had nothing but positive things to say about the district, the community she served and her fellow board members as she left the board last week.
Trakas finished third in a race for two seats in the April 5 election, behind newcomer and top vote-getter Kevin Schartner and longtime board member Larry Felton.
"It's been a great blessing, and it's been an honor to serve the community in this place, so thank you," Trakas said in her brief farewell remarks April 14.
Trakas left before Schartner and Felton were sworn in, but she is not leaving politics altogether: Her husband, Ernie, is running as a Republican for the 6th District County Council seat in November.
Trakas' exit was less dramatic than her initial arrival in 2013, when she narrowly defeated incumbent board President Venki Palamand, her former classmate at Blades Elementary, Oakville Middle School and Oakville High.
Along with Palamand, Trakas is the rare board member who attended district schools and has lived in Mehlville her entire life. But her legacy is that of an outsider, a contrarian who rarely saw eye to eye with anyone else on the board, even fellow conservatives.
She was the sole vote last year against Proposition R and said Mehlville's "kids deserve better" than the 49-cent tax-rate increase that other board members believed saved the district from financial ruin — but she didn't like the budget cuts that the district would have had to continue without Prop R, either, and said she would have voted against them.
Trakas upset some parents with her decisions to publish a letter on the anti-Prop R group's website and, in an unprecedented move for a sitting board member, work the polls against it on Election Day. At the first meeting after Prop R passed by historic margins, what Trakas called an "angry mob" of parents and students demanded her resignation or censure.
Trakas' Twitter biography says she is an "authentic, committed leader bringing strong visionary wind to the sails of change."
Post-Prop R, Trakas said the district needed to join her in focusing more on grander visions, which could include building a third high school, a new middle school or consolidating the high schools into one new mega-high school.
In the last year, however, Trakas voted for and then turned against the centerpieces of other board members' vision for the district — the strategic plan and the proposed Choice School of Innovation.
Trakas' vision also did not include Superintendent Chris Gaines: She voted against hiring him last year, then voted against his contract twice. In her anti-Prop R letter, she said she could not support the "lack of leadership" of all three superintendents who worked under her — Eric Knost, Norm Ridder and Gaines.
"I am usually the one with a differing opinion," Trakas wrote to her supporters last year. "I will not win a popularity contest within most of those district groups, but I take satisfaction in knowing that I serve my community and its children without any other agenda."
Palamand, who was re-elected in 2014, always said he was surprised that his once-shy Blades classmate transformed into such an outspoken board member. As she left, he told her, "To be on this side of the table and speak out is difficult, so I admire your courage as well for speaking out on some things that probably weren't that popular."
Trakas' outsider status was a stark contrast to what began as a short-lived conservative majority her first night in office.
With votes from Eardley, who soon abandoned the alliance, the conservative wing elected Mark Stoner president, Trakas vice president and Rich Franz secretary.
During last year's election for two board seats, Trakas sent an email to her supporters asking them to bullet vote for candidate Kyle Haubrich rather than cast a second vote for Jamey Murphy because she believed Murphy was not conservative enough. Murphy, now chief of staff to Sen. Paul Wieland, R-Imperial, was the top vote-getter, while Haubrich came in last.
Trakas was the "only true conservative force on the board," Ernie Trakas echoed at a Mehlville candidate forum that his wife could not attend because the Tesson Ferry Republican Club held it during a board meeting.
"For my money, she's the only true individual that cares about fiscal responsibility, accountability and appropriate management," he said, adding, "Lori is an awesome wife and an awesome mother" to her stepdaughter Allyson, "and just as awesome a school board member — her record speaks for itself."
At a GOP event last year, Trakas explained the evolution of her beliefs by recounting how teachers in the 1970s enlisted her and her classmates to silkscreen T-shirts at school and lobby their parents to vote for various tax hikes.
"To make me go home and take this T-shirt to a family that didn't make near the income of what people in that system (did) was not right," Trakas said. "When I was a child, I had no voice, but I have a voice now."
Some children will succeed no matter where they go to school, but other children "fall through the cracks" like she did at OHS, Trakas said. Despite early setbacks, the self-described "business gal" eventually opened a court-reporting business.
"I was an underachiever, but now I strive to be an overachiever for the kids in this school district," Trakas said.
One of the former board members in the audience for Trakas' last meeting was Elaine Powers, who served with Trakas before voluntarily leaving in 2014. As Powers left, Trakas recounted how she was so impressed when her friend Powers was elected that it spurred her to also run.
"Because of your service, our little piece of the world here, it inspired me to serve a district that's near and dear to my heart," Trakas said.
As Trakas left, her fellow board members applauded her for some of the qualities that, during her term, had gradually alienated her from other members of the board: Her refusal to back down and her commitment to representing the beliefs of her core group of supporters who attended every board meeting, whom she always called her "patrons."
"Your conviction is amazing, and I think you made me a better board member because seldom did we agree, but that's part of the deal," board Vice President Jean Pretto said.