Tournament of Roses liaison with local ties helps LHS band kick off fundraising efforts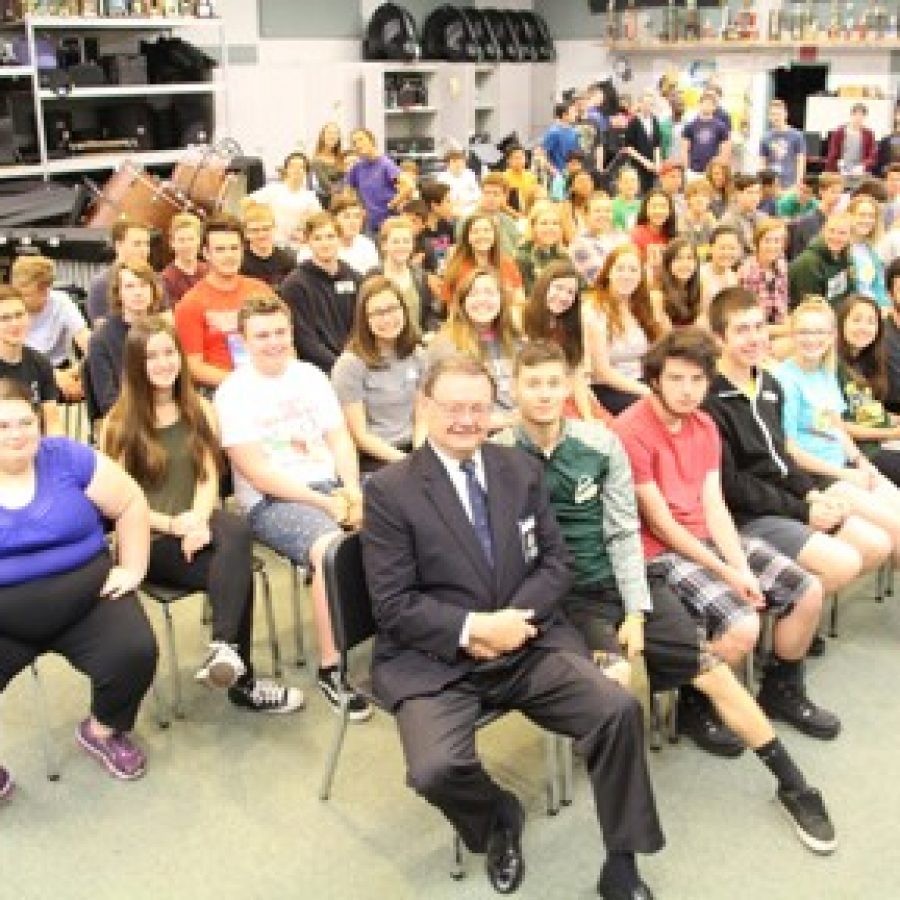 A special guest with some very local connections recently visited Lindbergh High School to help the Spirit of St. Louis Marching Band prepare for its trip to the Tournament of Roses Parade in Pasadena, Calif., next January.
This will be the band's third time marching in the nationally televised parade, which takes place on New Year's Day.
Tournament of Roses liaison Tom Ruck visited with students and parents to encourage their fundraising efforts and answer questions about the event. Ruck is a 1972 graduate of Mehlville High School and marched alongside former Lindbergh High School band director Bob Spiegelmann in the Marching Mizzou during college.
These local connections prompted him to request a pairing with LHS in 2018.
"It was really special to me when Lindbergh was chosen to march," Ruck told students. "You are the only St. Louis band to ever perform in the Tournament of Roses Parade — and this is your third performance. This experience is something you're never going to forget. It's awesome."
A total of 230 Lindbergh band members are busy putting pen to paper, sending personal appeal letters to friends and family to ask for support. The band must collectively raise $600,000 to fund this once-in-a-lifetime experience, a six-mile parade march in front of more than 1 million spectators. Community members can learn more about how to support the band or make an online donation by visiting LHSBandstanders.org/TOR.
Ruck plans to return to St. Louis in September with Tournament of Roses President Lance Tibbet, for a weekend of fun activities to build even more local awareness.
Band Director David Wyss and his team are following in the footsteps of his predecessor and mentor, Bob Spiegelman, who led the LHS band to the 2005 and 2011 events, and passed away shortly after in March 2011, following a courageous battle with lymphoma.
In a coincidental and fitting tribute to the beloved former director, Wyss received notification of the band's 2018 selection on Oct. 14, Mr. Spiegelman's birthday.
The band plans to perform an identical set list, as they "walk with purpose" in Spiegelman's honor.
The 2018 Rose Parade will feature spirited marching bands from throughout the nation, majestic floral floats and high-stepping equestrian units. The parade is broadcast nationally on several networks.