Tigers post key win over Parkway South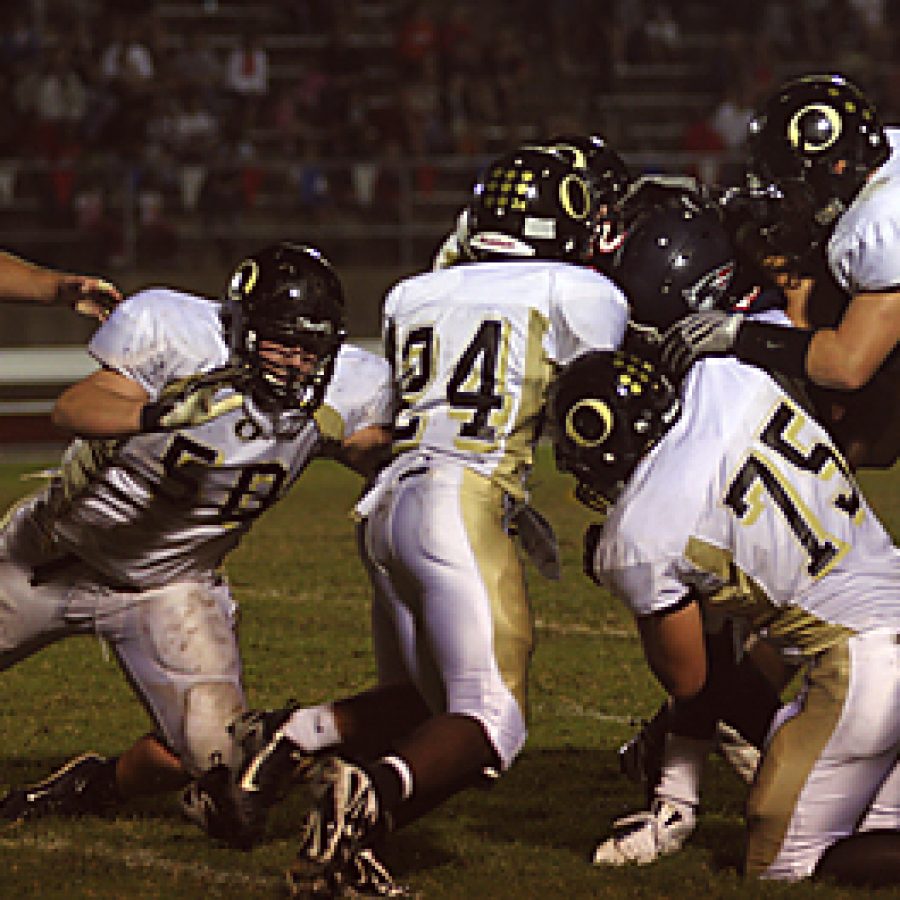 Penalty flags fell like raindrops from the sky Friday night when the Oakville Senior High School football team posted a key Suburban West Conference win 28-13 at Parkway South.
The Tigers (4-1, 3-1 Suburban West) were slapped with a total of 20-plus penalties, including a controversial flag thrown against the Oakville coaching staff while disputing a late-hit penalty on Parkway South quarterback Eric Laurent. But Oakville head coach Arlee Conners said that the Tigers' victory over Parkway South was a good, quality win.
"Parkway South is definitely a dangerous team that has a lot of speed," Conners said. "We just had to be more physical against them and our kids kept to their assignments like they were supposed to. I think the kids are believing in what we've been telling them to do."
The Tigers took a 6-0 lead when running back Darrion Moore pounded in a two-yard touchdown run with 7:31 left in the first quarter.
The point-after touchdown, or PAT, by Andrew Messmer gave Oakville a 7-0 lead. Moore carried the ball 15 times for 74 yards and two touchdowns against the Patriots (3-2, 2-1 Suburban West).
"We had some good holes for Darrion, and he had some good reads on their defense," Conners said. "That then resulted in some good runs for Darrion."
Oakville pounded the Patriots' defense again late in the first quarter. This time, however, it was the Tigers' air attack as quarterback Joe Plassmeyer connected with Mike Deguire on a 20-yard touchdown pass with 1:27 left in the quarter.
"That was our second drive on the night and for us to move the ball down the field like we did was really good," Conners said. "The offense was definitely clicking a lot better than they had been this season."
Deguire racked up two receptions for 28 yards and one touchdown.
"Mike's a guy we definitely can rely on throughout the game," Conners said. "He has a lot of ability and is one of the leaders of this group."
Parkway South trimmed Oakville's lead to 14-6 when Laurent connected with Nathan Kellerman on a 10-yard pass with 6:45 remaining in the second quarter.
The Tigers went into halftime with a solid 21-6 lead after Plassmeyer connected with Paul Taylor on a five-yard pass with 31 seconds remaining in the second quarter.
Plassmeyer's touchdown pass was his second of the evening as he completed 19 of 28 passes for 256 yards and no interceptions.
"A lot of things came together for Joe on Friday night," Conners said. "He's beginning to settle down and I think that he's doing a much better job at reading the defense."
Taylor primarily is known for his running game, but the senior tailback racked up six catches for 103 yards and one touchdown.
"Paul probably had one of his better games Friday night," Conners said. "He's a guy that we think adds some explosion on our offense when he's out there. He's definitely a threat for us."
Oakville extended its lead to 28-6 when Moore scored on a one-yard run with 3:22 left in the third quarter.
The Tigers return to action at 7 p.m. Friday when they play host to Kirkwood.
The Pioneers (3-1, 3-1 Suburban West) are coming off a convincing 45-7 win at home against Mehlville last Friday when Kirkwood racked up 234 yards rushing against the Panthers' defense.
Kirkwood also is undefeated against Oakville since Conners has been the Tigers head coach.
"Kirkwood reminds me a lot of Parkway South," Conners said. "They have a lot of athletes that can beat you on any given play. We just need to make sure that our assignments are taken care of."