Tigers, Panthers, Flyers are victorious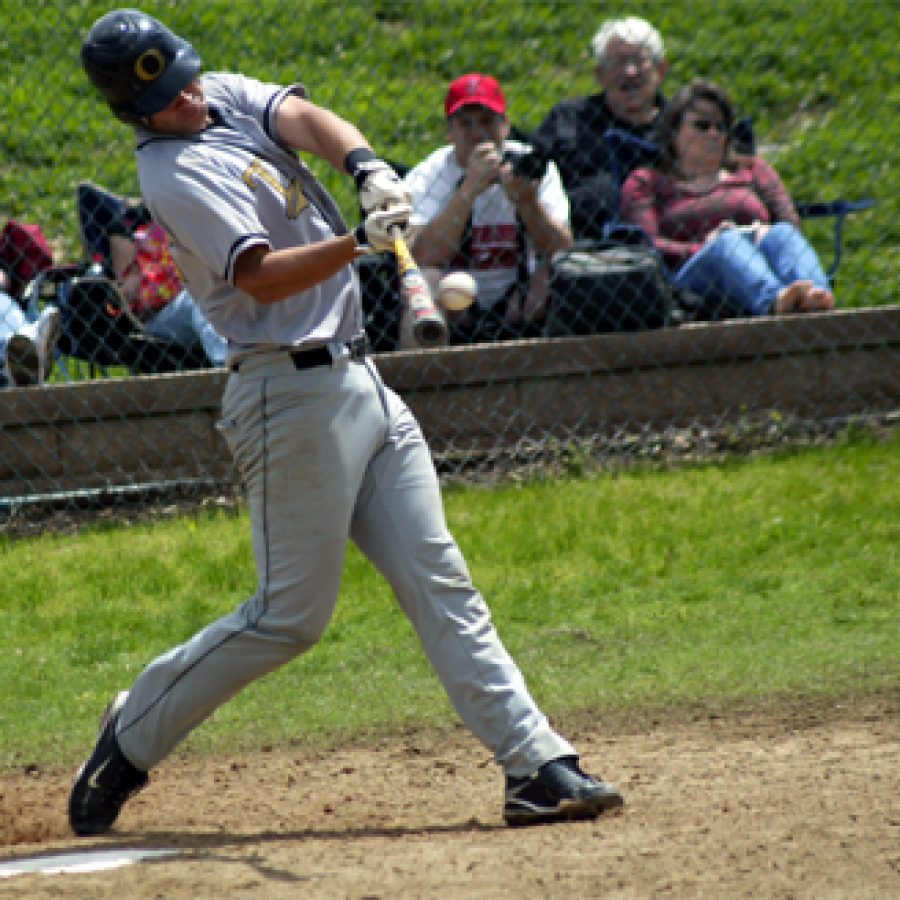 The Missouri Class 4, District 3 Tournament got under way Saturday afternoon with Oakville, Mehlville and Lindbergh walking away with impressive wins.
Oakville
The Tigers got off to a solid start in the first round of the district tournament when four Oakville pitchers combined for a no-hitter in a 23-0 win over Roosevelt in five innings.
"In a game like that, we did what we were supposed to do," said Rich Sturm, Oakville's head coach. "We hit the ball well, but the one thing about Roosevelt's pitchers is that they threw a lot of strikes."
Oakville's Drew Levi broke the school record for most home runs in a season as well as the most RBIs with a three-run home run in the bottom of the second inning. He has 12 home runs and 46 RBIs this season.
"Not only is Drew going to go down as one of the best power hitters in the history of the program, but he'll go down as one of the best left-handed hitters to put on the Oakville uniform," Sturm said.
Starting pitcher Bryan Doyle grabbed the win after throwing for one inning. Oakville's Chris Garrow and Jake Russo also threw for one inning while Nolan Lark pitched two innings.
"Our big thing was to just have the guys throw strikes," Sturm said. "I give our guys a lot of credit for just going out there and pounding the strike zone."
Mehlville
The Panthers found themselves down 8-4 to Fox after five innings, but a three-run Mehlville rally in the bottom of the seventh tied the game at 8-8 to force an eighth inning.
Mehlville starting pitcher Cory Royer drove in Neil Wallis for the game-winning run in the bottom of the eighth. Royer hit a line drive to left field with runners at second and third to bring Wallis home and give the Panthers the come-from-behind win.
"Going into the game, we knew that we were up against someone that we had already beaten twice this season," said Bob Kern, Mehlville's head coach. "But we have similar records and it's difficult to beat the same team three times in one season."
Royer grabbed the win on the mound for the Panthers, giving up eight runs on 11 hits in eight innings. Royer is 6-3 overall with a 4.52 ERA.
"Cory went out there and really battled against Fox," Kern said. "I was really hap-py with how he worked and battled against them."
Mehlville's Danny Murphy was the hot-test hitter of the day as he hammered out three hits, drove in three runs and scored a run while also stealing two bases.
"Danny's had a great year offensively," Kern said. "He's been a good No. 2 hole hitter for us all year long and is a guy that I think could garner some state recognition this year."
Lindbergh
With two outs and the bases jammed in the bottom of the seventh inning, Lindbergh's Bryan Livingston drove in the game-winning run on a full count to give the Flyers a 4-3 win over Windsor.
"Obviously at this time of the year, you just try to survive and advance," said Darin Scott, Lindbergh's head coach. "Windsor's been a solid player in Class 3 the last few years and any team with their No. 1 pitcher throwing that day is going to be dangerous."
Lindbergh starting pitcher Andy Flett gave up just runs on one hit in seven in-nings. He walked two batters and struck out 12 in his eighth win of the season.
"Andy looked good and actually threw a one-hitter through seven innings," Scott said. "He really threw well, we just didn't back him up like we should have."
Livingston finished the day with a three-hit performance that included three RBI.
"Bryan had a great at bat in the seventh where he battled the count to three balls and two strikes with two outs and the bases loaded," Scott said. "It was either do or die at that point."