Tigers fall 38-8 to Hawks in state semifinal
Plassmeyer 'battled all day,' according to Oakville coach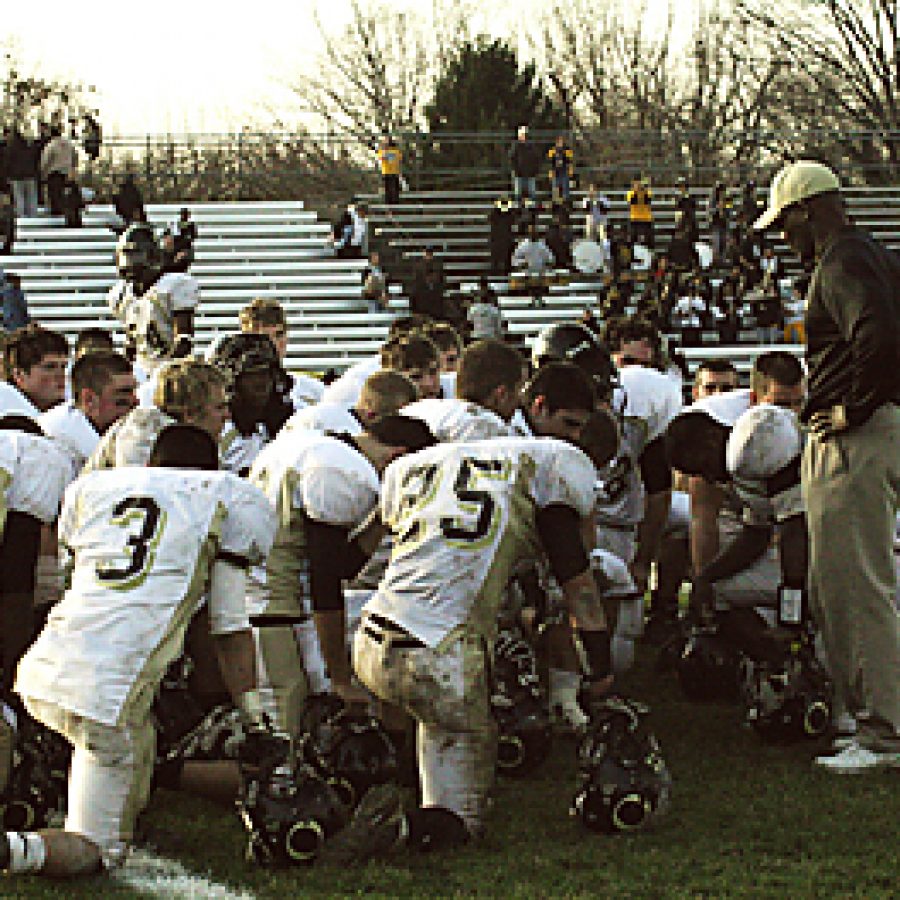 When the Oakville Senior High football team stepped onto the field Saturday afternoon for the Missouri Class 6 football semifinal game at Hazelwood Central, it was clear the day would be a learning experience for the Tigers.
While Oakville (9-4, 4-3 Suburban West) realized how far it has come over the past five years under head coach Arlee Conners, it also learned how much more it needs to improve as the Tigers fell 38-8 to defending state champion Hazelwood Central.
"We just didn't do what we came out here meaning to do," Conners said. "The main thing is that they made the right plays and we just didn't."
With 19 seniors on this year's roster, the Tigers head coach was quick to give credit to the players who took Oakville to its first-ever state semifinal appearance.
"These kids put Oakville on the map," Conners said. "Oakville is a program that people are going to know about and unfortunately we didn't do the things that we wanted to do, but our program's going to grow stronger and continue to get better."
Hazelwood Central (12-1, 6-1 Suburban North) wasted no time in jumping out to a 7-0 lead as Spencer Davis burned the Oakville defense on a 96-yard kickoff return for a touchdown with 11:43 left in the first quarter. Ryan Crandall then nailed the extra point.
The Hawks increased their lead to 14-0 on a 6-yard touchdown run by Kerry Gibson and the extra point by Crandall with 3:26 left in the first quarter. Crandall helped Hazelwood Central to a 17-0 lead midway through the second quarter when he booted a 32-yard field goal.
Hazelwood Central finished the first half on top 24-0 after Gibson connected with Jawyne Thomas for a 9-yard touchdown pass and the extra point by Crandall. Gibson completed eight of 14 passes for 157 yards, one touchdown and one interception.
Oakville finally showed some signs of life midway through the third quarter when the Tigers' defense scored 2 points on a safety by Paul Taylor on Gibson to trim Hazelwood Central's lead to 24-2.
"Paul continued to do what he did for us all year long," Conners said. "He played hard and just like the rest of the team, he just wasn't able to make enough plays for us to win."
The Hawks answered the Tigers' safety when Tra Brown grinded in a 4-yard touchdown run while Crandall kicked the extra point to give Hazelwood Central a 31-2 lead with 11:54 left in the fourth quarter.
Hazelwood Central's last touchdown of the game came with 9:27 remaining in the fourth quarter when Rodney Smith scored on a 1-yard run with Crandall getting the extra point to give the Hawks a 38-2 advantage.
Oakville's lone touchdown came with 26 seconds left in the game when quarterback Joe Plassmeyer hit Mike Cyliax for a 5-yard pass. Plassmeyer completed 19 of 42 passes for 178 yards and one touchdown.
"Joe tried and battled all day long for us," Conners said. "Early in the second quarter we had some guys miss some balls from him and we could have gotten some points on the board early, but things just didn't happen and they made more plays than we did and hats off to them."