Tiger tennis duo makes state run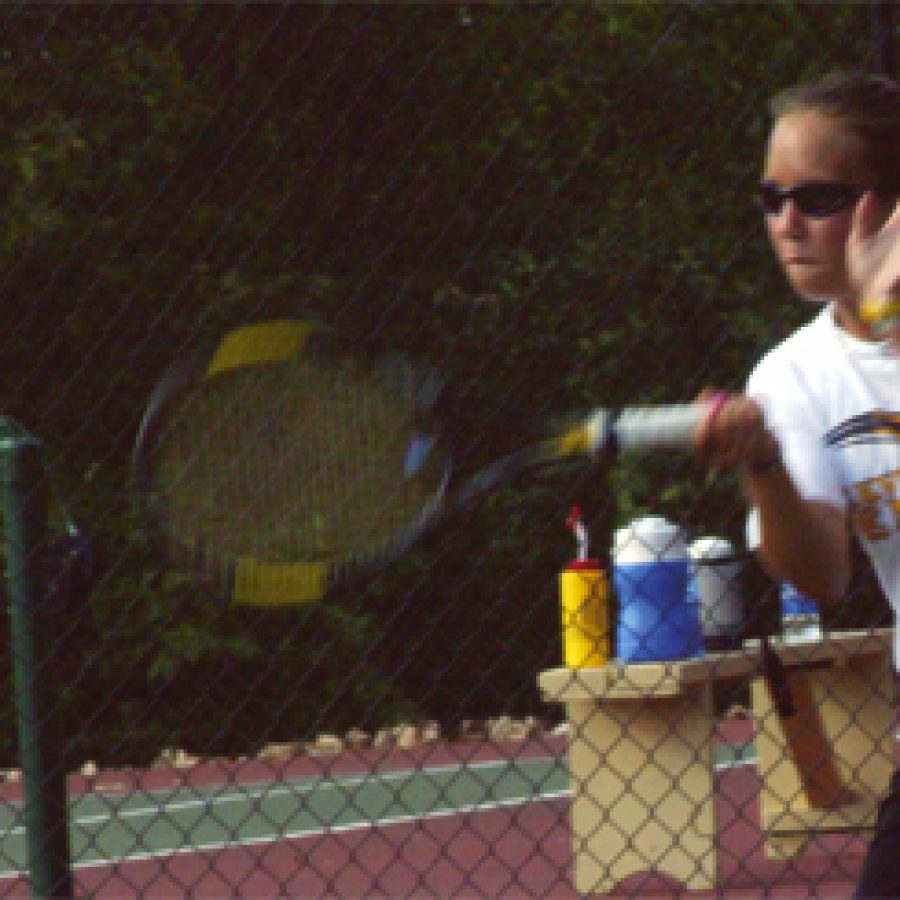 BY STEPHEN GLOVER
For the Call
Entering the 2004 season, Oakville Senior High tennis players Sarah Dalton and Stacey Goebel expected to outdo their performances in last year's state tournament.
Last season, Goebel and Dalton checked out of the state tournament after just two matches. Oakville High head coach Linda Gebauer knew doubles competition offered them redemption.
"We had to work a lot with them before districts on things like doubles strategy," Gebauer told the Call.
The hard work paid off as the Oakville duo advanced all the way to the consolation semifinal with a 10-3 record.
In the first round of doubles competition, Goebel and Dalton defeated Kathy Schmermund and Megan Eakes of McCluer 6-0, 6-0.
"We had the best possible draw that we could have had at state," Gebauer said. "It gave the girls confidence in that they could play with anyone at state."
Goebel and Dalton ran into a tough duo of Sarah Seltsam and Kirsten Stople of Rock Bridge in the state quarterfinal and lost 6-0, 6-0. Seltsam and Stople later won the state doubles championship.
"Rock Bridge has one of the best teams in the state," Gebauer said. "I knew that it was going to be a tough match because they're a good solid team."
The Oakville tandem bounced back from their loss with a 6-3, 6-2 decision over Brett Ford and Dani Gross of Cape Girardeau Central. The win was Goebel and Dalton's third of the season over Ford and Gross.
"One of the girls' goals was to get to the second day of state, which they did when they beat Cape," Gebauer said. "To beat a team three times in a year is something that's tough to do."
The Tigers' hopes for a medal at the state tournament faded as they fell 6-3, 6-1 to Brittany Maples and Hannah Lazenby of Joplin.
"It was a match where we did not play our best. We were not on top of our game like we were the day before," Gebauer said. But, "I thought that both Sarah and Stacey played very consistently at state. They played with a lot of poise and confidence."
During the regular season, Dalton competed at the No. 2 singles flight accumulating a 14-5 record.
"(Dalton) had and excellent year," Gebauer said. "She is a very consistent player and is the type of player who will stay out there as long as possible in order to outlast the other player. She does whatever she has to do in order to win."
Goebel saw action at the No. 1 singles slot where she posted a 9-8 record. The junior should only benefit from two trips to the state championships going into her senior season next year.
"Every matched that she played in, she was competitive," Gebauer said. "She's really matured over the last year and has got every shot and tool needed in a tennis player.