Tiger pitching star signs with KU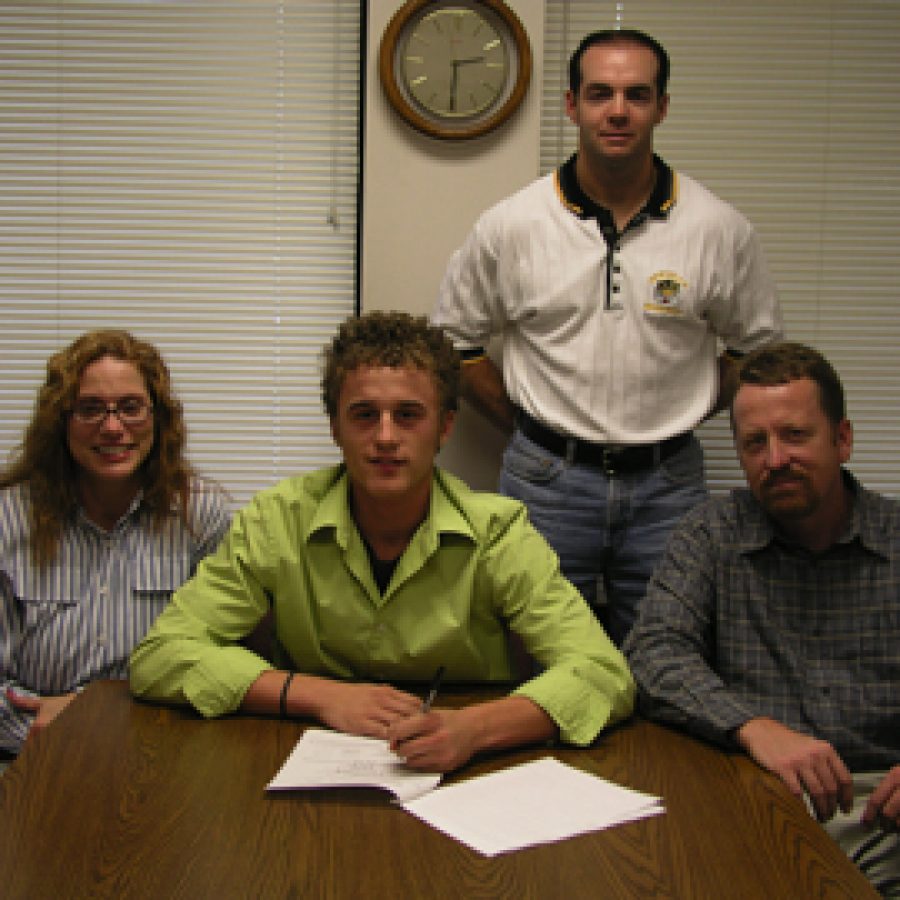 By STEPHEN GLOVER
For the Call
Andy Marks may have been raised a Tiger, but in less than a year, he'll be a Jayhawk.
The senior pitcher and first baseman at Oakville Senior High signed a Letter of Intent with the University of Kansas last week, ending an excruciating four-month period where just about every school in the Midwest had the Marks family's phone ringing off the hook.
"July 1 was pretty exciting because schools started calling," Marks told the Call. "But after a while, I had some sleepless nights over who I was going to have to tell no to."
The University of Missouri was the hardest to tell no. Marks is a lifelong Mizzou fan.
"Mizzou was the hardest to say no to," Marks explained. "I was raised to be a Mizzou fan and the fact that I'll be playing against them the next four years was hard to tell them where I was going."
But Marks' felt like he would fit in right away with the Jayhawk coaching staff and the team's players.
"I felt a good connection with coach Price and their players," Marks said. "They didn't treat me like a recruit. They treated me like I was on the team."
Oakville head coach Rich Sturm agreed.
"A couple of times he asked for my input," Sturm told the Call. "I told him to follow his heart and see how well he clicks with the coaching staff. I can tell that he's ex-tremely happy with his decision and that's the most important thing."
With Marks' heading to a collegiate powerhouse, the Tigers stand to benefit for years to come, Sturm said.
"Any time you're taking guys to the Di-vision I level and especially the Big 12, it's quite an accomplishment for the program," Sturm said.
Last season, Marks was nothing less than stellar on the mound, garnering a record of 9-1 with a 1.87 earned run average. He held his opponents to a cool .214 batting average while striking out 82 and walking 31 in 11 games. Marks also recorded a no-hitter on May 3 in a 7-0 win over North-west in the first round of the Suburban South Conference tournament.
Off the mound, the hard throwing pitcher is a threat at the plate. He lead the Tigers with a .459 batting average last year and had four doubles, two triples and two home runs along with 17 runs batted in.
Athletics aside, Marks excels in the classroom with a 3.8 grade-point average. He still is pondering a potential major at Kansas.
"Andy's the kind of kid that not only thinks about the present, but also about the future," Sturm said.