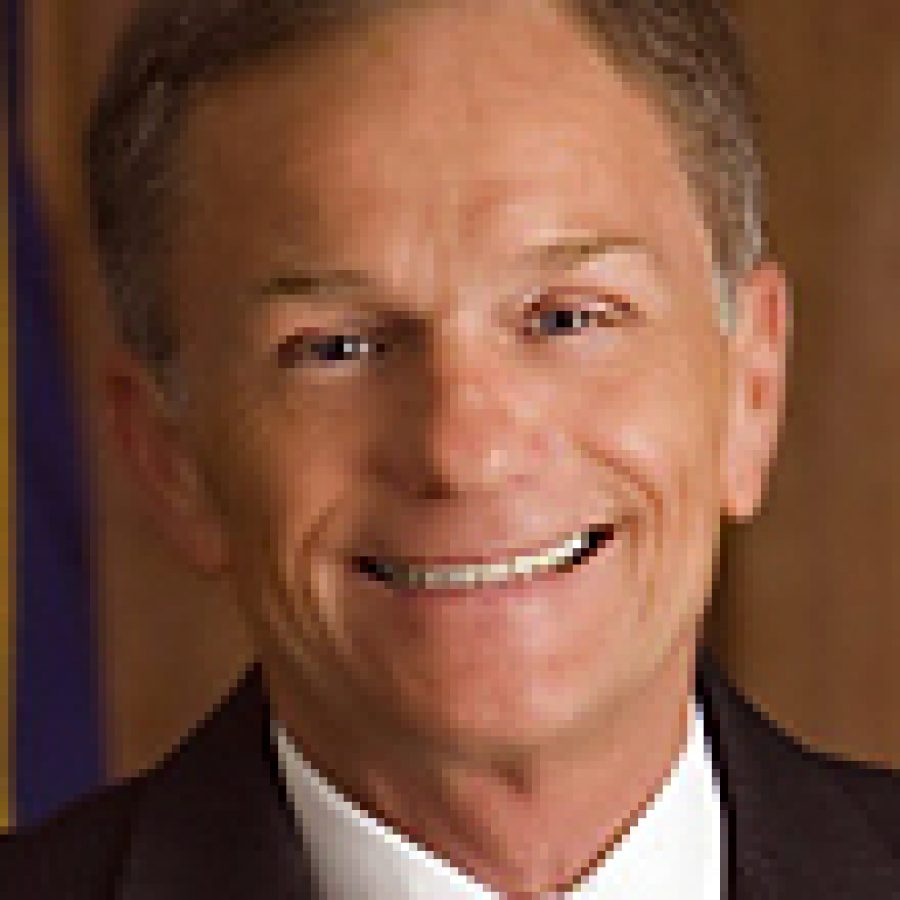 Democrat Jan Polizzi, Republican Gary B. Fuhr and Constitution Party candidate Daniel P. Fitzhenry are vying in the Nov. 2 election for the 97th District Missouri House seat being vacated by Rep. Walt Bivins, R-Oakville.
Bivins cannot run again because of term limits.
Asked to identify the most important issue in the race, the candidates responded:
• "Politicians who don't know the Constitution or follow the rule of law, the ones who vote and receive money from special interests. Change that and progress will happen," Fitzhenry said.
• "To ensure that the representative we send to Jefferson City has demonstrated fiscal responsibility and proven leadership experience to represent the views of the 97th District during these difficult economic times," Fuhr said.
• "We need to expand permanent full-time job creation in environmentally safe and sustainable industries. The numbers of individuals out of work for more than 27 weeks have skyrocketed. Our revenue is down 12 percent and there are six applicants for every job opening. It will take years to recover as families, communities and as a nation to restore financial strength and security to the backbone of our society — the middle class … I think the citizens don't care what party is in power – they just want government to work safely, efficiently; provide equal protection; and stay out of their personal decisions where the state has no clear and compelling interest," Polizzi said.
"This is not time for business as usual. It will take years with individual, business and government commitment and creativity with honest appraisal of statistics and evidence-based best practices to grow the economy, control costs and provide quality services— not political puffery, blaming or rhetoric to pull out of this recession."
Fitzhenry, 52, 3652 Barbagallo Drive, 63129, is a trucker with Noah's Cart. He and his wife, Dale, have four children.
Fitzhenry is an election supervisor with the St. Louis County Board of Elections and has not held elective office. He is running for office "to uphold the Constitution and the rule of law as our founders meant it to be."
Fuhr, 62, 5622 Hillcamp Court, 63128, is employed as director of security for Drury Hotels Co. He and his wife, Denise, have four adult children.
Asked why he is seeking office, Fuhr, who has not held elective office, said, "Over 44 years ago, I took my first oath to support and defend the United States Constitution when I enlisted in the Navy, reaffirmed this oath as a St. Louis police officer and again as a special agent with the FBI. As a concerned husband, father and grandfather, I feel the call to return to public service in order to again defend our Constitution."
Polizzi, 61, 5953 Shortleaf Court, 63128, is a registered nurse employed by the Nurses for Newborns Foundation. She and her husband, Peter, have an adult son.
Besides serving on the Mehlville Board of Education from 1995 to 1998, Polizzi served as state representative for the 97th District from 1993 to 1995. She is running for office because "I am the only registered health professional that provides cost-effective community-based practice; worked for an insurance company; and co-owns a small business. We need to restore a practical bipartisan majority that is willing to stop the willful obstructionism currently practiced by incumbents and provide the citizens of the 97th District a fair and balanced representation devoid of special interests."
The candidates gave the following responses to a Call questionnaire:
Are changes needed to the law allowing Missouri citizens to carry concealed weapons?
Fitzhenry said, "Yes. It needs to be a little easier for legal citizens to get and carry their own personal protection."
Fuhr said, "No. I support our Second Amendment rights. Missouri's concealed-carry law enjoys the widest reciprocity with 36 other states honoring its permit.
"Changes to the law may reduce its effectiveness."
Polizzi said, "As a (National Rifle Association) member, I think all retiring policemen, returning honorably discharged veterans, Missouri National Guardsmen — over the age of 21 — should be issued a concealed weapons permit without the required eight-hour training. This will save money without risk to the public of un-trained individuals handling firearms."
Are changes needed to the state's current Open Meetings and Records Law?
Fitzhenry said, "I am not sure just what that law states and its constitutional standing."
Fuhr said, "I think revisions contained in (House Bill) 1445 to clarify when and how meetings may be closed, who may attend and the manner in which records are kept and disseminated should be considered in the upcoming session."
Polizzi said, "I support transparency, the availability of public records and proper posting of meeting times and places."
Do you agree with the direction the state is moving under Gov. Jay Nixon?
Fitzhenry said, "We can always do better in working to downsize the government and let the private sector have more freedom to do what they do best, and that's build industry."
Fuhr said, "I believe that with the Republican-led Legislature serving as a check and balance on the governor, the state has begun reducing the size of government. However, more needs to be done. Taxes should be cut to encourage business investment and create jobs in our state."
Polizzi said, "I agreed with his campaign agenda of 2008 supporting access to health care, higher education, job creation with environmentally safe and sustainable jobs. Unfortunately, due to obstructionist tacticians in control of the House and Senate and the 12-percent drop of state revenue, Missouri is struggling with the rest of the nation …
"I have received no campaign endorsements or offers of support from Jay Nixon, or the House Democratic Campaign Committee — I'm definitely not their lap dog," Polizzi said.